Get Started with Atomic Lite
First of all, thank you for downloading Atomic Lite!
We're really excited to welcome you to the future of HubSpot. Here are some important information, links, and tips to get you started immediately.
#1. Theme folder
First of all, HubSpot should have migrated over the complete Atomic_Lite folder to your portal.
You can find it in the following path in Design Tools/Design Manager:
@marketplace > GiantFocal > Atomic_Lite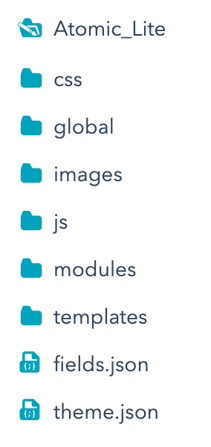 #2. Templates
All included templates are 100% ready-to-use, feel free o create new pages with any of the pre-built templates to experience all the features.
#3. Terms of Use
The copy of Atomic Lite you have in your portal is fully yours, but there are some terms and conditions that govern what you can and can't do, visit the following link to read more:
https://www.giantfocal.com/terms
#4. Knowledge Hub
New to HubSpot or looking for new information, tips, and tutorials? Visit our Knowledge hub:
https://www.giantfocal.com/hub
All things HubSpot, updated daily.