Inbound marketing, also known as pull marketing, is an online marketing strategy where you get the customer's attention and makes your business easy to be found. You pull in those that are most possibly needing your services and products.
Inbound marketing is similar to traditional advertising or outbound marketing in that their very essence is to create brand awareness. However, with traditional advertising and outbound marketing, you have to find the customers and create the need for them. Even their forms differ.
The different inbound marketing tactics include the combination of these or all of these in one campaign:
Content marketing
Blogs
Events
SEO
Social media
Video content creation
On the other hand, outbound marketing usually constitutes TV advertisements, face-to-face meetings, cold-calling, and blanket emails.
HubSpot defines inbound marketing as "a business methodology that attracts customers by creating valuable content and experiences tailored to them."
HubSpot also differentiates inbound from outbound marketing, saying that the latter "interrupts your audience with content they don't always want. Inbound marketing forms connections they are looking for and solves problems they already have."
I may go and on to get to the core of what inbound marketing is. But, today, I am choosing a different way to do this.
Today, allow me to share the best inbound marketing books that you can read. Below, I listed as many as possible to provide you with as many resources you need.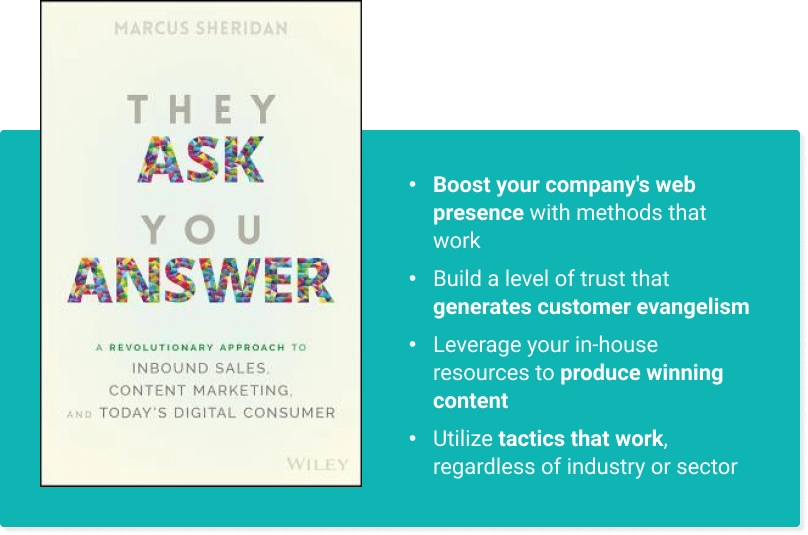 They Ask You Answer: A Revolutionary Approach to Inbound Sales, Content Marketing, and Today's Digital Consumer
Release date: January 2017
Amazon rating: 5 Stars
# of Amazon reviews: 167 Reviews
Number of pages: 240 pages
Current edition: 1st edition
In this book, Marcus Sheridan shows you how to maximize search engine benefits to foster a relationship with your clients. The book shows you how customers will ask search engines. You must provide answers to those queries, especially questions about the products you offer.
With a solid content strategy, you can bring your business on top of the search engine results. The book tells you that to start selling, and you have to stop selling. Instead, you begin by answering.
One critical insight I loved from this book is how TV, radio advertising, and print ads are becoming a waste of money nowadays. It is high time to use the power of the internet for your business. That power is available to you if you learn how to craft a robust content strategy.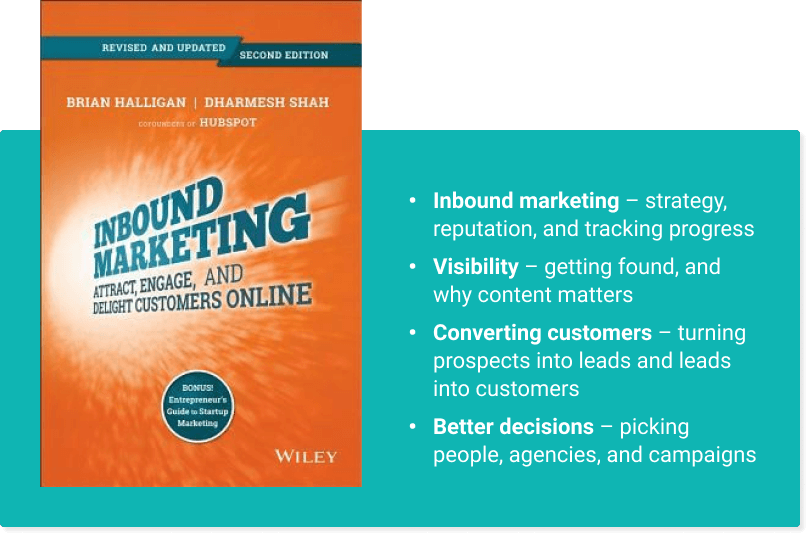 Inbound Marketing, Revised and Updated: Attract, Engage, and Delight Customers Online
Release date: August 6, 2014
Amazon rating: 4.5 Stars

# of Amazon reviews: 131 reviews
Number of pages: 216 pages
Current edition: 2nd edition
Inbound marketing is the answer to the most significant element shaping the industry today: consumer behavior.
This is the discussion at the very core of this book. It shows how consumers now shun cold-calling, email blasts, and other similar forms of marketing. Consumers' preference shifts in a more active role in finding companies that can answer their needs.
The book is written by marketing experts and startup bloggers who are knowledgeable about consumer behavior. The authors are always at the heels, catching the newest trend that can attract, engage, and delight customers.
The book will let you into the secrets of lead nurturing, visual marketing, and practical marketing tools you can play with for your online marketing campaigns.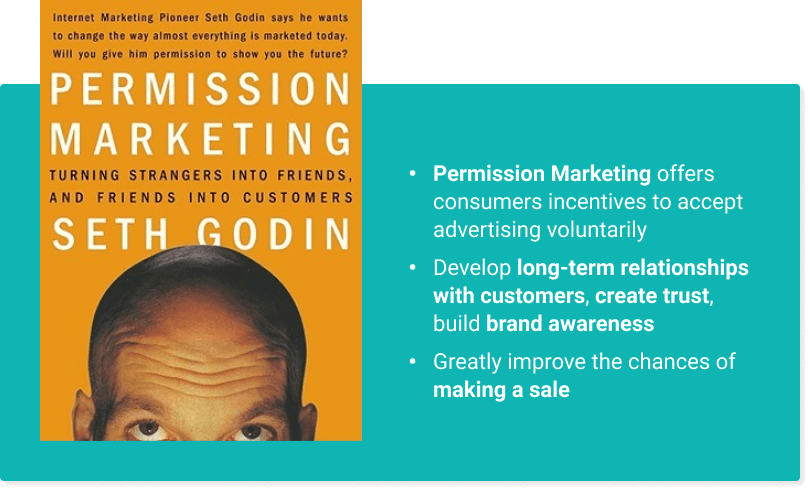 Permission Marketing: Turning Strangers into Friends and Friends into Customers
Release date: May 6, 1999
Amazon rating: 4 Stars
# of Amazon reviews: 310 reviews
Number of pages: 256 pages
Current edition: 1st edition
Imagine you're in the middle of a good family dinner. Then, the telephone rings, you get up, only to answer a cold call from telemarketers.
Or, imagine you're having an alone time watching your favorite TV show. Your most anticipated time for yourself will most likely be interrupted by unwanted TV commercials.
In the book Permission Marketing, author Seth Godin makes you realize that traditional advertising no longer works. He will walk you through a breakthrough concept called permission marketing.
For starters, permission marketing is a strategy where you only reach out to people who have shown interest in your offer. You won't annoy your future clients, and at the same time, you'll learn how to improve your chances of making a sale.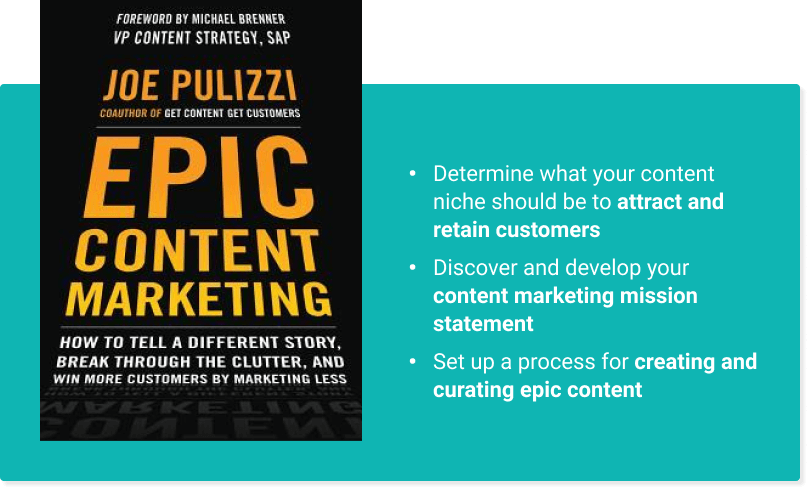 Epic Content Marketing: How to Tell a Different Story, Break Through the Clutter, and Win More Customers by Marketing Less
Release date: September 24, 2013
Amazon rating: 4.5 Stars
# of Amazon reviews: 186 reviews
Number of pages: 352 pages
Current edition: 1st edition
This one right here is the go-to among Fortune 500 marketing executives, digital marketers, and business owners. This book became the 2014 USA Best Book Awards Winner in Business: Marketing & Advertising, the number 1 marketing Best-Seller on Amazon.com, and One of 5 Must-Read Business Books of 2013.
The awards are only expected since Joe Pulizzi is the brain behind the book. In the book, Joe uses his expertise in presenting in-depth case studies with inbound marketing campaigns implemented by big brands. The case studies include John Deere, LEGO, and Coca-Cola.
Joe goes deep into the details of how to develop compelling stories and determine the topic niche. He also teaches the ins and outs of content creation.
My favorite is where he shows how you can use social and email channels to leverage your business. The topic of measuring content performance and marketing budget will equip you with objective and practical means to assess your strategy.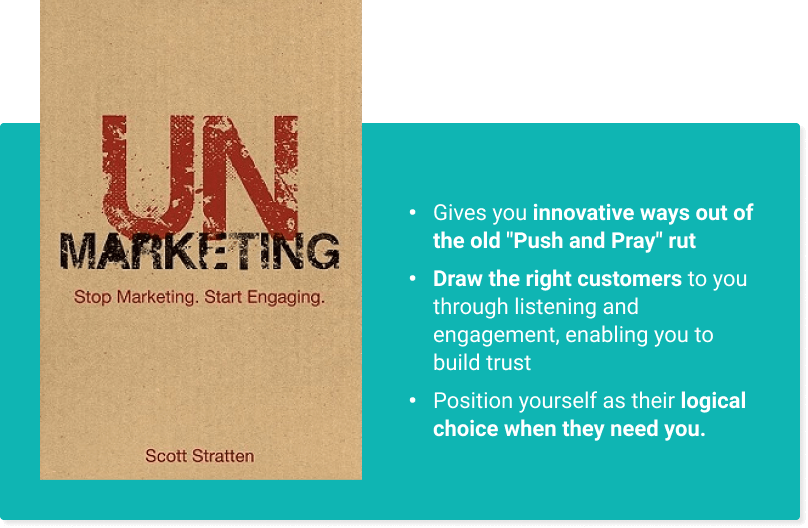 UnMarketing: Stop Marketing. Start Engaging
Release date: February 21, 2012
Amazon rating: 4.5 Stars
# of Amazon reviews: 83 reviews
Number of pages: 272 pages
Current edition: 1st edition
Author Scott Stratten is an expert in viral and social marketing. With that expertise, he will show you how to forget the traditional marketing we all knew; hence, the concept of "unmarketing."
Scott presents you with 21st-century marketing called the Pull & Stay method. The modern process will arm you with tools to pull in the right audience and keep them long-term.
Scott will convince you to unlearn the traditional marketing tactics that have affected the quality of ROIs and leave customers annoyed.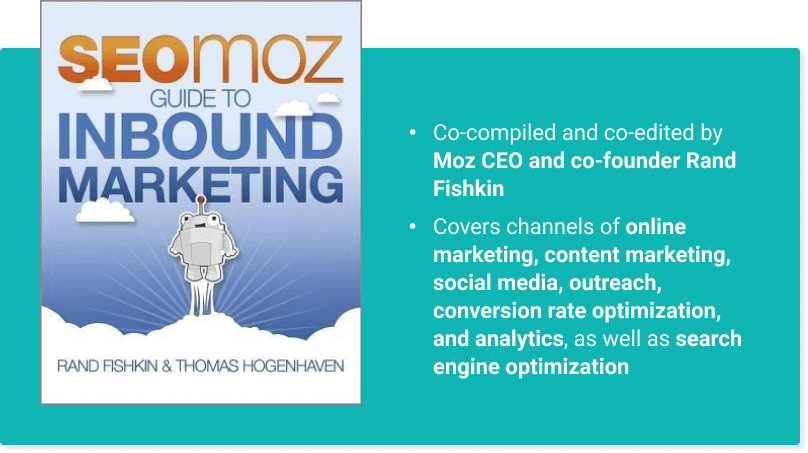 Inbound Marketing and SEO: Insights from the Moz Blog
Release date: June 17, 2013
Amazon rating: 4.5 Stars
# of Amazon reviews: 22 reviews
Number of pages: 360 pages
Current edition: 1st edition
The Moz Blog is one of the top resources for the newest trend on SEO. In this book, author Rand Fishkin and Thomas Hogenhaven hand-picked the best of these blogs and incorporated their insights.
The book also introduces you to how Google unpredictably changes its algorithm for indexed content. The search engine giant is consistently updating its requirements for the articles it shows online. So, just as you think you know the tricks, Google will then changes its algorithm to filter poor content.
With this book, however, you will learn how to catch up with the Google algorithm. You'll know how to use SEO wisely, along with your content and social media materials. It will advise you on conversion rate optimization and using analytics to your advantage.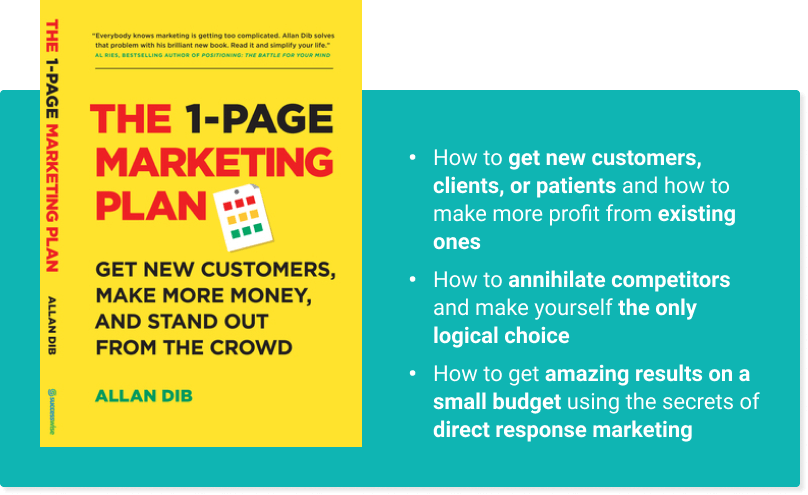 The 1-Page Marketing Plan: Get New Customers, Make More Money, and Stand Out from the Crowd
Release date: January 25, 2016
Amazon rating: 5 Stars
# of Amazon reviews: 1,986 reviews
Number of pages: 234 pages
Current edition: 1st edition
The book's title may sound like a metaphor, but author Allan Dib did provide a 1-page marketing plan for your perusal. It is literally one page. He breaks down marketing into what you can probably refer to as the cheat sheet or a template. Follow it from start to finish, and you're all set.
Allan is an entrepreneur and a marketer who always present breakthrough ideas. For this one, he will make you see that marketing can be fast and straightforward.
The one-page marketing plan is divided into nine squares. Don't underestimate this single page because it will teach you how to beat your competition even when working on a limited budget.
The one I liked is how Allan presents ways to charge high prices for products, but you'll have customers saying thanks.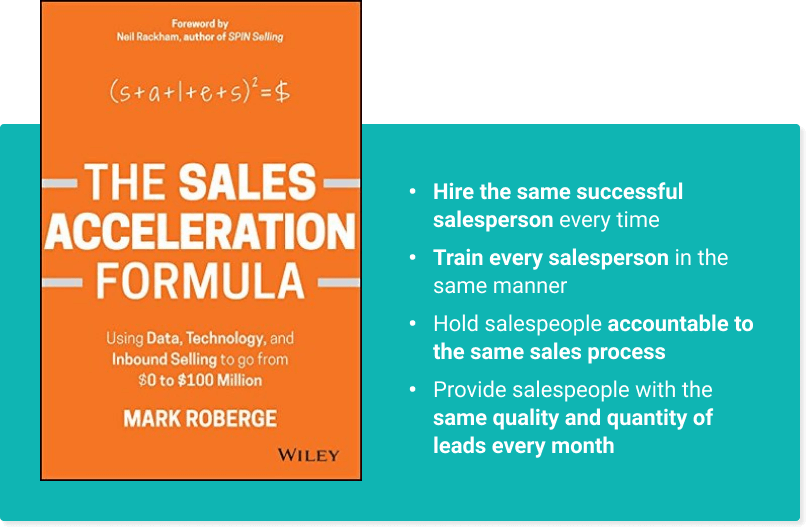 The Sales Acceleration Formula: Using Data, Technology, and Inbound Selling to Go from $0 to $100 Million Mark Roberge
Release date: February 24, 2015
Amazon rating: 4.5 Stars
# of Amazon reviews: 263 reviews
Number of pages: 224 pages
Current edition: 1st edition
In this book, author Mark Roberge shares his unique methodology about building his $100 million business. You could be the next Mark Roberge because the formula is presented in this book.
Yes, he was able to build a marketing formula with being an MIT alum with an engineering background. There are many inbound marketing books you'll probably read in your life. Still, you will always remember Mark's work because it is somehow mathematical. His insights are derived from metrics and analytics. You will learn how to apply data and technology into your campaign. You'll also learn how to put in hiring, training, and managing into the whole equation.
Who knows? You'll probably have your formula for successful marketing after reading this book.
Mark is the SVP of Worldwide Sales and Services for HubSpot. Mark is the man behind HubSpot's 10,000 customers across more than 60 countries.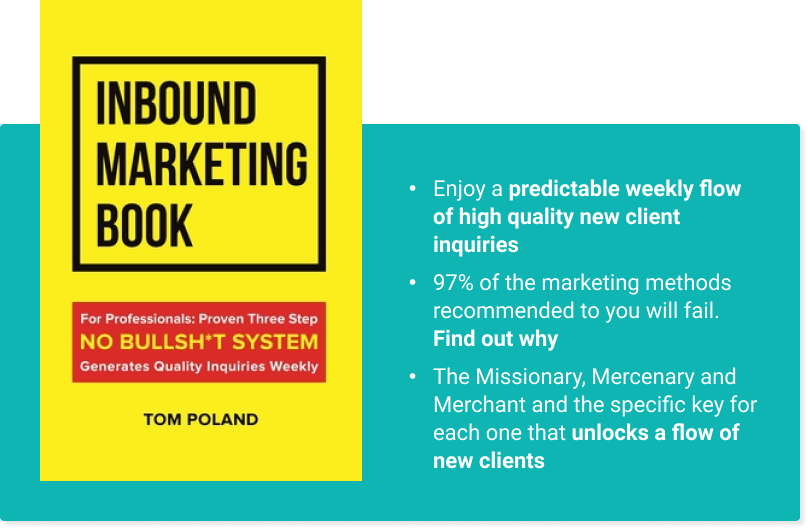 Inbound Marketing Book Tom Poland
Release date: January 20, 2020
Amazon rating: 4.5 Stars
# of Amazon reviews: 19 reviews
Number of pages: 194 pages
Current edition: 1st edition
Tom Polland is straightforward in this book. The book will show you the steps to generate a weekly flow of high quality and inbound new client inquiries.
Tom is known in the industry as a marketing mentor. He started his first business at age 24. In time, he built more companies in which four were sold, and two went international.
Tom has also demonstrated strong leadership skills and keen financial management, being able to handle annual revenue of more than $20 million.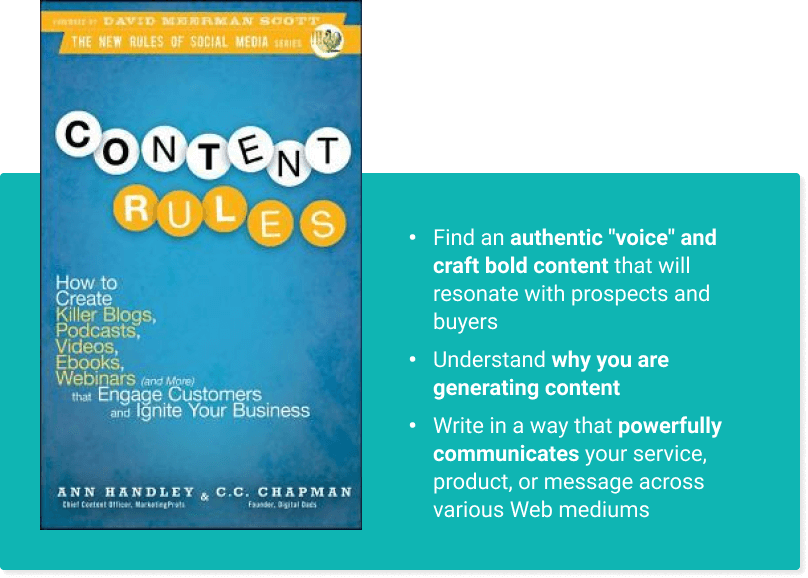 Content Rules: How to Create Killer Blogs, Podcasts, Videos, Ebooks, Webinars (and More) That Engage Customers and Ignite Your Business
Release date: May 22, 2012
Amazon rating: 4.5 Stars
# of Amazon reviews: 204 reviews
Number of pages: 320 pages
Current edition: 2nd edition
Master the craft of blogging and social media content creation with the help of this book. You will also find your unique voice in terms of storytelling once you've read this book from cover to cover.
The book is packed with case studies of companies that have successfully used the art and science of developing content. You'll master the art of writing in no time. In the end, you'll understand the significance of building credibility in maintaining customer loyalty.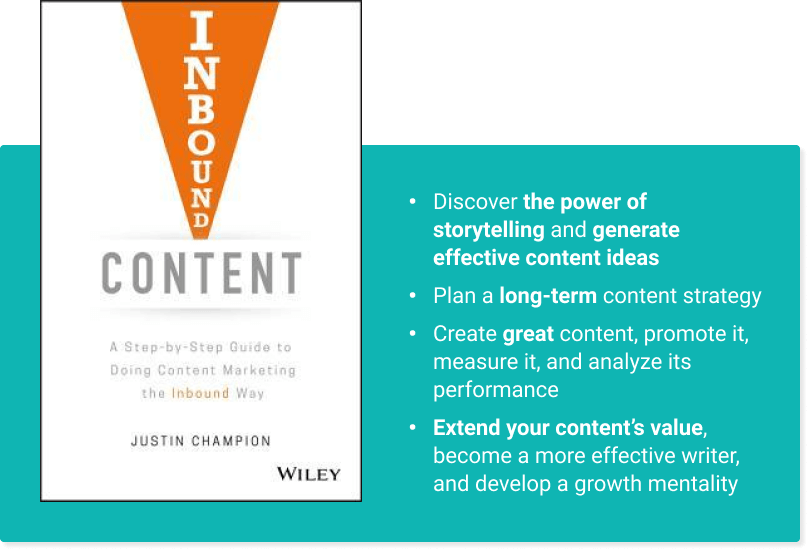 Inbound Content: A Step-by-Step Guide To Doing Content Marketing the Inbound Way
Release date: April 16, 2018
Amazon rating: 4.5 Stars
# of Amazon reviews: 29 reviews
Number of pages: 256 pages
Current edition: 1st edition
"Content is king."
That is the running belief in the industry today. If you haven't fully embraced the power of content in promoting your business, this book will convince you. It shows you how the right material will naturally draw your customers in.
The operative word here is "right content." Your articles, videos, photos, and emails should always be valuable and relevant to your audience. And, this book teaches you all that.
While other inbound marketing books touch widely in different strategies, this book focuses on making you a competent writer.
Get Content. Get Customers. Newt Barrett
Release date: May 20, 2009
Amazon rating: 4.5 Stars
# of Amazon reviews: 27 reviews
Number of pages: 224 pages
Current edition: 1st edition
Authors Joe Pulizzi and Newt Barrett teach how to connect with your customers by only making your content compelling. Their book will make you understand how marketing is no longer a competition about product superiority.
More than anything else, customers now want to dig deeper and know the actual relevance of products to their lives. And the key to achieving that is valuable content.
For Joe and Newt, content is the only way to build a loyal customer base.