What do you do to start your sales process? You don't just wander aimlessly. Or, merely hope that the next person you'll interact with online or face-to-face will buy your product or subscribe to your services, correct? Randomly pitching to a passerby or anyone on the internet no longer works today. That's a complete waste of time.
In any given sales scenario, you start with identifying your prospective clients, aka "prospecting." You first create a sound database comprising leads who are most likely interested in your products and services. Already interested clients will most likely be converted into sales.
But how do you know that they are already interested? This is what we're going to discuss in this article.
Prospecting tools automate the prospecting process that would otherwise be done by your sales team manually. These tools are programmed to find prospects in the fastest possible way, to some extent, in real-time.
With prospecting tools, your sales rep can allot more time for more critical tasks than aimlessly reach out to random people. They can immediately get down to business and pitch products faster. The negotiation can take place in the shortest turnaround time possible. They have already down the prospects to those who have already shown interest.
In this list, I'll take on the best prospecting tools based on their ability to find new targeted leads, enrich contacts list, and utilize alerts.
Best Prospecting Tools For Finding New Targeted Leads
HubSpot Prospects Tool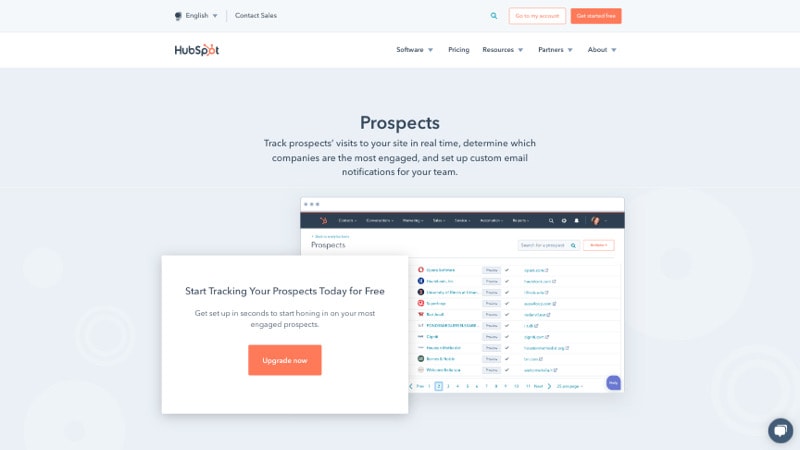 The HubSpot Prospects Tool is the most natural choice for any business owner because all needed features are already in one place. For starters, it generates a list of companies that have visited your website. It can provide you with the specifics, like when did they make the visit and what pages they browsed.
Reports can be as specific as showing, for example, an individual IP address that has been visiting your site regularly at around 10 am daily. With that information at hand, your team can schedule a cold call or send an email. All information about that visitor is pulled based on their IP addresses. HubSpot Prospects Tool can identify IP addresses worldwide.
The tools can even assess how engaged this prospective visitor is. If an email is already sent, the algorithm can track whether the recipient returned to know more about what he read.
You can also track whether the content you published on the net is reaching your correct prospects. You can even gauge how much information does this visitor is researching about your services.
Since you are a business owner, HubSpot knows that you won't just sit passively, waiting for your prospect's next move. HubSpot Prospects Tool is designed with a feature that allows you to send a report to your sales team. You can choose what information you would want to include in your emails. And, the best part of it all? You can automate this feature. You don't need to create emails manually.
These are only few of the many benefits the HubSpot prospects Tool can give you. I have some personal favorites as well. I like how the tools can gather data on the company's annual revenue and location. There is also a builtin feature where you can view the company on LinkedIn. This button routes you the profiles of top decision-makers from that company you're prospecting.
LinkedIn Sales Navigator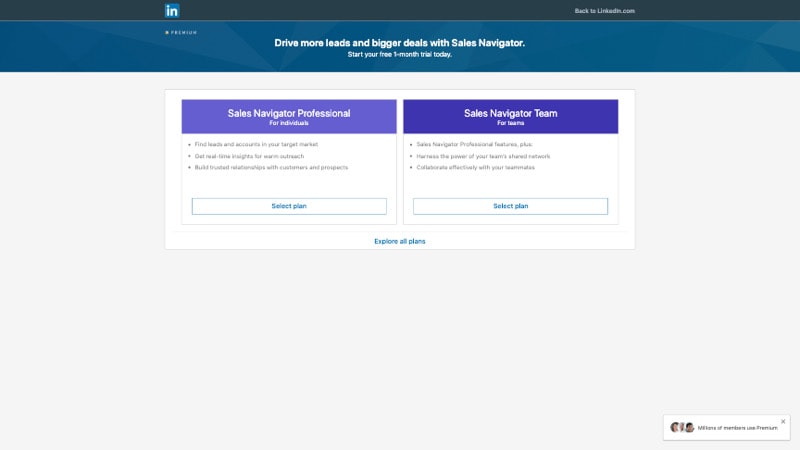 Discovering leads organically is one advantage that LinkedIn Sales Navigator gives you and your sales team. With this platform, you have access to LinkedIn's extensive network.
You can quickly narrow down your prospective list to the key decision-makers within companies. I like the platform because the more you use it, the more it sends you valuable insights about your potential clients. If, for example, you saved a contact as a lead, LinkedIn Sales Navigator will notify you if this contact changes job or position in the company.
The LinkedIn Sales Navigator is also designed with an advanced search function that allows users to trim down filters to the most relevant ones. For example, you can search using keywords, geographic locations, job titles, company names, company size, and some followers.
You also have access to the automated lead generation feature, the Lead Recommendations. You'll get notified when there is a match with your search history, profiles views, and past saved leads.
Leadfeeder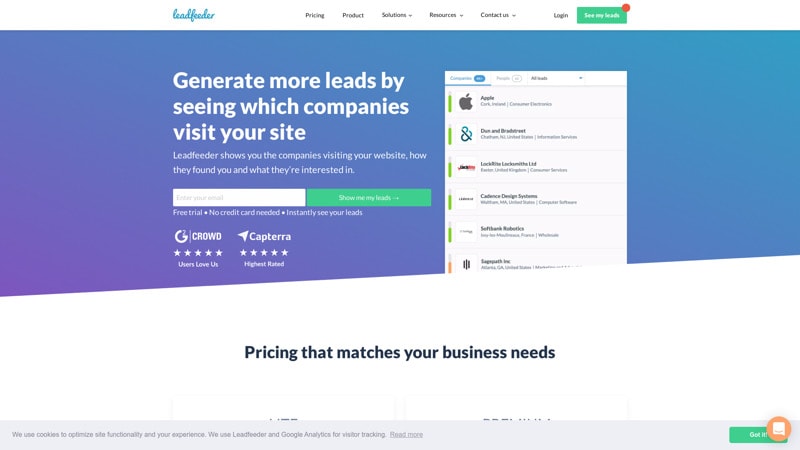 Ask any lead generator experts what tool they are using for prospecting. I am 99% sure they will always include Leadfeeder among their suggestions, if not their only advice.
Leadfeeder is built with the primary purpose of knowing which companies are visiting your sites. Any other tool provided works around that very feature.
The platform uses Google Analytics to track your site visitors. It shows what pages these visitors browsed in your site. This way, you can generate and target leads that are already interested in your services. Google Analytics can even show how much time the visitors spend on your site, on every page, they visit. The connection can also draw data on how closely you are connected to their employees on LinkedIn.
Leadfeeder can sort out your leads to different categories. For starters, you can sort out points based on how often that company visits your site. You can also sort based on the number of pages they visit before leaving.
Leadfeeder can be integrated as well to many CRM solutions. An example of some integration includes MailChimp. With MailChimp and LeadFeeder, you will be able to track the browsing activities of the people who received your emails.
Leadfeeder also has a LinkedIn integration. With this, you can identify the contacts whom you can send future correspondence.
Other Leadfeeder features allow you to automatically add new visitors to the sales pipeline. It also updates lead records anytime a revisit to the website happens.
Soleadify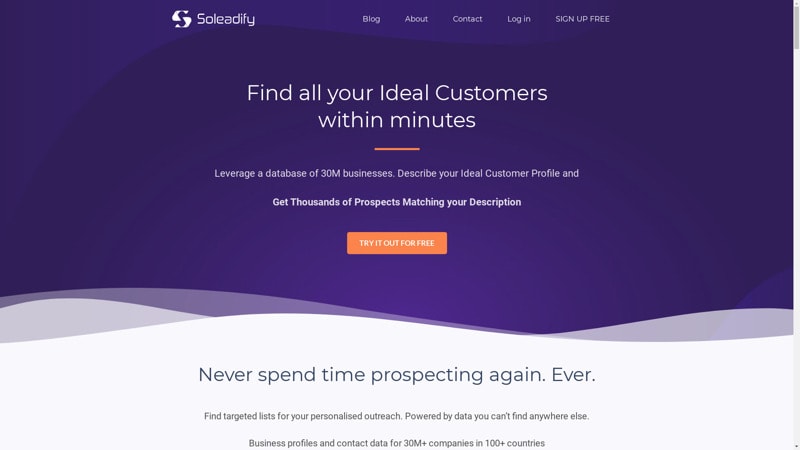 Soleadify wins in delivering the most customized lead generation for companies. The platform guides the sales rep through segmentation and other significant strategies for targeting leads from custom data mining.
One good thing about Soleadify is that it allows you to choose from its filters. It won't send you automated reports that are not based on the filters you selected. Filters include Type of Business, Location, Technologies used or unused, SEO, and other similar factors. Once you have the preferred filters ticked, it will only take you a minute to search and download your target list.
In case you're wondering at what level you can customize with Soleadify, allow me to give some examples. If your company provides internet software, you can download an email list of companies having problems with their internet speed. If your company offers social media marketing-related services, you can download all restaurants' files without social media accounts.
Datanyze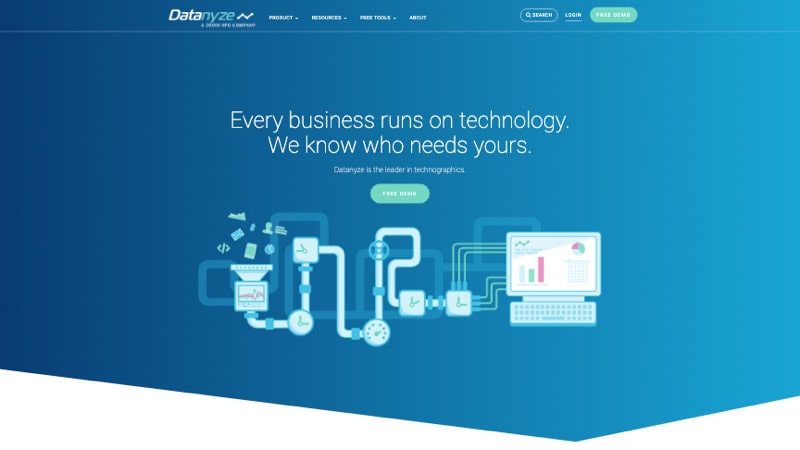 Datanyze is a combination of sales intelligence and lead generation apps. Its main task is to analyze millions of websites and see what technologies they are using.
Once a website monitored by a Datanyze user stops using specific technology, Datanyze users get notifications. If, for example, you are a competitor of a web technology provider, you can easily capture the window of opportunity and talk about your products. If you are providing the services, you'll instantly know that there is a problem to be addressed, asap.
Other essential features allow you to see where your website visitors go after their visits. This way, you know what services are they looking for. You can create a tailored-fit offer when you reach out to that visitor.
Since we are on the topic of prospecting tools, Datanyze has a sales prospecting browser extension. It allows you to see the point of contact and whether he is the key decision-maker of that company. Reaching out to these prospects is easy since Datanyze has integrations with LinkedIn, Jigsaw, and Crunchbase. You can get contact information funneled directly into your Datanyze account.
Datanyze can also be integrated with Salesforce, which automatically fills in the lead and contact information. Say goodbye to time-consuming manual work!
Other information that Datanyze can supply to you is companies' social media activities, employee count, Alexa traffic rank, and revenue.
Leadberry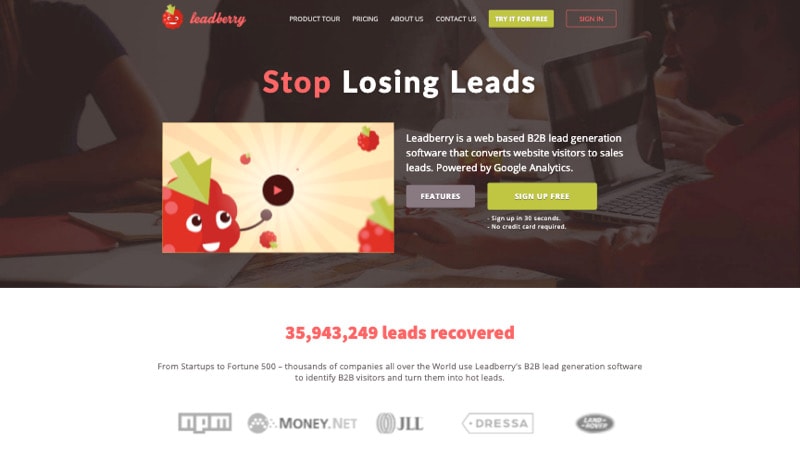 With Leadberry, you will have access to sales intelligence data about companies that will most likely seek the services you have. The targeted list is crafted based on analytics, contact data, business profiles, and social activities. You can even view specific and otherwise hard-to-find information about your website's visitors.
Depending on the plans you prefer, you will have the option for LinkedIn integrations for more accurate lead filtering, and customizable email alerts. There is also a plan where there are various CRM integrations included as well as AI-based data analytics. Other combinations supported are Zapier, Zoho, PipeDrive, Insightly, Slack, Gmail, and Mailchimp.
Leadworx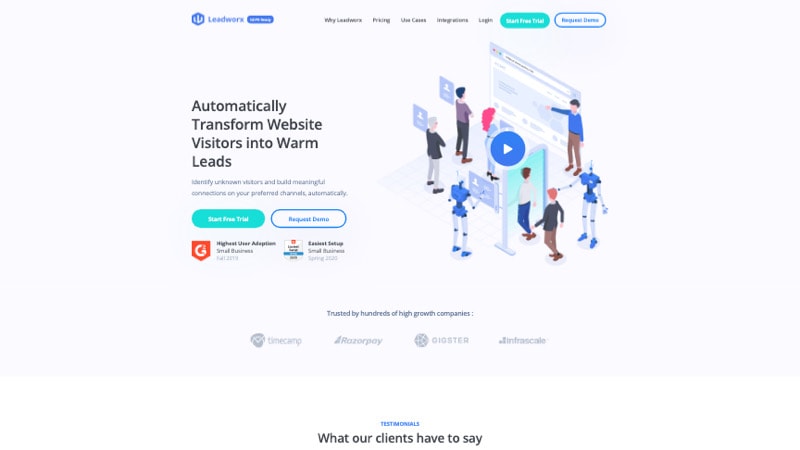 Business professionals choose Leadwork for its remarkable accuracy. Its algorithm can pull up data on which page in your site a prospect has visited. It can also show what company is it from, and who is the most likely decision-maker or point of contact.
The most attractive feature of all is that Leadworx can identify companies even if they browse your site anonymously. Its program is capable of engaging even anonymous visitors through email, LinkedIn, Display Ads, and Live Chat.
With Leadworx, your sales team can create workflows almost instantly. You can also opt for automated reports. This way, you don't waste time running after companies that you're not sure about conversion. Leadworx can provide you with a short and targeted prospective list.
Albacross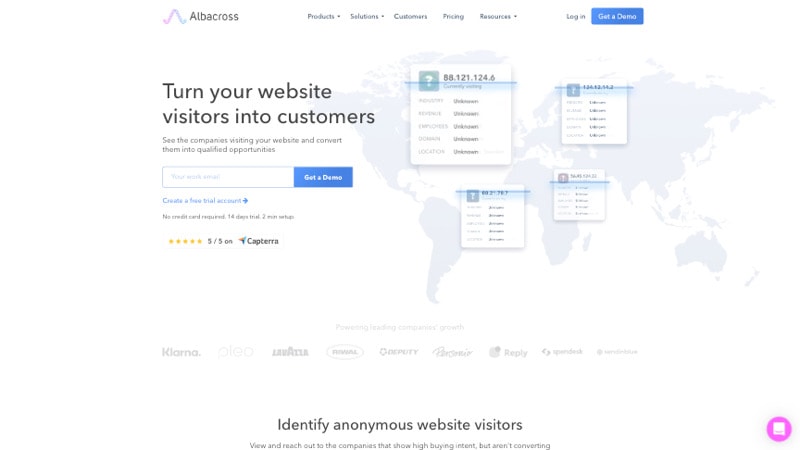 Albacross goes beyond showing who visits your site. It can pull up the visitor's full profile, from the company size, revenue, industry, location, and contact details of the key decision-makers. It goes to say that its algorithm is designed to pump you with warm leads for your sales funnel. The program can even tell you where these visitors are from and how often they visited your site. Albacross also possesses the capacity to recommend the best way for you to contact the prospective leads.
One common thing that Albacross users love about it is the ease of use. To set up the platform, you'll only need to install the tracking script and Albacross will handle the rest.
If you love integrations (like we do), good news is Albacross integrates with your favorite apps like HubSpot, PipeDrive, Salesforce, Zoho, and Microsoft Dynamics CRM.
BuiltWith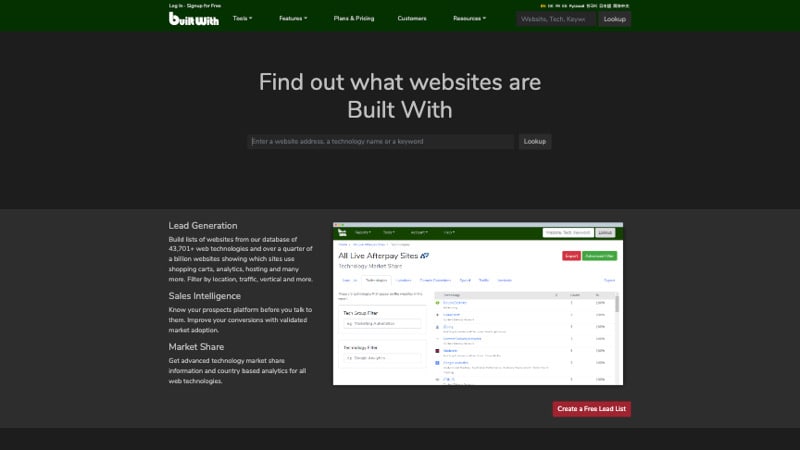 Marketers choose BuiltWith to determine what technology was used for a particular website. Through this, they manage to trim their leads into what companies will most likely buy their technology products. But, it won't stop there, of course. You can also access addresses, phone numbers, titles, names, and locations of the point of contact.
BuiltWith is a useful website profiler. It runs competitive analysis and business intelligence programs to provide you with the most likely candidate for your services. You can be as specific as targeting every company that is using, say, X software. Just generate a report for X software, and BuiltWith will pull up thousands of warm leads. Then you can reach out to them.
It can also show only the categories that you want to see in the report. For example, you can get a targeted list of websites that you wish to assess based on the budget spent on technologies. You can even choose the currency used for this category. Other filters you can use for your reports to include geographical locations. The latter can be as specific as choosing based on states and zip codes.
Vainu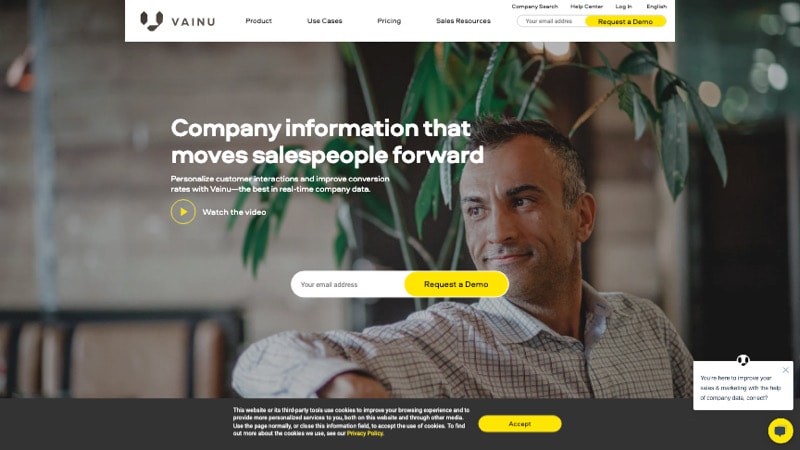 Vainu is a sales intelligence, prospecting, and account insights platform. It will accompany you every step of the way, from streamlining your prospecting method to determining the most valuable sales lead for your business. What it has for you are all the actionable account insights you needed to secure transactions.
Vainu boasts of a database comprised of more than 140 million companies. You can access their open and public data, as well as each of their firmographics, technographics, and buying behavior.
Its algorithm can find and analyze the perfect time from when you can reach out to your prospects. As soon as you already have your prospect lists, the platform can update you with their relevant activities. It can even notify you if there is an opportunity to upsell to your existing customers.
Some native integrations you can include are LinkedIn, Slack, Gmail, and some known CRMs.
LeadIQ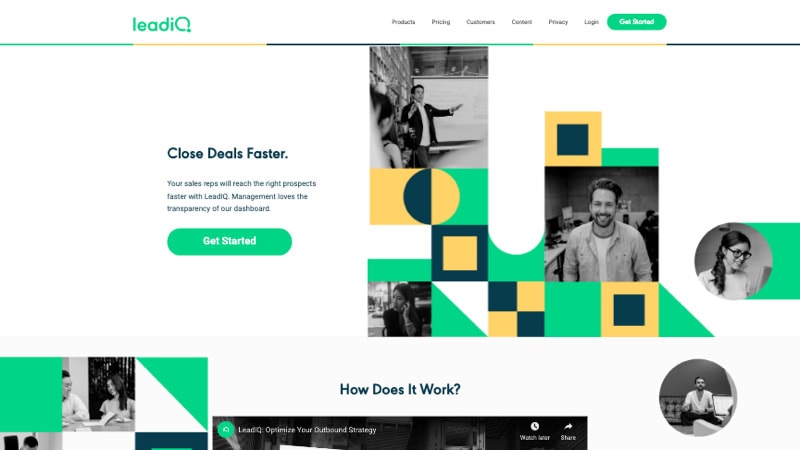 LeadIQ cancels out the need for manual data entry, allowing sales executives to get straight to the most crucial task of prospecting. Once you subscribed, you can discover emails, mobile numbers, and other relevant contact info of your leads. It can even pull up information such as the title of the person to be contacted. To some extent, it can also pull up direct dial numbers.
LeadIQ can perform as a Chrome extension to make finding contacts faster. This feature is called the Scout. Once activated, you can even search for a specific company profile, and the algorithm will pull up what you need.
Voila Norbert
As soon as you have an account with Voilanorbert, you can find email addresses and contact information from any websites. All information you can gather can be exported for your reference later. You can either add them to lists or contact them right away.
Voilanorbert's algorithm can notify you as your prospect open an email that you sent. The platform helps you build new relationships and transform them into something long-term. The platform is often used by sales reps, business development executives, PR, and marketing officers.
Hunter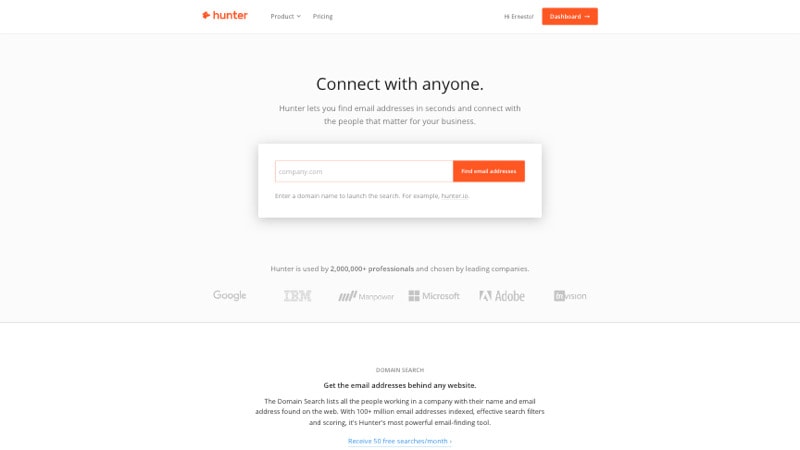 You can find and verify an email address for a company or website in the shortest time you need, all thanks to Hunter. The information it can provide you can include staff names or positions, as well as Twitter and LinkedIn profiles. You also have the option to find emails in bulk or individually.
I think the unique selling point of Hunter is in its verification process. It guarantees that the email address you pull up underwent multiple verification processes. This way, your bounce rate decreases, and your domain remained reputable.
Skrapp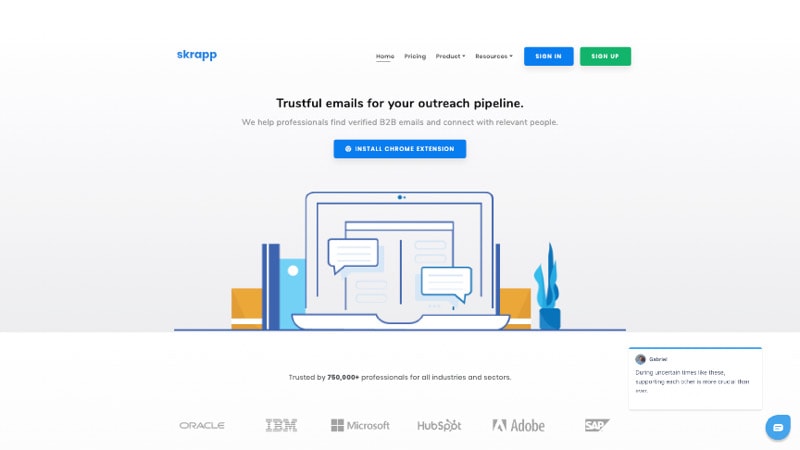 Unlike other prospecting tools that provide you with so many options, Skrapp is pretty simple. It is an email finder extension that will help you find emails from websites and professional social directories. Even its installation process is super fast. Its LinkedIn connection is also flawless since you can use Skrapp directly via the social networking site.
ZoomInfo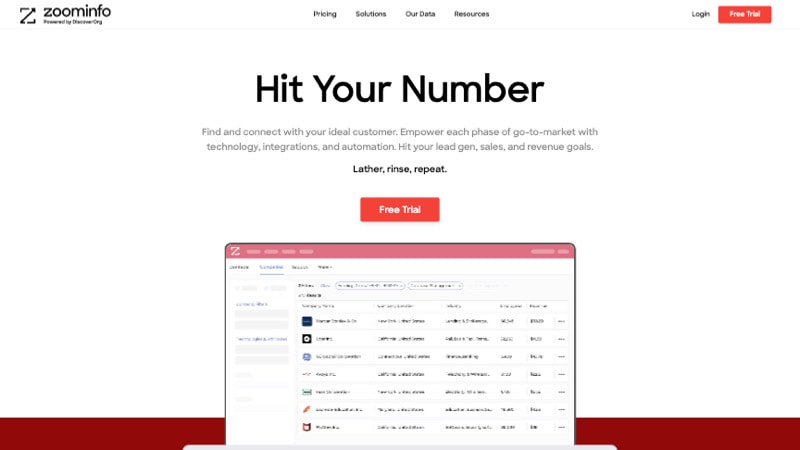 ZoomInfo helps you maximize time by providing you with valuable information on your prospects, including companies within your preferred industry. For starters, it shows you your website visitors in real-time. As you follow that lead along, you'll have access to up-to-date contact information, the detailed hierarchy of people, and the business's location, among other things. You'll also love integrations with Salesforce and LinkedIn.
FindThatLead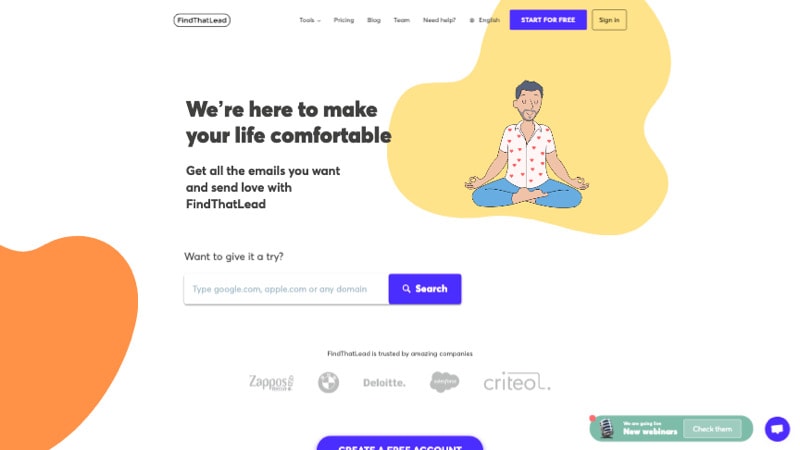 If you have problems with obtaining the correct emails of your prospects, confirming accurate contact information, and a high bounce rate, FindThatLead can help you. The platform is built precisely to offer solutions to those problems mentioned.
FindThatLead is a cloud-based solution that helps you generate leads and create email campaigns. It will be with you from your lead segmentation, prospecting, and email verification.
FindThatLead is a browser extension that will sort out emails from the thousands of LinkedIn and Twitter profiles.
ContactOut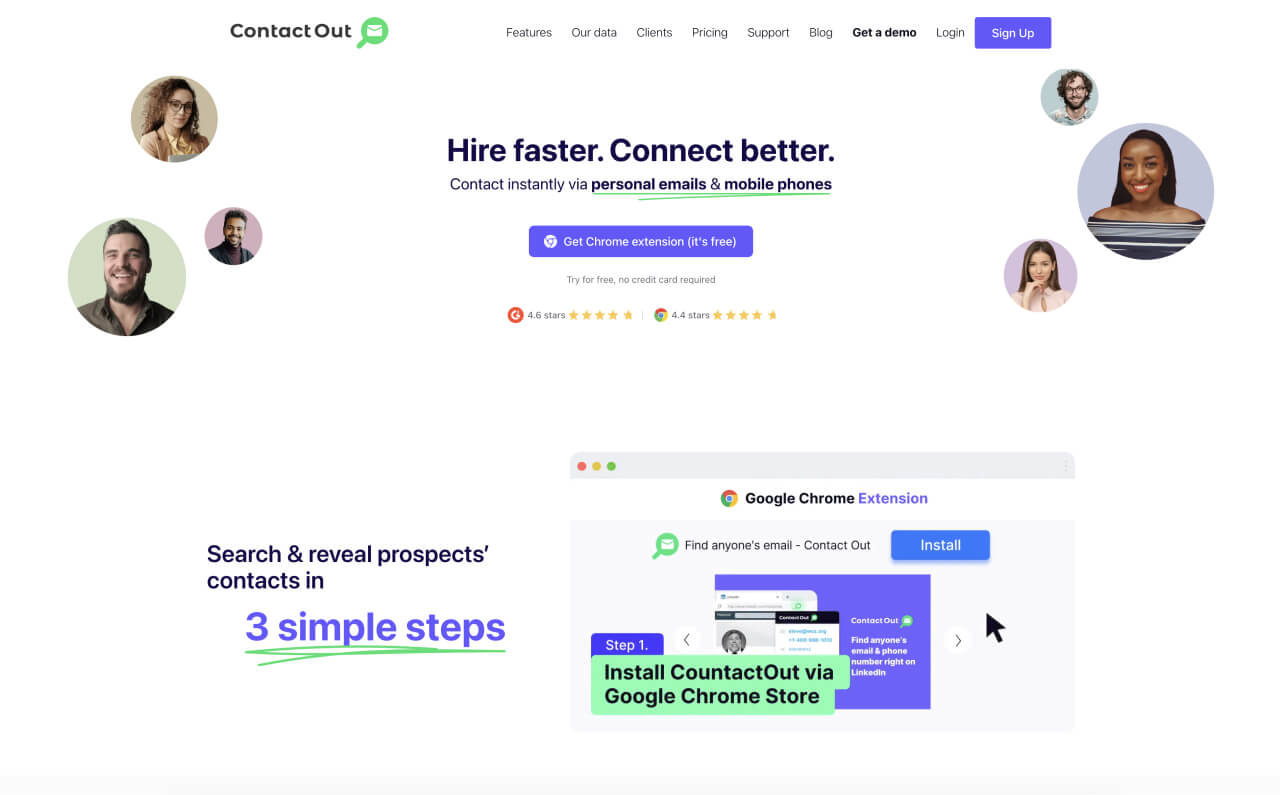 With a database that consists of 200 million work emails and 30 million company profiles, ContactOut is next on the list.
You can search for prospects, enrich data from LinkedIn, and even outreach from the same application.
Pricing-wise, you'll have the option to subscribe to a free tier or upgrade your way to a $199/month subscription.
Best Prospecting Tools Based On Contact Enrichment
MatterMark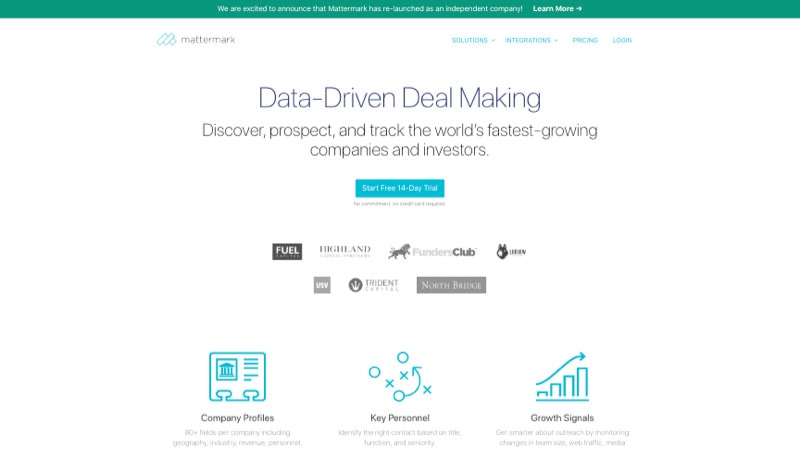 MatterMark extracts data from millions of news articles, social media mentions, and websites daily to guarantee you have the contacts that you need for your business. It provides you with information on crucial decision-makers within companies.
MatterMark allows you to create a set of criteria from which you want to base your search. From there, it will help you create a contact list rich with those most likely to convert into sales. Indeed, it's a robust lead enrichment and prospecting platform, especially that it delivers updates on your targets based on scores and historical growth.
Global Database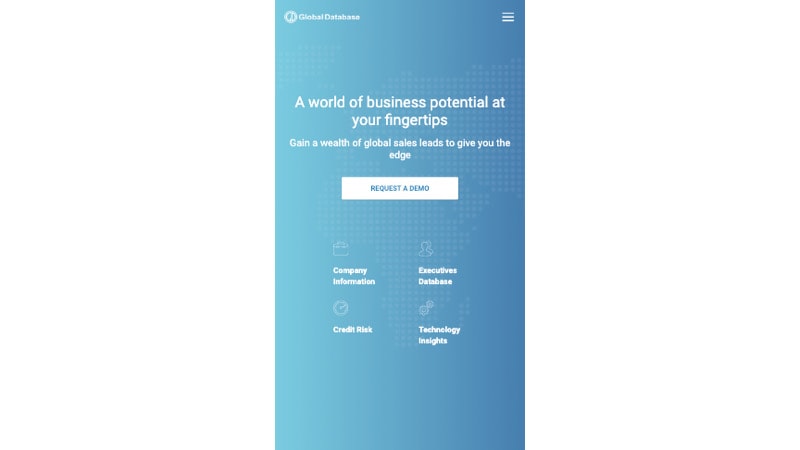 You can follow companies and executives and receive notifications when they update or change information if you have the Global Database for your prospecting tool. Your contact list will remain updated if the companies and executives you are following change email addresses, phone numbers, and even company job descriptions. The platform offers over 100 filters to help you get notifications about your existing contacts. As for your targeted leads, you may filter depending on the industry, company size or revenue, years of experience, seniority level, and many more.
Detective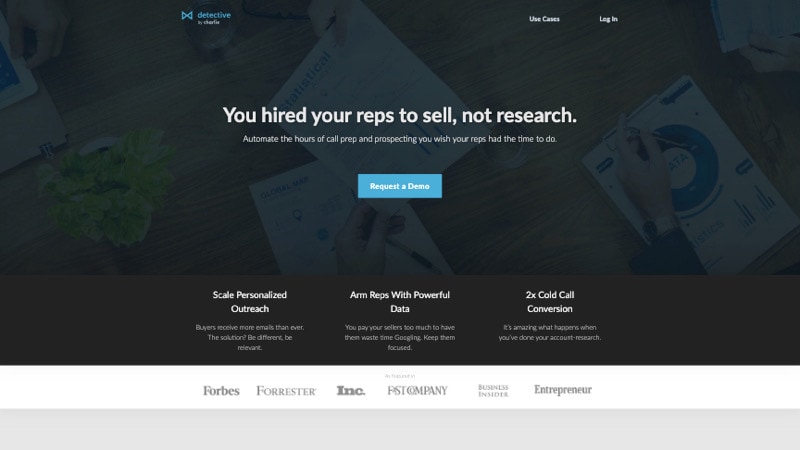 Detective collects information about your existing prospects. A detective can create a shortlist for your contacts from social media activities and mentions to their jobs. All you need to do is analyzed this list and develop actionable insights and then reach them.
Crystal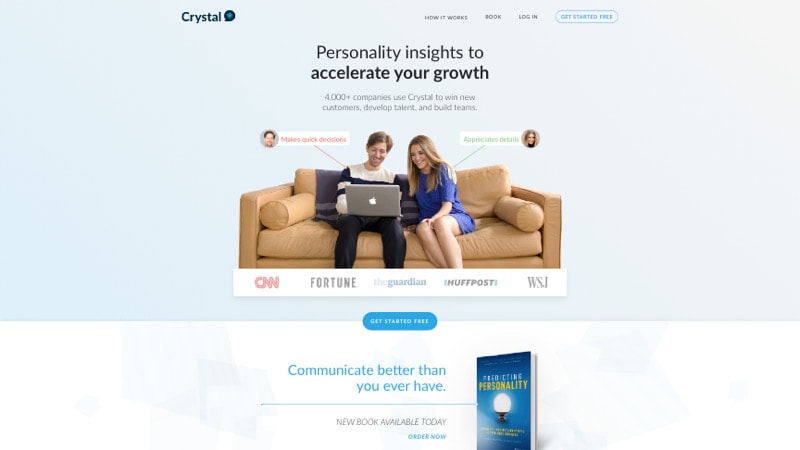 Imagine if, for example, you have the list of leads and contacts. The next step will be approaching them and making that pitch. But, how do you exactly talk with them? How do you get their attention?
With Crystal, you don't have to worry about this. It may not be there with you when you're building your target list, but it will assist you in making your sales pitch.
Crystal analyzes your prospects' communication style and corporate behavior based on news and social media activities. With this, you will have the information about, for example, what motivates your prospect in making a business decision. These insights will be readily available to you even before you make that first move.
Reply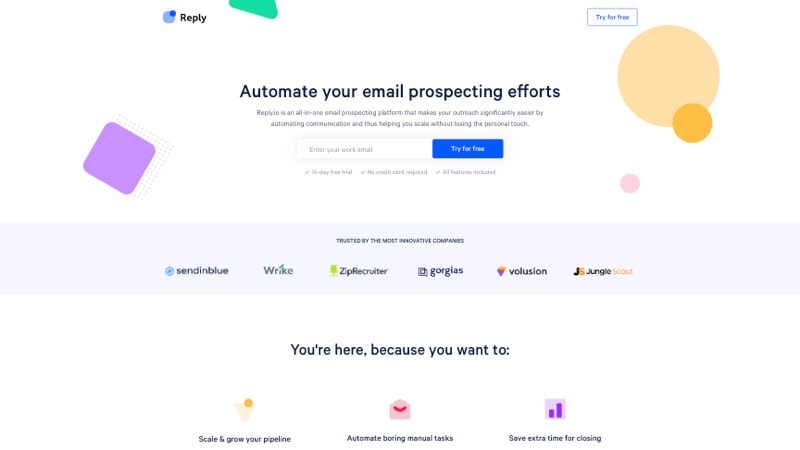 Reply ensures that you extend warmth and personal engagement to your contacts by automating personal email, outreach, and calls. Its algorithm is designed to communicate with your contacts across multiple channels. With Reply, your sales reps can concentrate on tasks where they need to do present, i.e., sales calls or closing sales deals. You will have access to tons of email templates that will help your contacts feel valuable. They will feel connected with your company just in time when your sales reps attend to them personally.
Reply has an AI-supported platform that can sort out based on whether a specific contact is "Interested." The platform also has native CRM integrations, including Zapier.
HubSpot CRM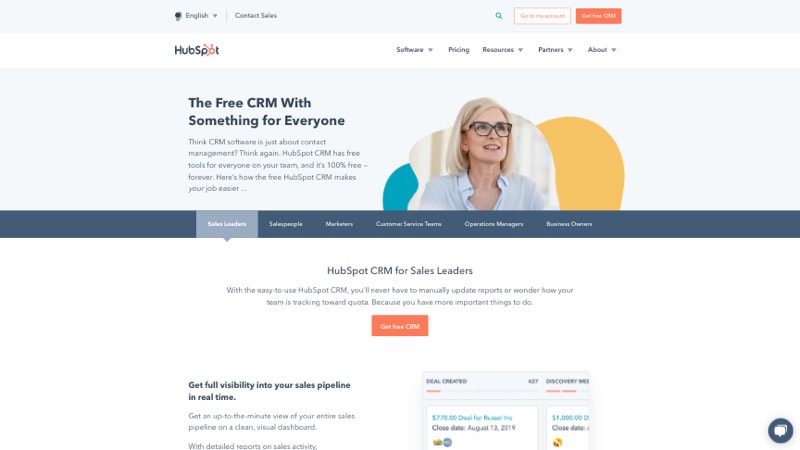 HubSpot CRM is a popular tool used for customer relationship management. HubSpot has a dedicated prospecting tool, but its CRM can enrich your relationship with your contacts further. This will be useful when there is an opportunity for upselling or retargeting.
For starters, you can link HubSpot CRCM to your website, email service providers, social media profiles, and many more. It includes a free version of other offerings, including Marketing Hub, Sales Hub, and Service Hub products. With all these features, you'll also have access to lead generation tools, advertising tools, as well as live chat and bots - all for the advantage of your contact.
Further, HubSpot CRM also connects with PieSync, which it acquired in November 2019. PieSync pulls up live and historical data synchronization. With HubSpot CRM and PieSynch, you can process data in real-time. For your prospecting, it means your sales rep will have accurate information anytime they need it even if they need them during a live call.
HubSpot CRM also has essential integrations, including Gmail and Microsoft Outlook. This feature allows you to monitor your HubSpot CRM window even if you are logged in to your emails. This way, you can add or remove contacts as needed. Personalize your email to a particular company—that way, you see it fit based on what you can see from the CRM.
Right after you add a contact to HubSpot CRM, the system tags him as a "contact" to differentiate from your "leads." From there, you can change your contact status to open deal, in progress, and so on.
Qualaroo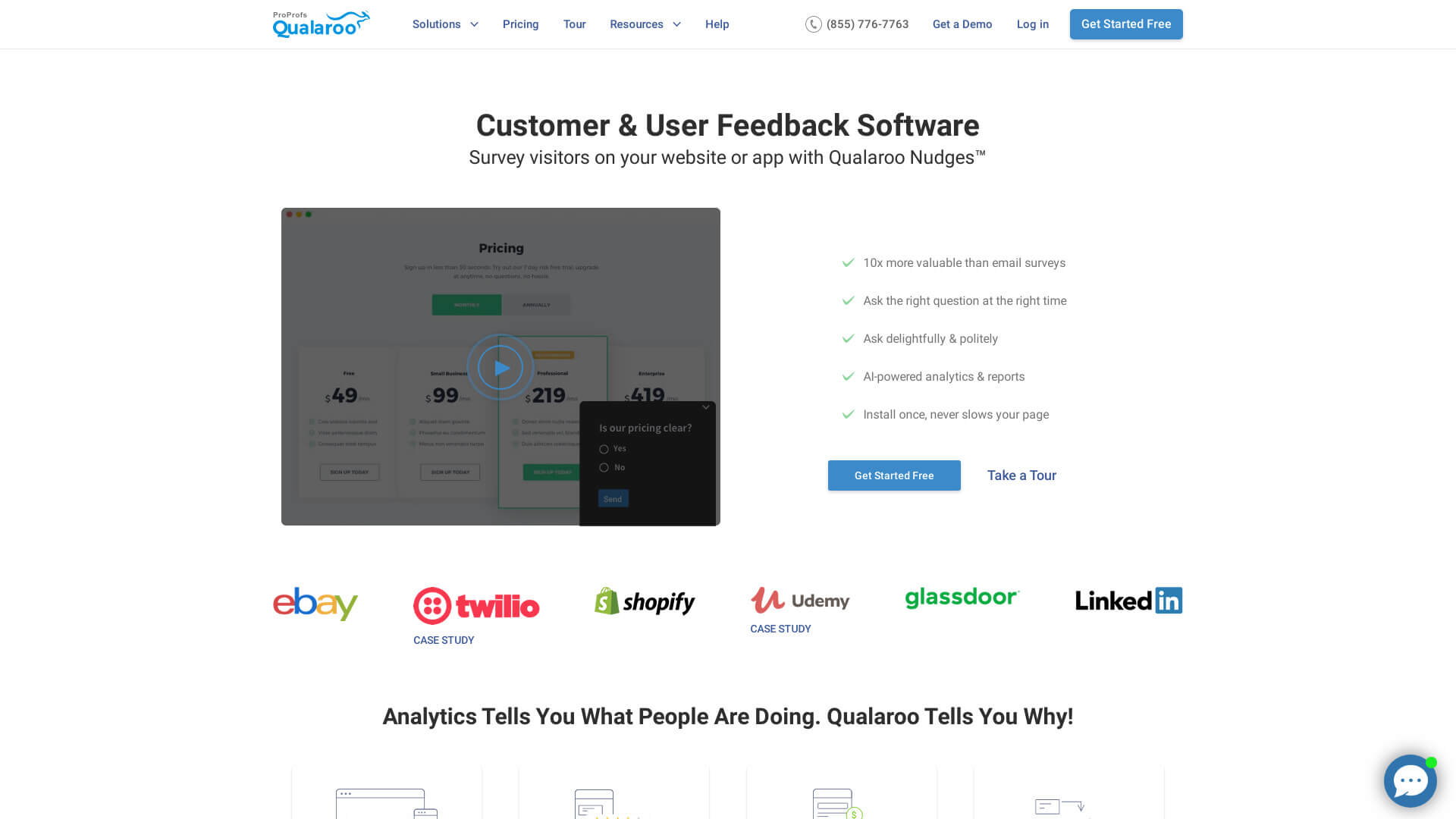 Qualaroo is a customer feedback/survey software more than a prospecting tool. However, the software is designed with the capability to analyze customer actions and behavior. With that, Qualaroo can easily double as your customer targeting tool.
Get-to-know your prospective clients while they are looking at your website. You can see what products they are browsing and how much they pay. You can also access their visit history. With all this information at your disposal, you can target them next for future product launches or upcoming services.
Snov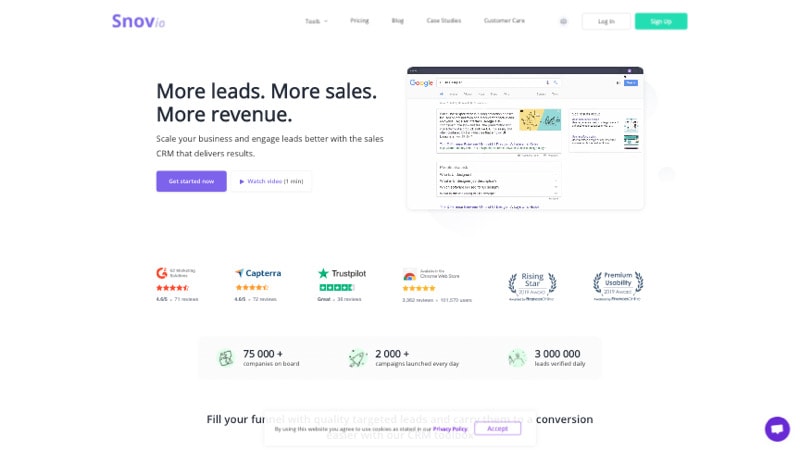 Snov is an all-in-one platform for all your email marketing automation need. It will save you time since it automates follow-up emails and even your cold calls. This way, you can keep your prospect list intact and compact with the leads that will most likely do a conversion.
Best Prospecting Tools With Alerts Based On Certain Keywords
Google Alerts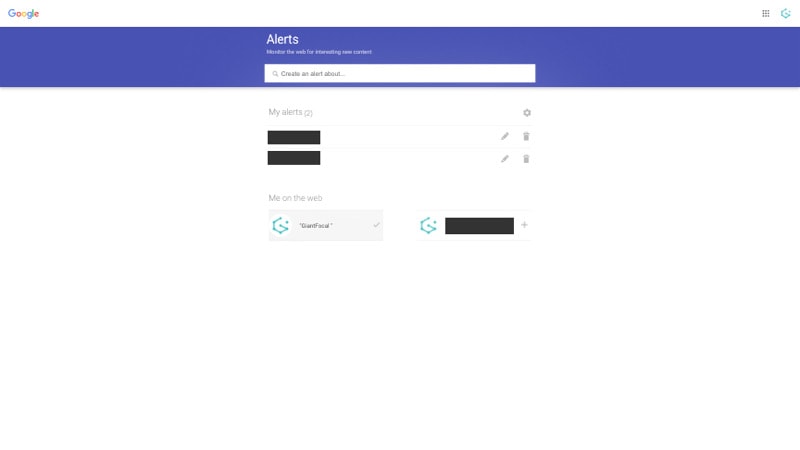 What's better than a robust platform that's FREE? If you're not using Google Alerts, you should today!
Go straight ahead to Google Alerts page. From there, you can create an alert about anything related to your business. Just follow the simple steps, and you will soon be getting emails about these alerts you created.
You can create an alert for the names of the companies you are monitoring, even your competitors. Anytime that there's news, articles, and blogs about them, you will get notifications.
Google Alerts may not be marketed as a prospecting tool. Still, it will definitely help you in following leads and enriching your contact lists.
Owler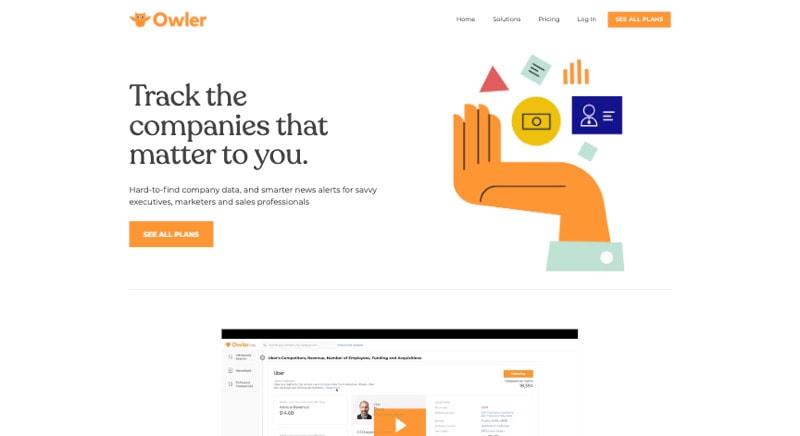 Nearly 1 million business professionals are using Owler today. They want to outsmart the competition and be at the heel of the most important industry news. And, they get what they want from the platform.
You might find Owler as a great prospecting tool from the get-go. For starters, the Owler Dashboard lets you in on unique real-time insights of millions of company profiles. You can get quickly on their revenue, headcount, and financial prospects, among other things.
Owler can equip sales reps with their prospects' personality and behavior to allow them to customized offerings based on that need. Its intelligence platform delivers data on company news and alerts.
For example, Owler has this feature called the Daily Snapshot. It delivers daily news digest about the companies that business professionals are tracking. This option works by sending you news articles, press releases, blog posts, and other similar content about the companies you are monitoring or cared about.
Owler also has the weekly showdown, where it sends out weekly reports on your competitors' activities. Instant Insights, on the other hand, keeps you updated when the company you cared about raised new funding, underwent acquisition, or even announced a new CEO.
Mention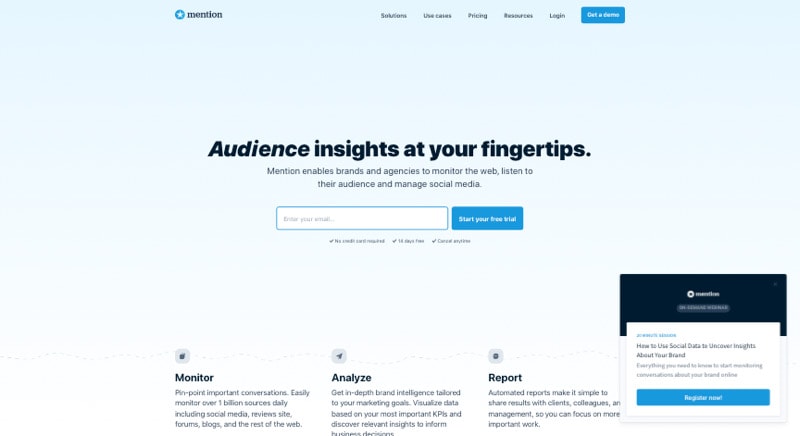 Mention will be your social media and web monitoring tool, providing real-time alerts for your preferred companies and keywords. You will have access to millions of sources in real-time and in 42 languages. It has both mobile and web-based app versions.
FollowerWonk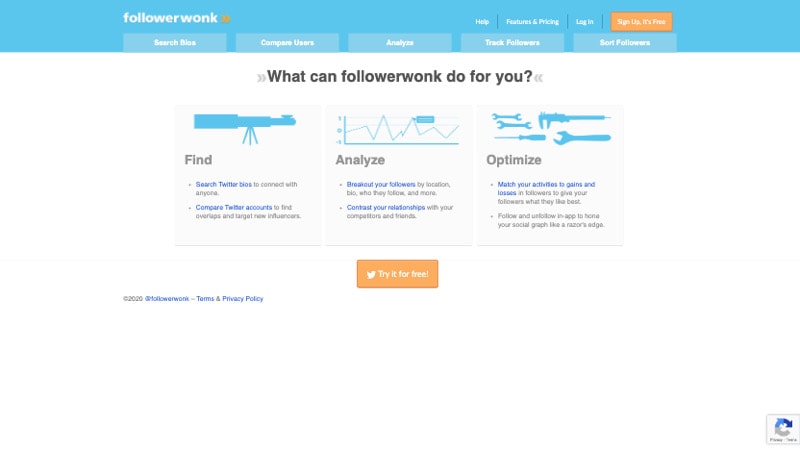 FollowerWonk is for businesses that are serious about their social media campaign on Twitter. It finds, analyzes, and optimizes for Social Growth.
FollowerWonk will help you find followers for your brands and then provide analysis based on their locations, sentiments, and other brands they follow. It can also help you compare your Twitter campaign with others similar or in direct competition.
If, for example, you are looking for one person to be your brand's influencer, FollowerWonk will help you analyze different accounts. You can find the influencers suitable for your brand based on their number of followers and reach.