Customer feedback tools allow you to know and understand how users experience your services. These tools give your customers the power to reach to you and give their feedback most easily.
Customers love it when they can let you know about the suggestions they have in mind. Most importantly, customers want it to report problems immediately, as soon as they experienced the issues.
According to a survey from PwC, 1 in 3 customers out of 15,000 will leave a company just after one bad experience. At the same time, 92% abandon you after two or three bad experiences.
Giving such power to your customers will make them feel that you value them. And, that communicating with them is your top priority more than anything else. If they can provide you suggestions, they feel like they are a significant part of your company's development. They feel more connected to you. In the end, they are more than satisfied with their customer experience.
The rest of 2020 and forward, competition among companies will all be about customer experience. It will be more critical than content marketing, video marketing, and even social media in the years to come.
Customer feedback tools are a significant part of the customer experience. If you invest with one today, you're going to reap the rewards sooner than you know.
Here, I listed the top customer feedback tools that you can choose from. Hopefully, you'll find the one that can help you engage with your customers the soonest.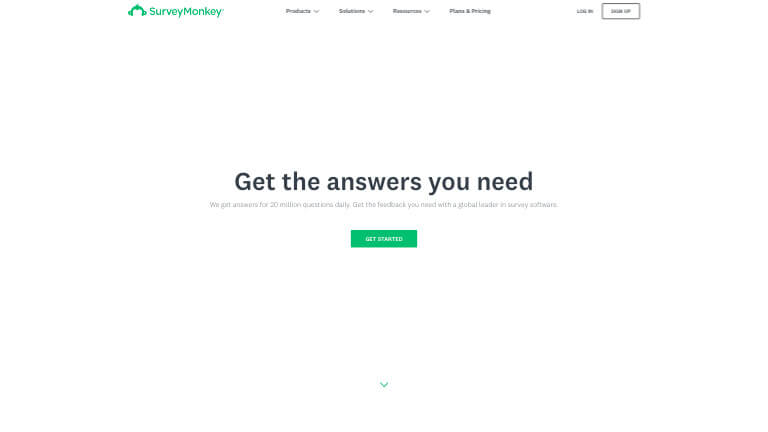 Founded in 1999, SurveyMonkey now has 17.5 million active users and enjoying more than 69 million monthly web visitors. It is easily the most popular customer feedback tool to date, with 98% of the Fortune 500 using its services.
You can start with a free plan. This version gives you access to 10 questions and 100 responses per month.
The paid plan starts at $20 per month. It goes higher, depending on the features you need for your business.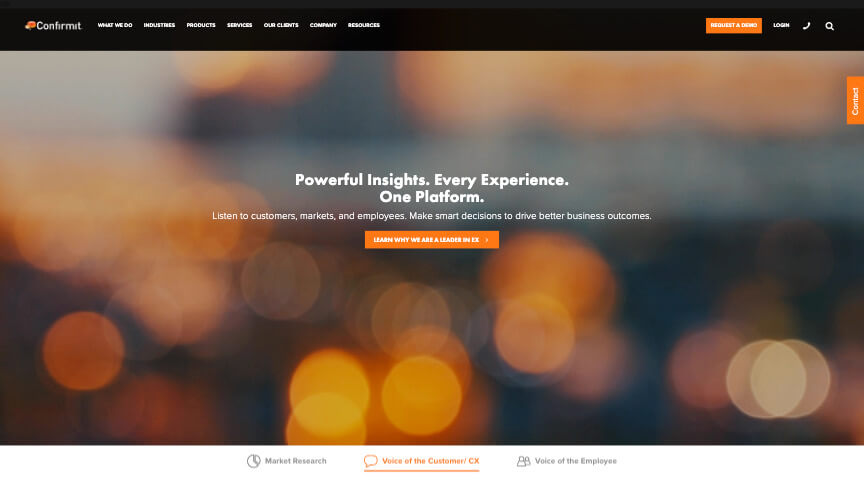 Confirmit was recognized as a leader in customer experience in February 2020 by the independent research firm Forrester. It received the highest scores in Image and Video Feedback Collection and Mining, Analytics Capabilities, Dashboards and Reporting, Cost, Voice of Employee, Scalability, and Security.
Since its launch in 1996, Confirmit is now enjoying more than 5 million monthly web visitors.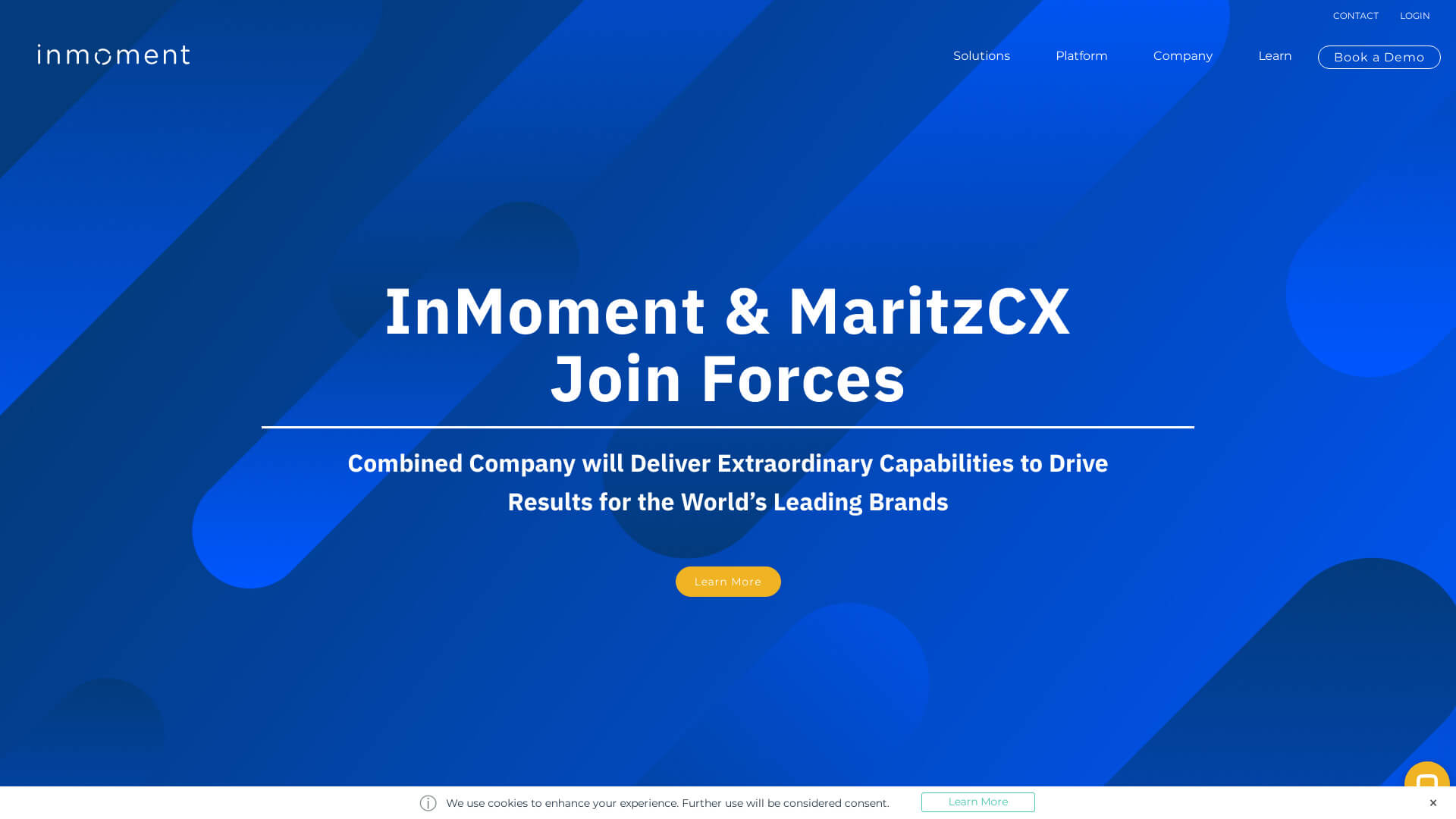 Launched in 2002, InMoment has always been known as a customer feedback management company. Its area of experience is in cloud-based intelligence. The company has three intelligence platforms: Customer Experience Cloud, Employee Experience Cloud, and Market experience Cloud.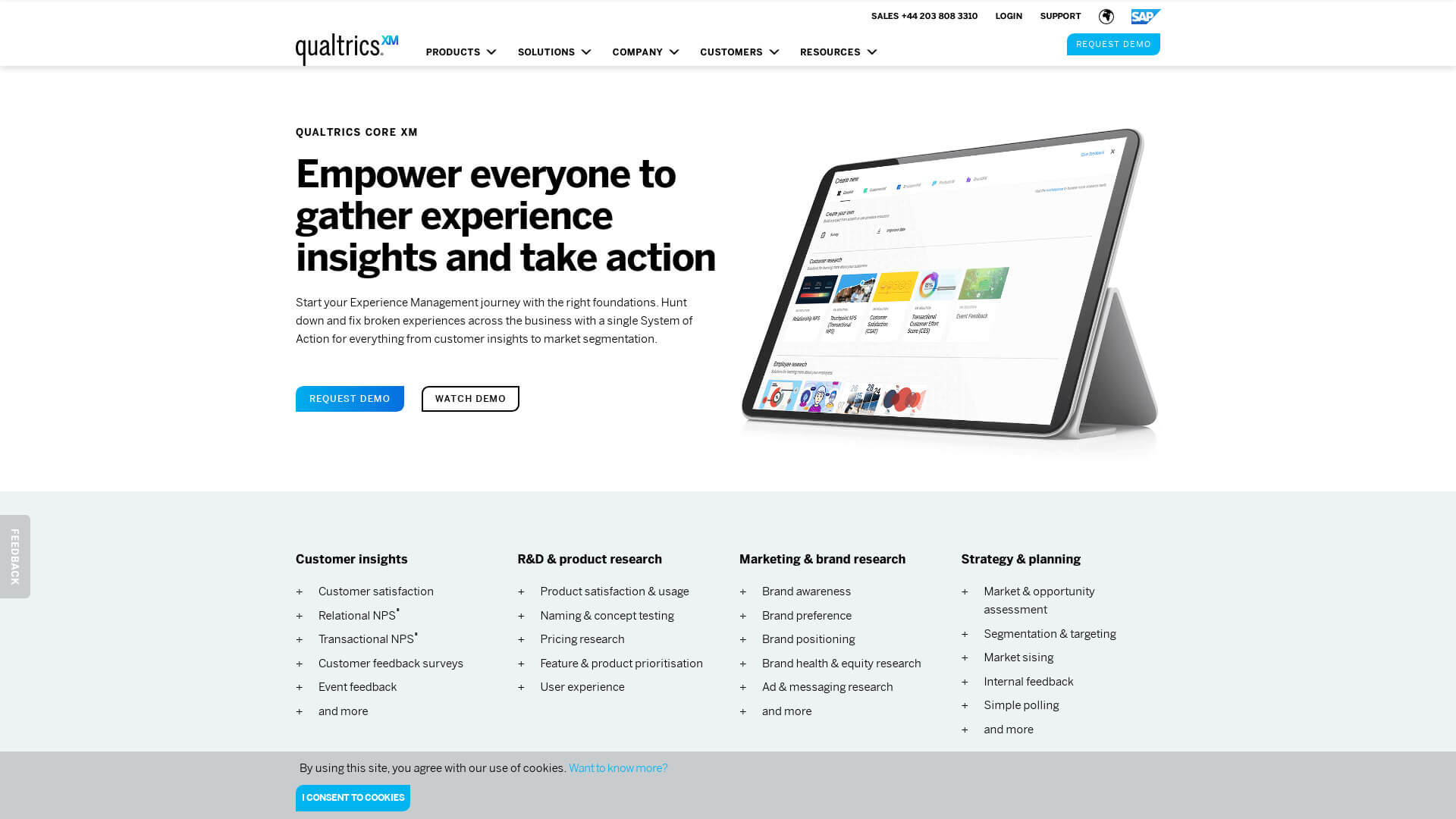 Since 2002, Qualtics Research Core has serviced 11,000 companies and enjoys more than 67 million monthly web visitors.
Pricing and plans are available after viewing the company's demo. The demo will introduce you to how Qualtrics gather customer experience data based on more than 125 sources. You will see how its system allows you to manage customer interactions in one place. Having Qualtrics as your customer feedback tool will arm you with more targeted research and highly personalized insights about your customers.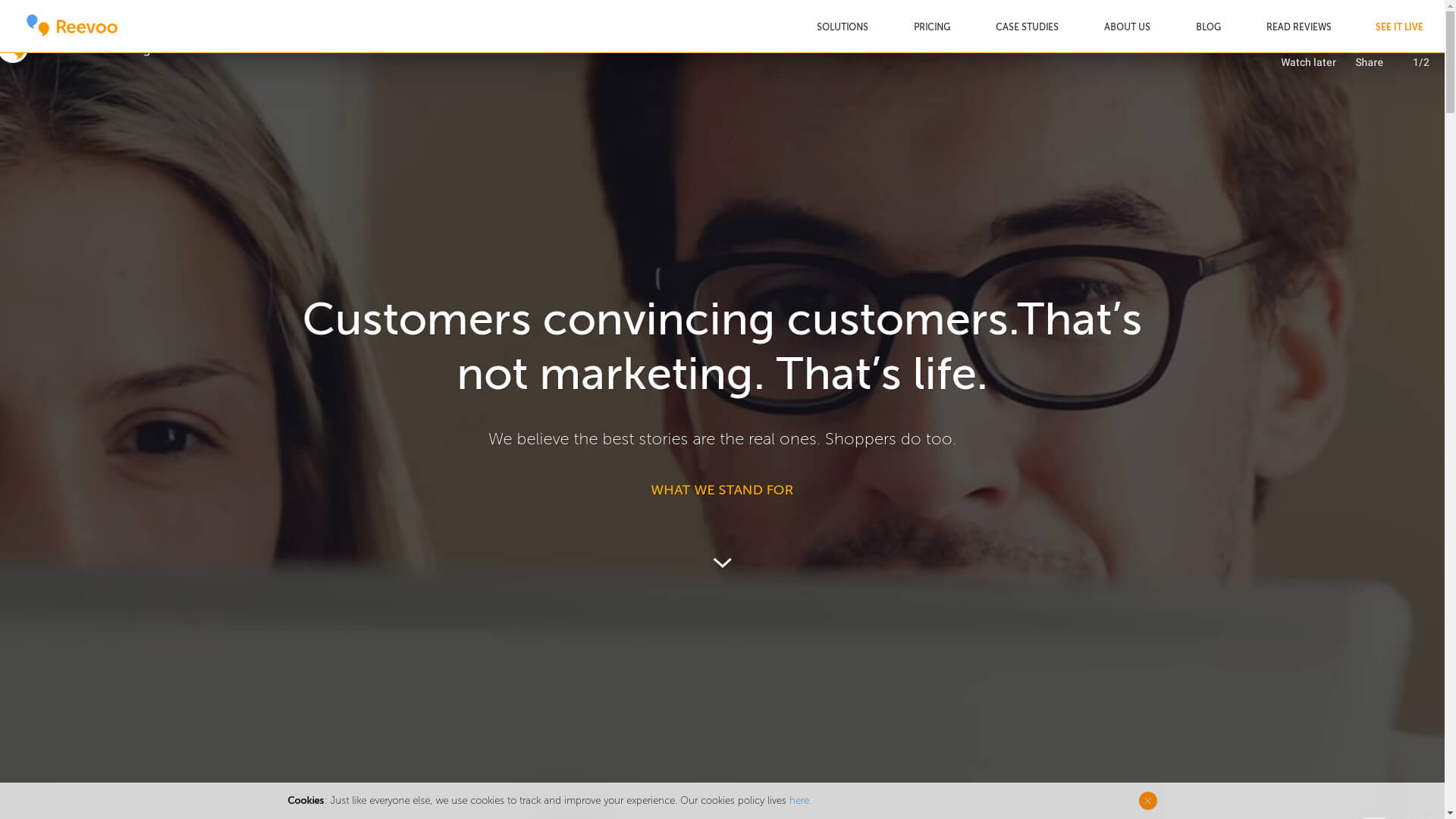 Brands trust Reevoo to connect with customers since 2005. The service is now available in more than 60 countries and 30 different languages. More than 750,000 people are visiting its web every month. For a more customized experience, Reevo makes its pricing and plans available on a by-quote basis.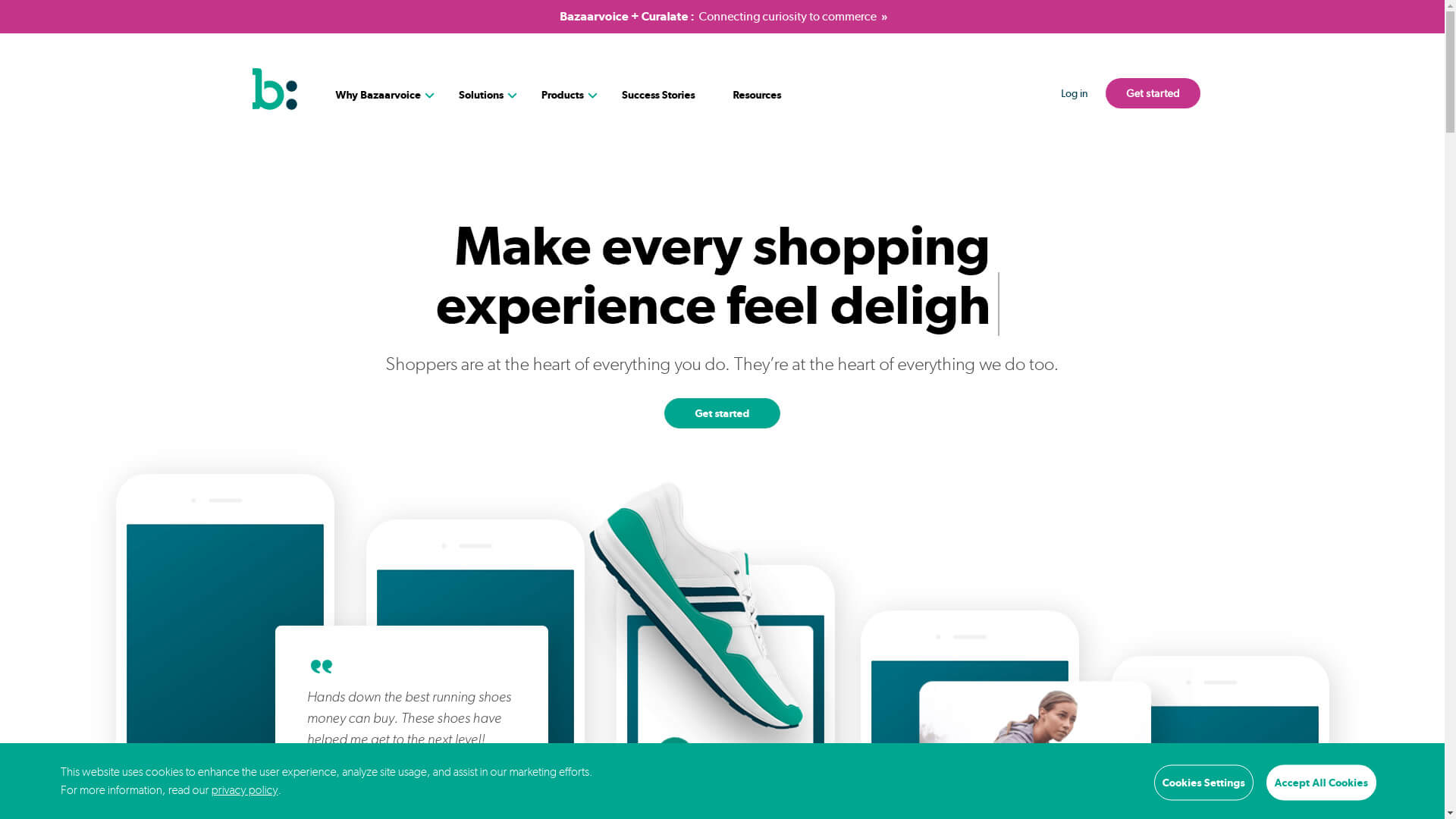 Bazaarvoice provides customer feedback software to B2B and B2C providers. Its software collects and displays user-generated content that includes product ratings and reviews, shopper questions and answers, and curated social content.
Since its launch in 2005, its website is being visited by more than 5 million people on a month-to-month basis.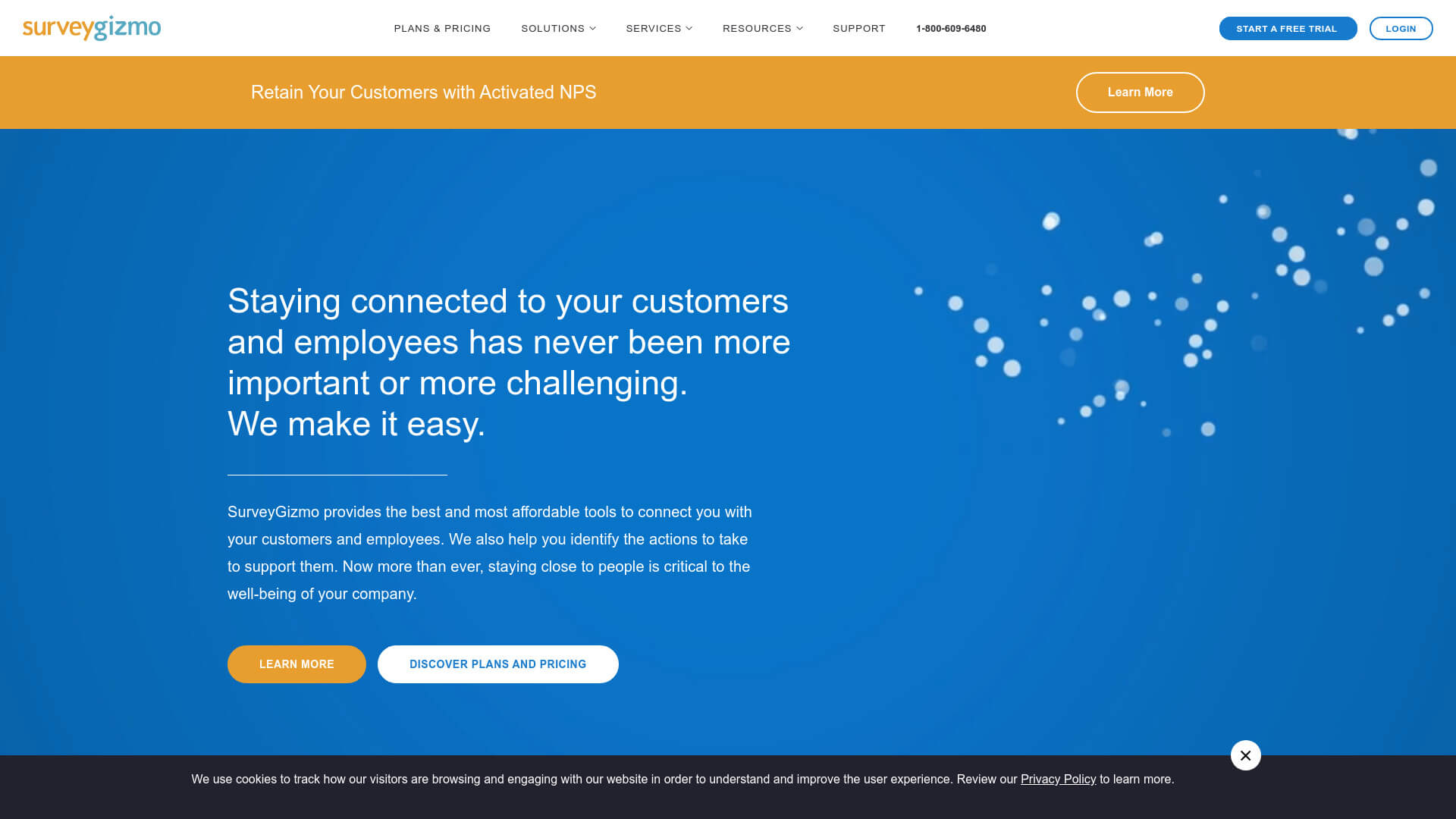 SurveyGizmo has amassed 15,000 clients since 2006. Its clients range from small businesses to independent researchers, and the most significant companies you know. Some of the big brands that trust SurveyGizmo are Adobe, FedEx, Verizon, Salesforce, and UrbanOutFitters.
SurveyGizmo wins in giving fast and accurate customer insights. Apart from 15,000 clients, SurveyGizmo has more than 13 million website visitors.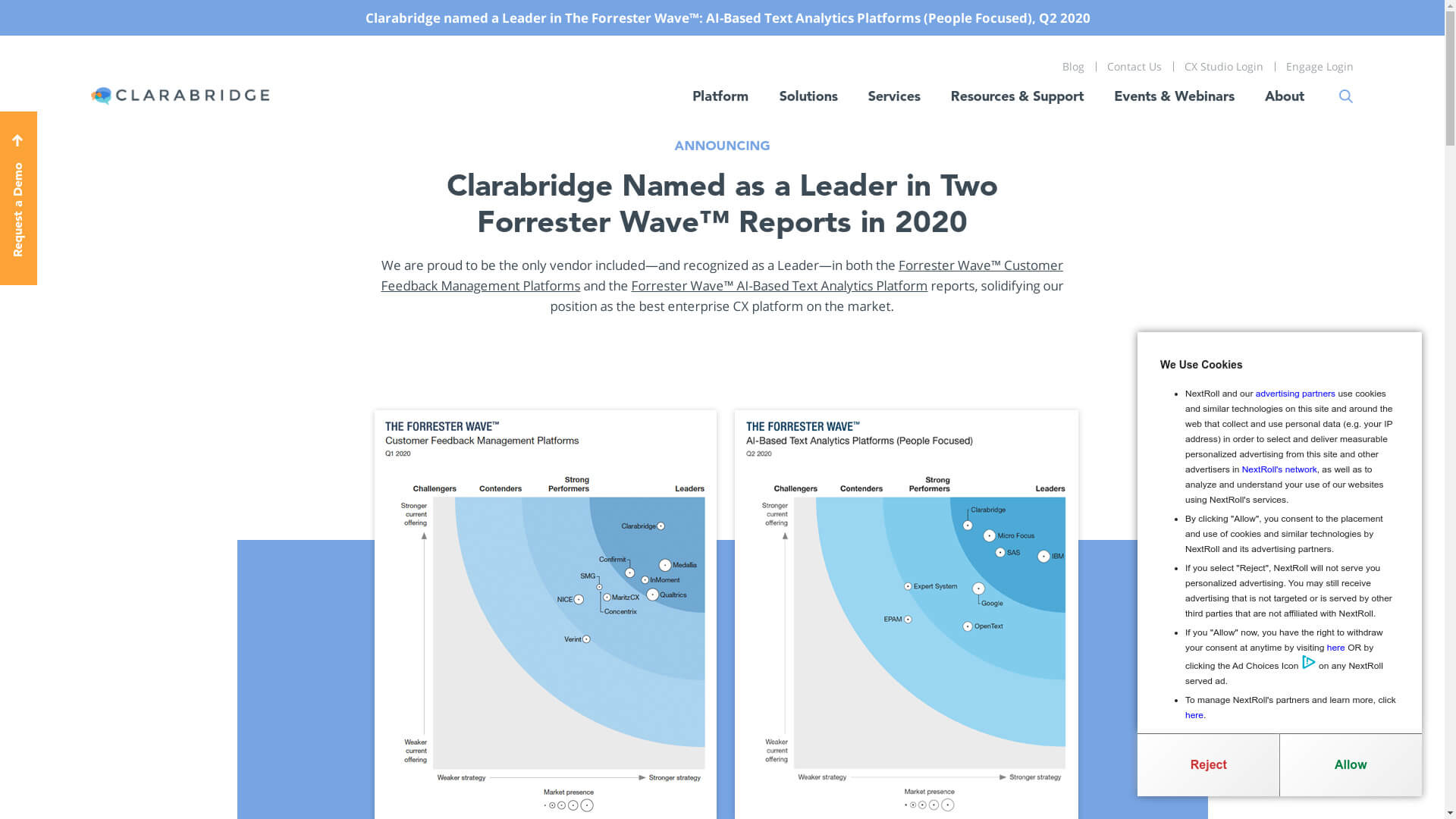 United, Frontier, Orbitz, USBank, and Electrolux are only five among Clarabridge's big clients. The company was founded in 2006. In June 2020 was recognized as a leader in an AI-based text analytics platform by Forrester. The company was also named a leader in customer feedback management platforms.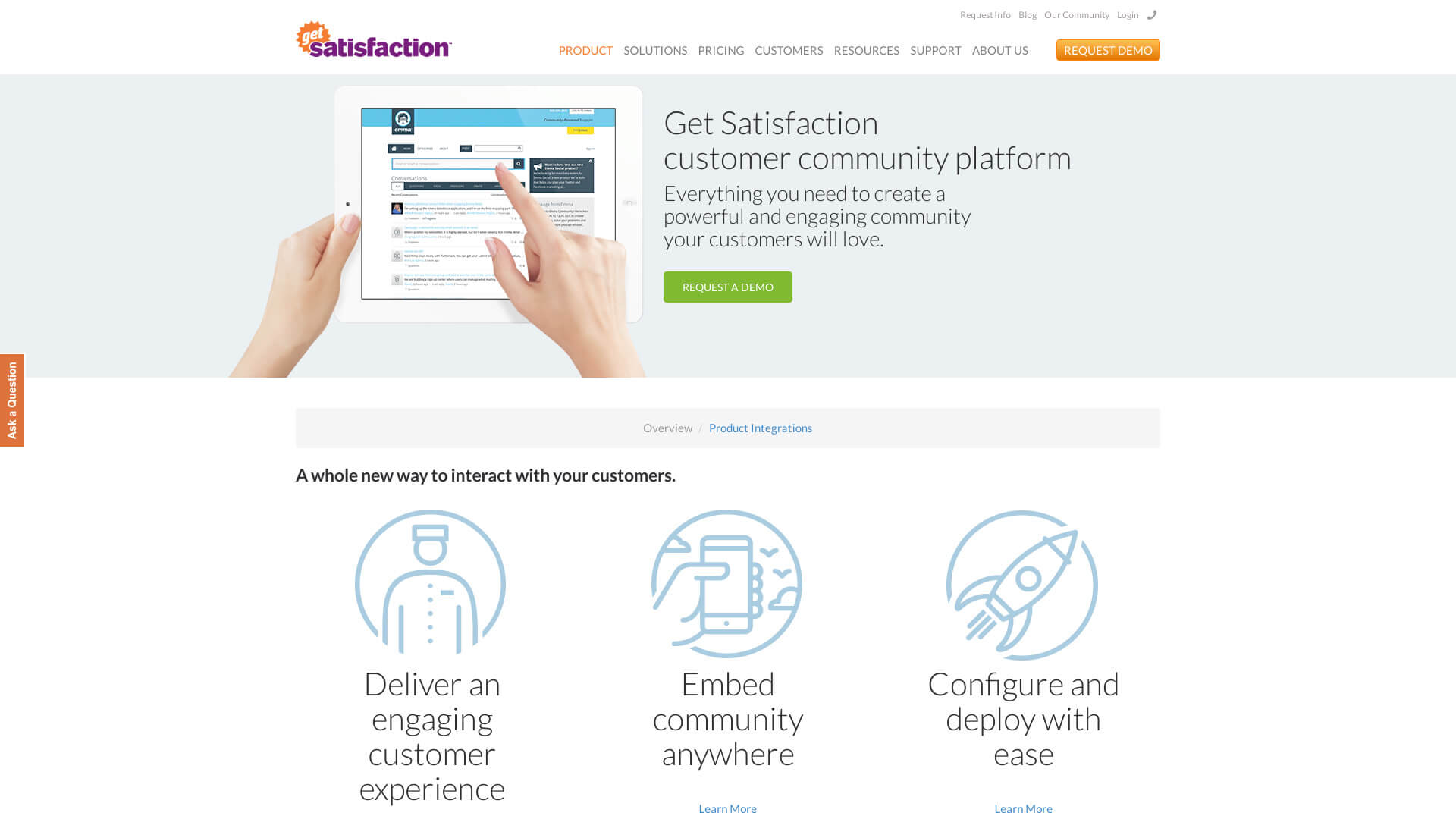 With plans starting at about $100 a month or about $1,200 annually, Get Satisfaction provides businesses with access to an unlimited number of users, endless surveys, and unlimited responses.
Get Satisfaction was launched in 2007, and Procter&Gamble is its biggest client to date. Its website has more than 1 million monthly visitors.
Since 2009, Usabilla is empowering big brands that include KLM, Tommy Hilfiger, Toyota, BMW, IBM, DHL, Samsung, Lufthansa, Unicef, Virgin, and the list goes on. As proof of how reliable its tools are, Usabilla was acquired in 2019 by no other than SurveyMonkey. I can say that the latter was a senior player in customer feedback and yet decided a newcomer.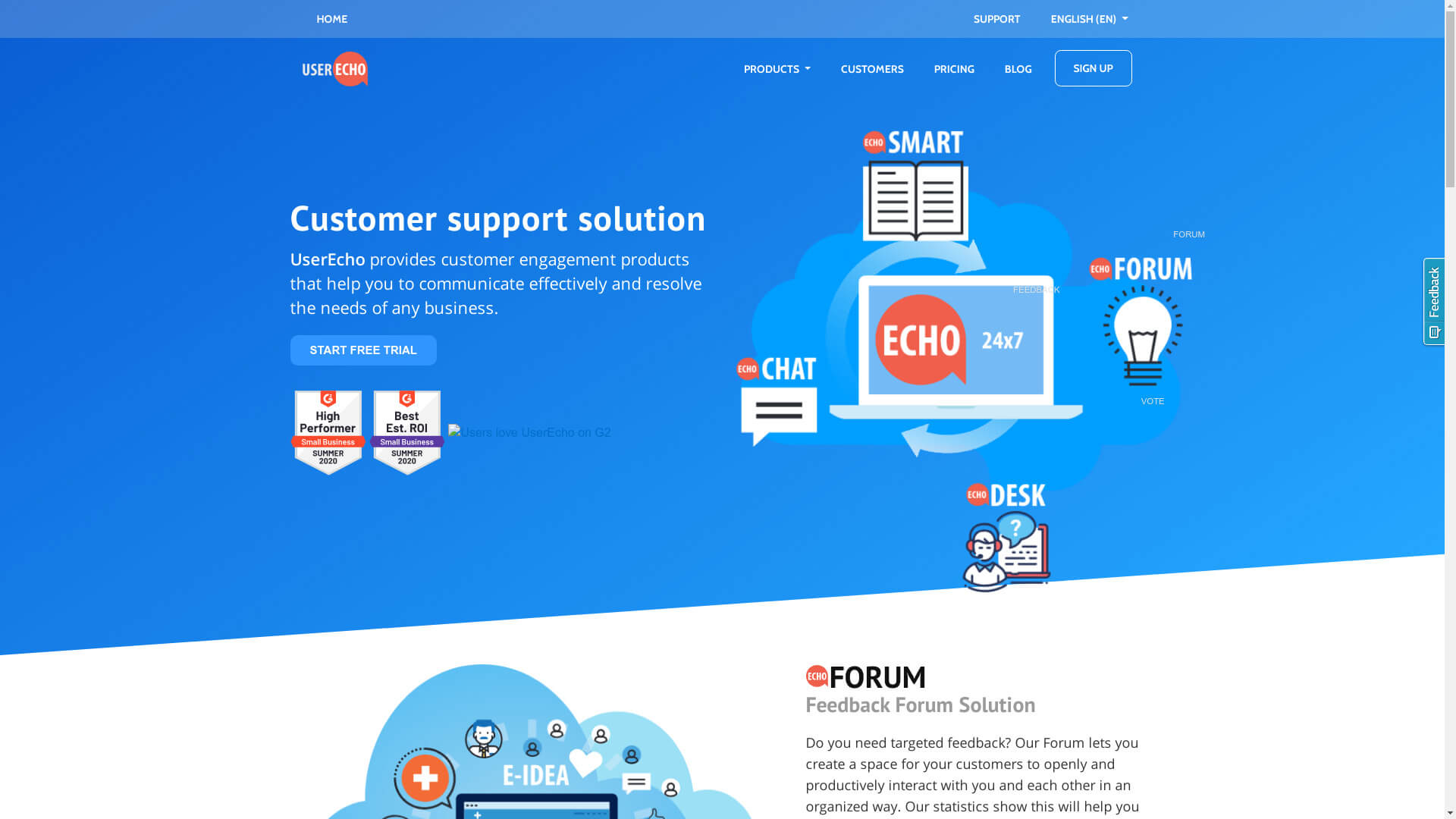 UserEcho boasts of servicing more than 27,000 companies since its founding in 2010. Its services are free for 15 days. After trial, plans start at $19 per agent per month. The basic idea already gives you access to feedback forums, support tickets, live chat, unlimited data, free and customer support, among many other features.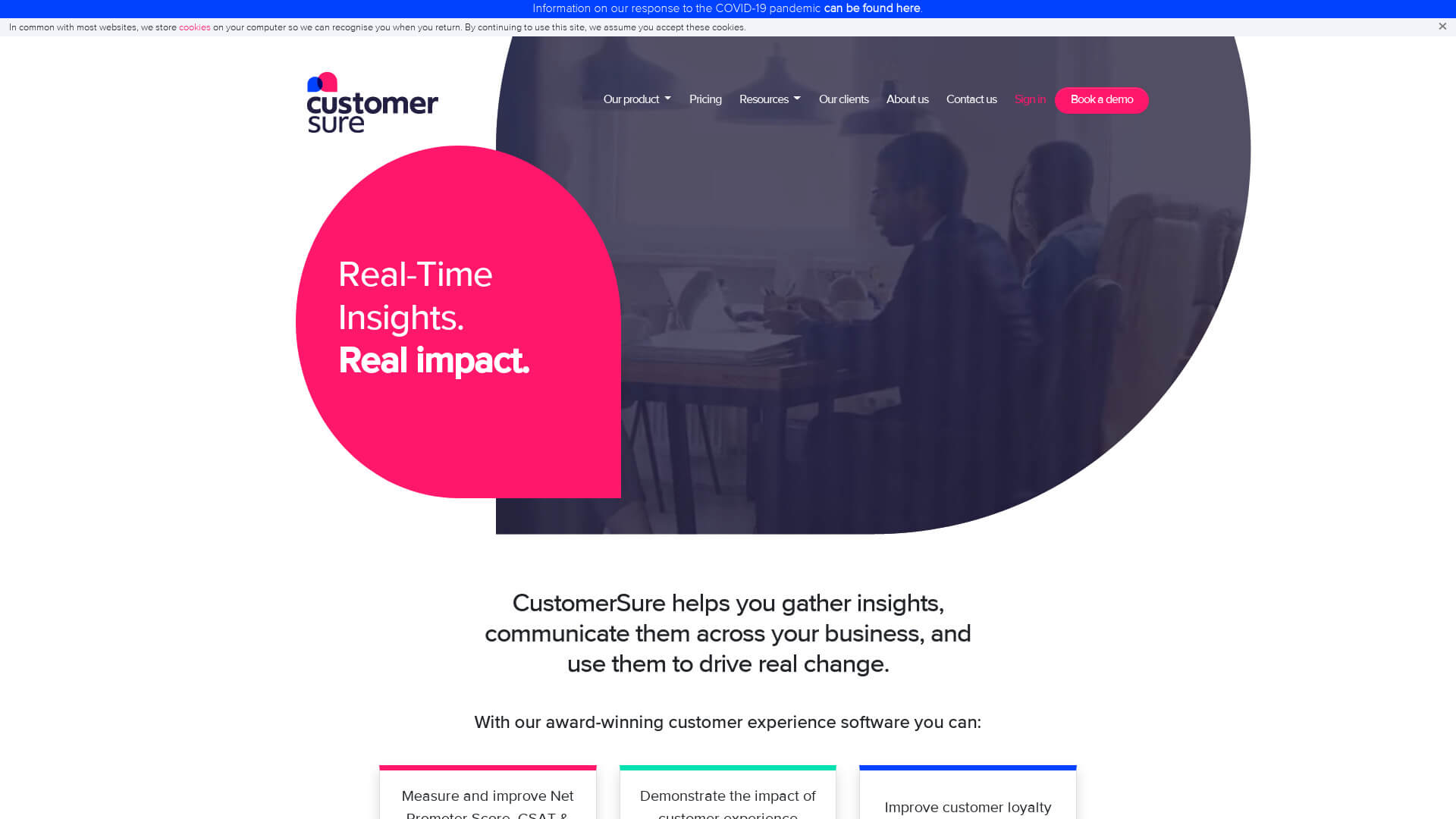 CustomerSure is trusted by the largest firms in the United Kingdom since 2010. The company's unique brand lies in focusing on making customer feedback into delivering a positive impact on the business. Plans start at $248. The basic idea already gives you as many as 10,000 surveys.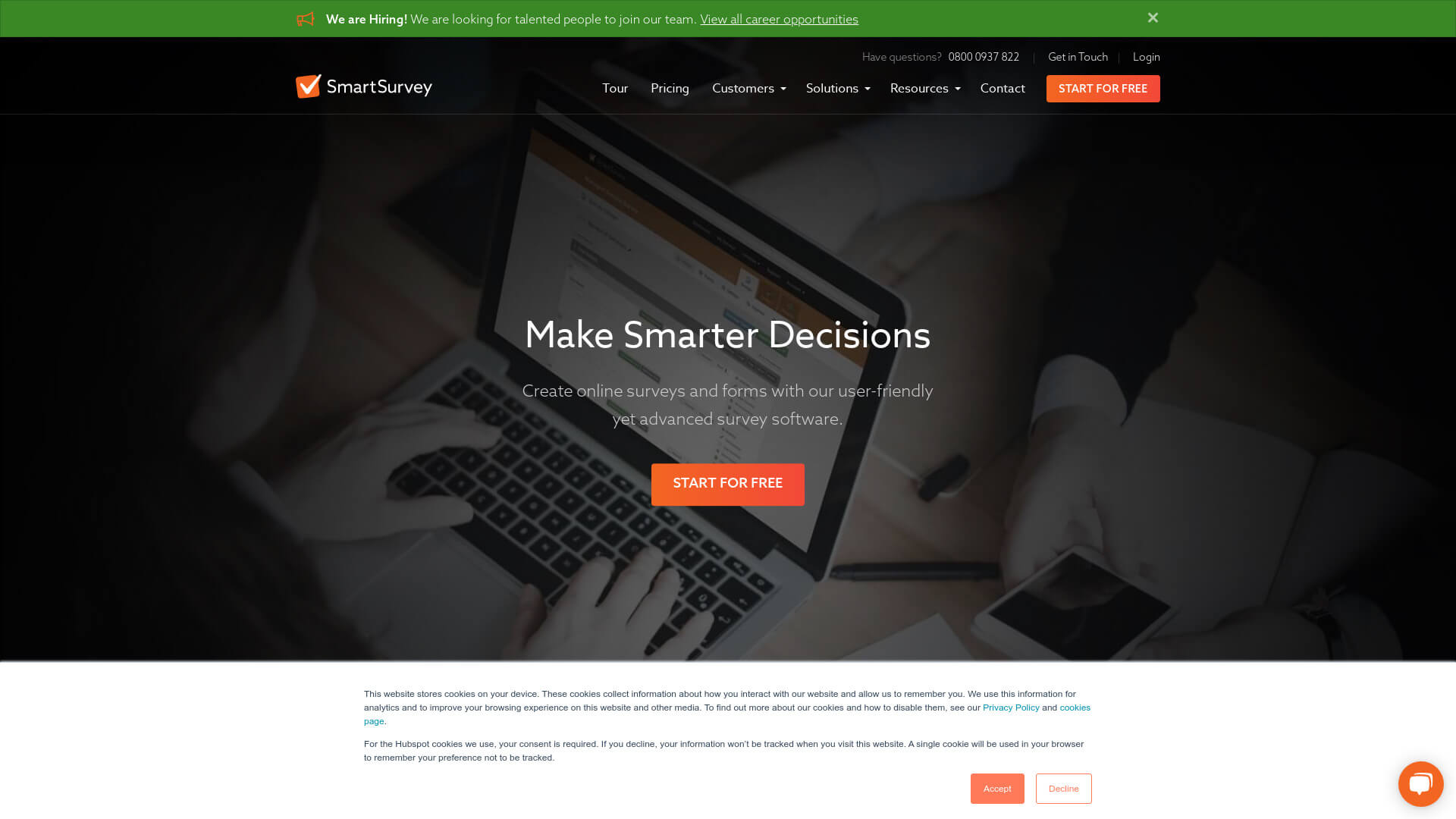 Here's another company from the United Kingdom that has more than 250,000 customers worldwide. Plans start for free, and it remains that way forever. You can have unlimited surveys, even with this basic plan. The free reviews come with 15 questions and access to 100 responses monthly. If you need unlimited polls, endless questions, and unlimited access to all customer responses, the plans start at $74 per user per month.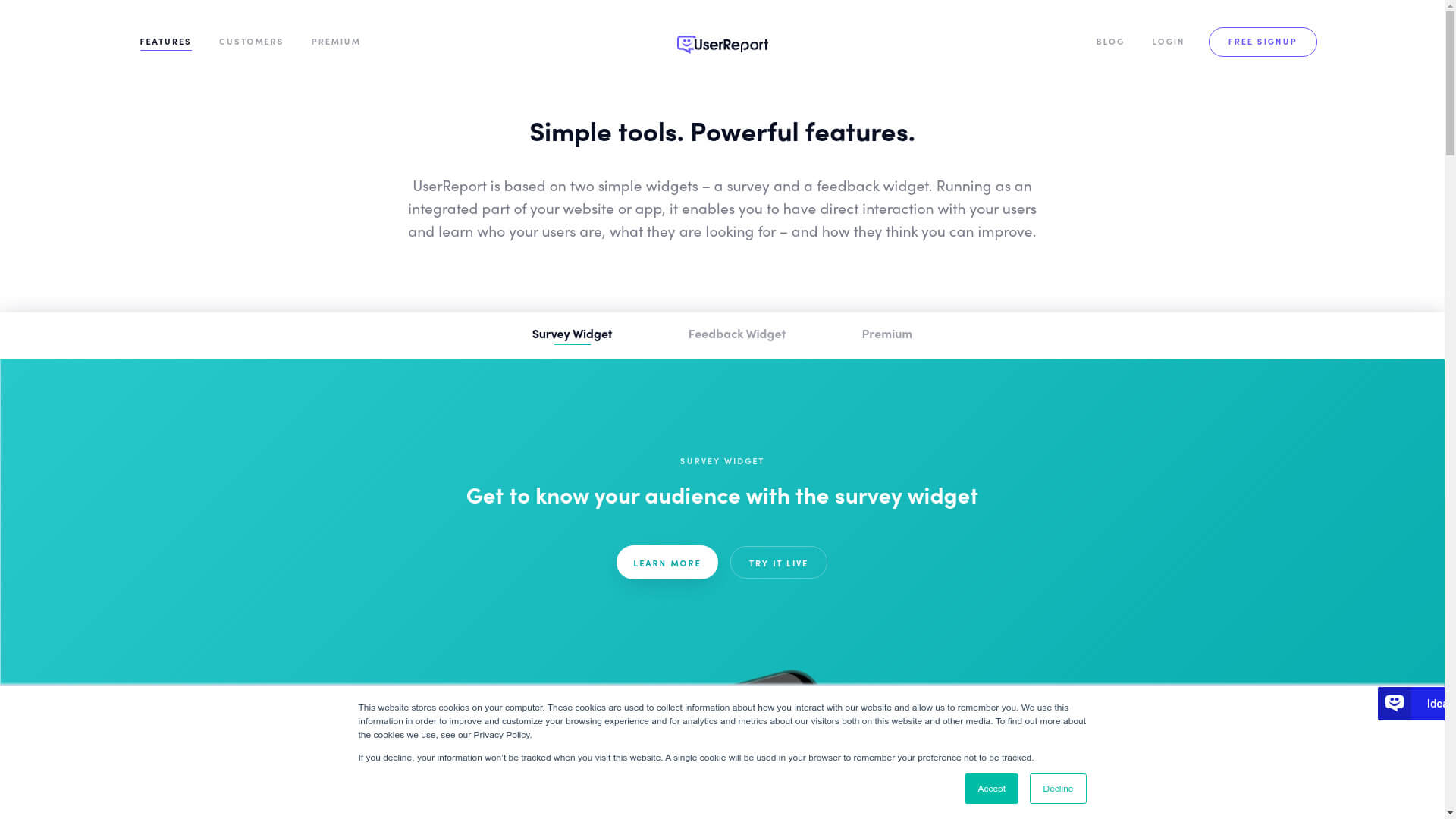 Since starting in 2010, there are now more than 20,000 active users on UserReport. It has serviced companies, including Bauer, Toyota, Kia, TripAdvisor, and AOL.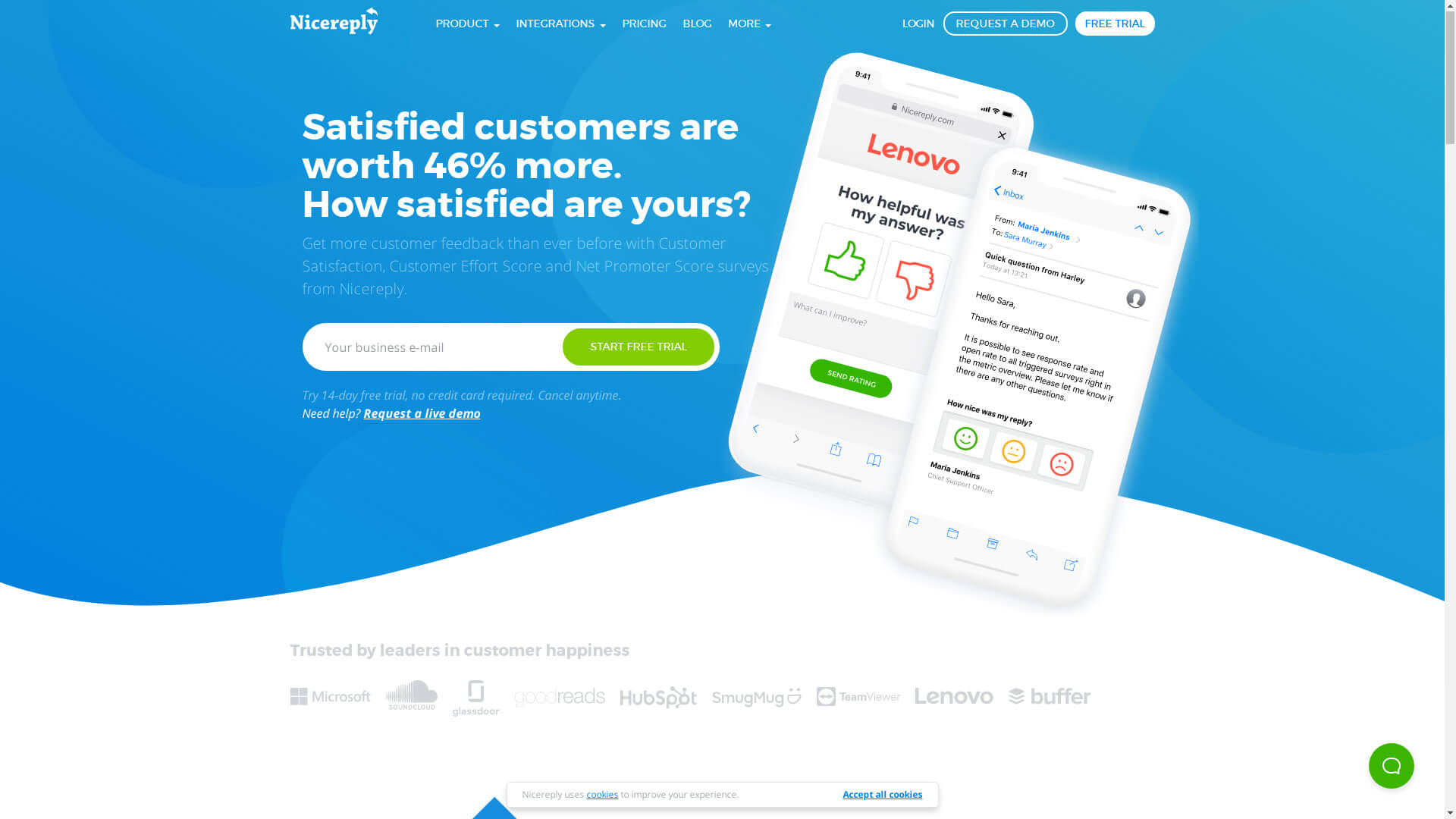 Nicereply has three core products: Customer Satisfaction score, Customer Effort Score, and Net Promoter Score. All other tools are available through integrations, including ZenDesk, SalesForce, and PipeDrive.
Nicereply starts at $39 a month. This plan includes access for three agents and access to 100 responses per month. The highest programs can start from $239 with access for 50 agents and 2,500 responses per month.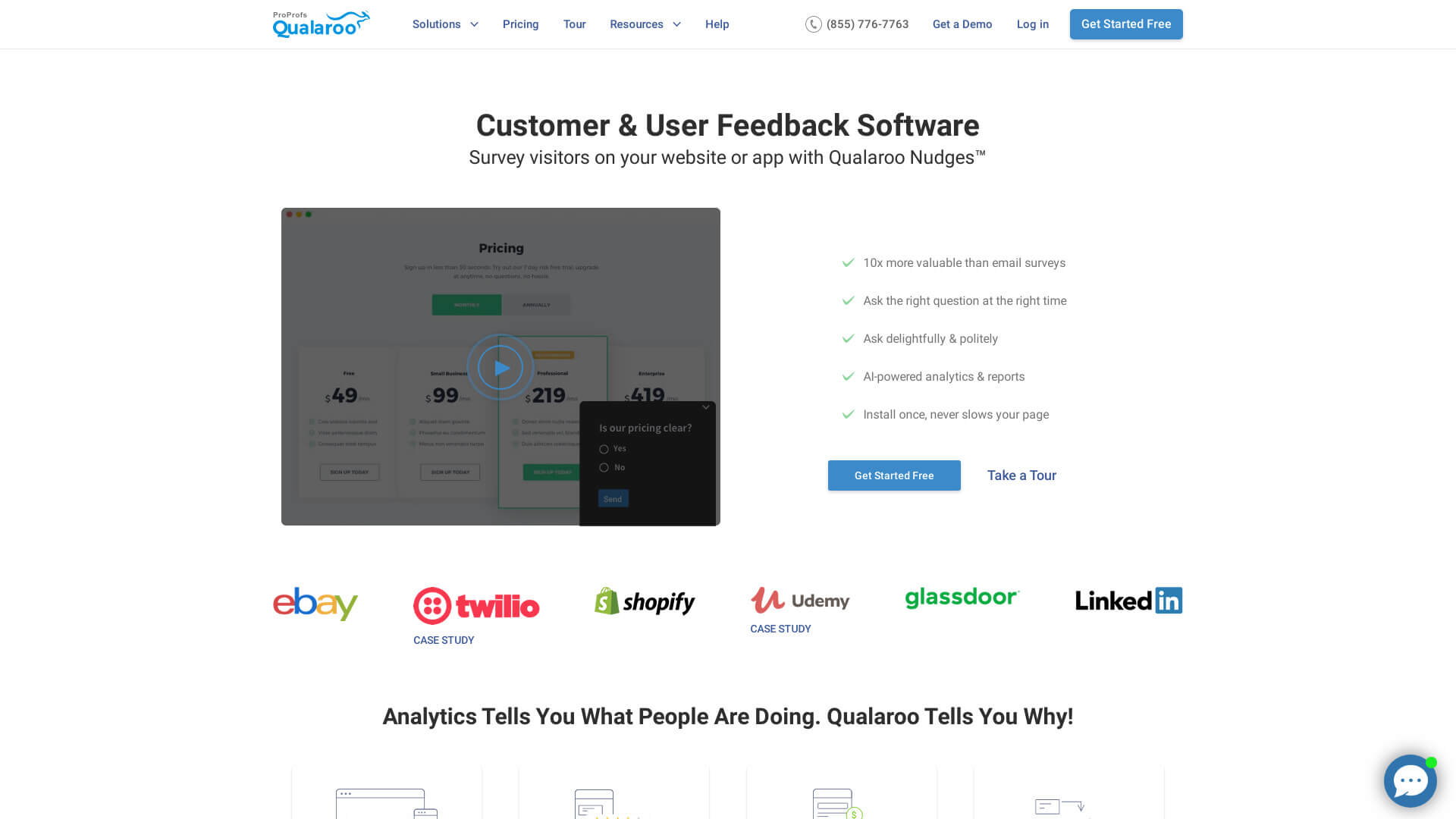 Qualaroo is a Saas product that gathers customer insights based on their time on pages, how frequently they visit, referring source, and other internal data. It aims for companies to use these insights in growing sales and to improve web conversion rates and experience.
Found in 2012, Qualaroo has processed more than 100 million feedback and received more than 123 million responses. Its proprietary, Qualaroo Nudge technology has been seen by more than five billion people. At the same time, more than 55,000 Qualaroo nudges have been published.
Plans start with a 14-day free trial. Pricing starts from $199 to $499 per month billed annually.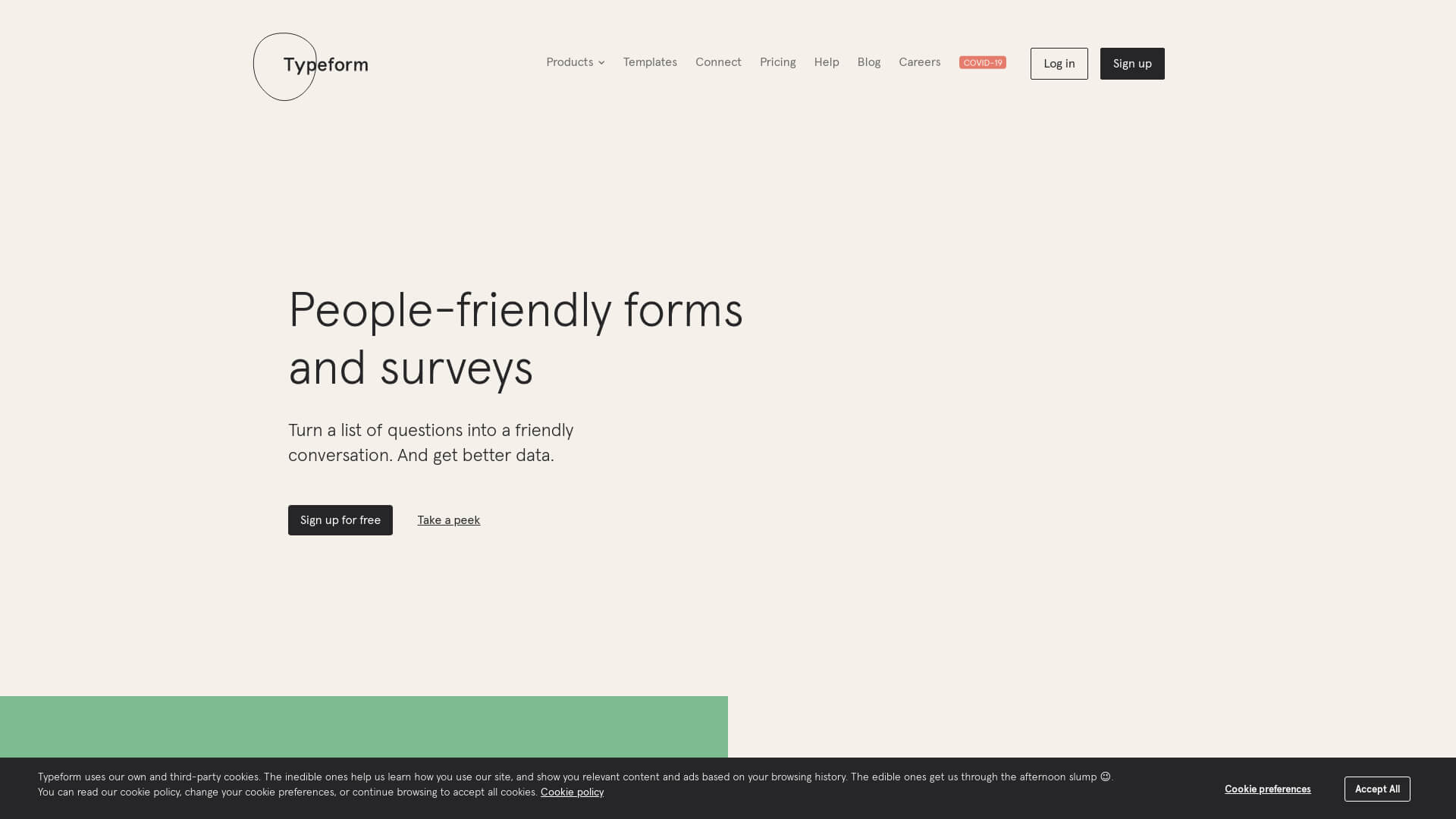 Typeform was founded in 2012 in Barcelona, but the businesses it serviced are located all across the globe. The software is used by big companies, including Apple Inc., Airbnb, Uber, and Nike, Inc.
Plans start at $35 per month with access to 5,000 responses and a HubSpot integration. The other program includes access to 10,000 answers at $70 per month.
Typeform is visited by more than 30 million people monthly.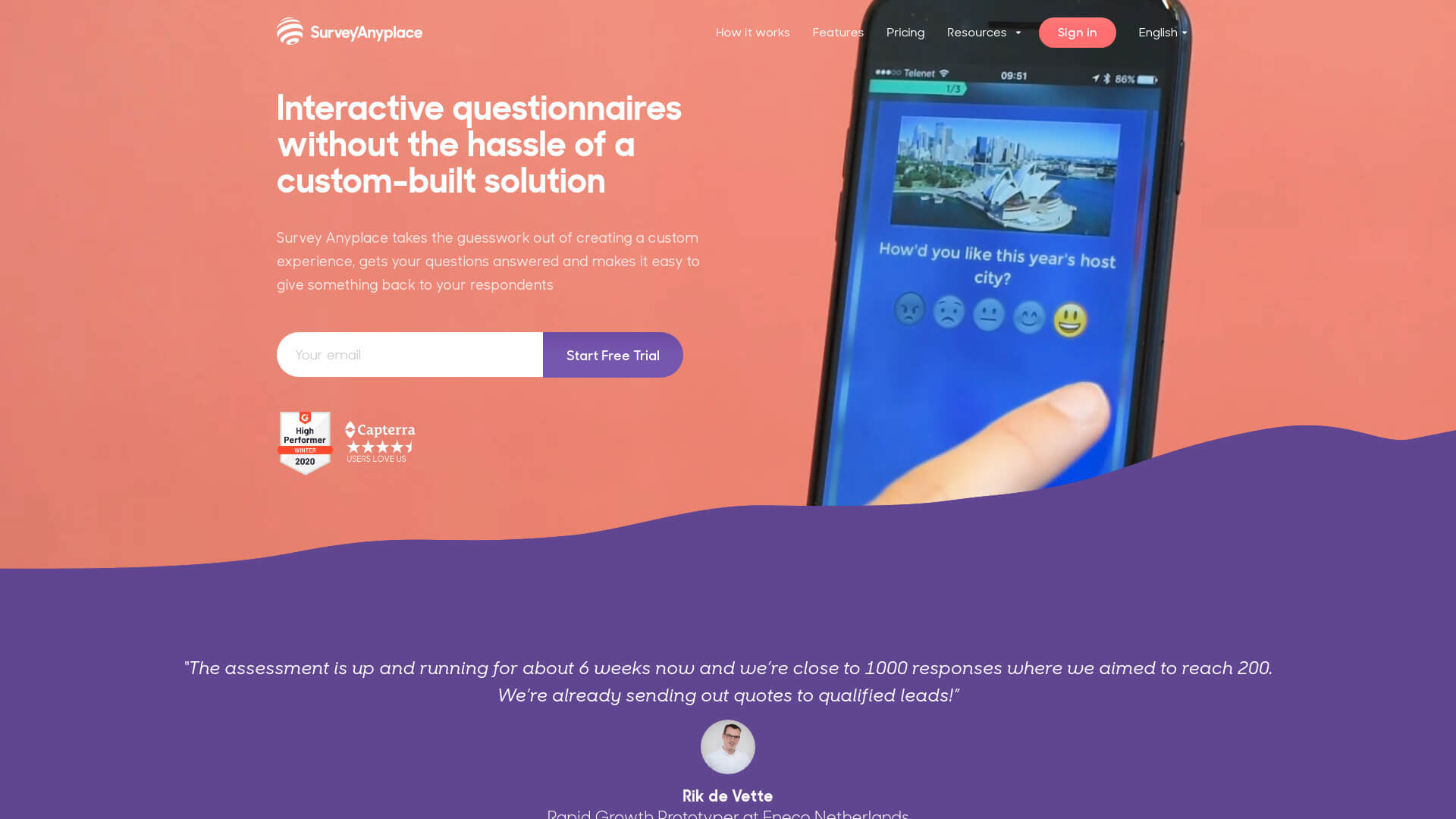 The company started in 2012 as an iPad quiz builder. It then grew today as one of the top customer feedback tools with a pricing plan that starts at $35 per month.
SurveyAnyPlace is the only customer survey and quiz tool designed for mobile devices, including tablets. It is designed to capture customer insights and activities from smaller screen sizes where customers usually access images, audio, and video. Pricing starts at between $33 to $50 per month.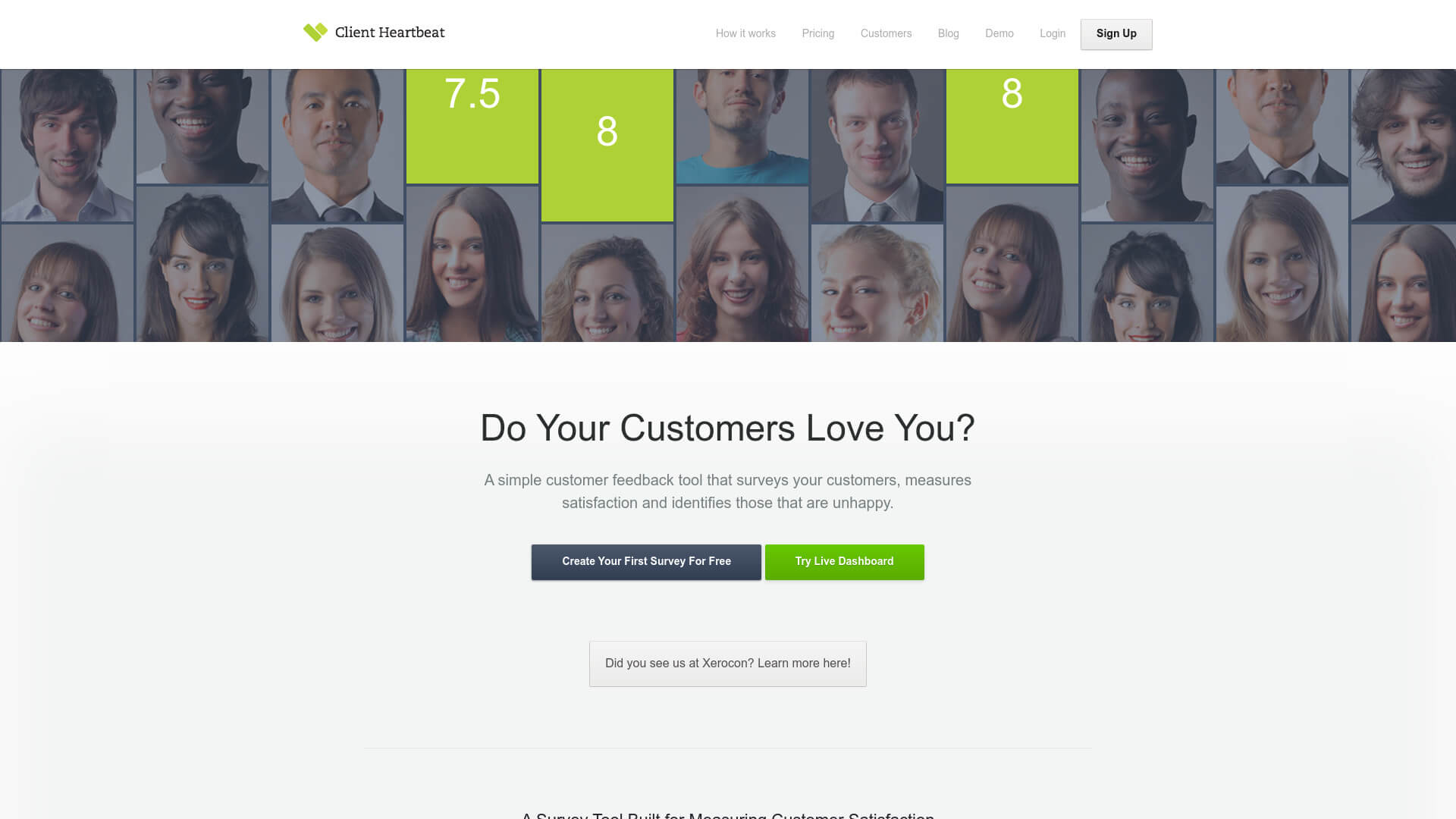 Since its launch in 2012, Client Heartbeat has 327,008 surveys that were answered by people. Among its thousands of clients are R&G Technologies, JBS Bookkeeping Services, Stea, Effective IT, and Dorks Delivered. Basic plans start at $25 per month. Prices can go as high as $449 per month, accessible to 50 staff already.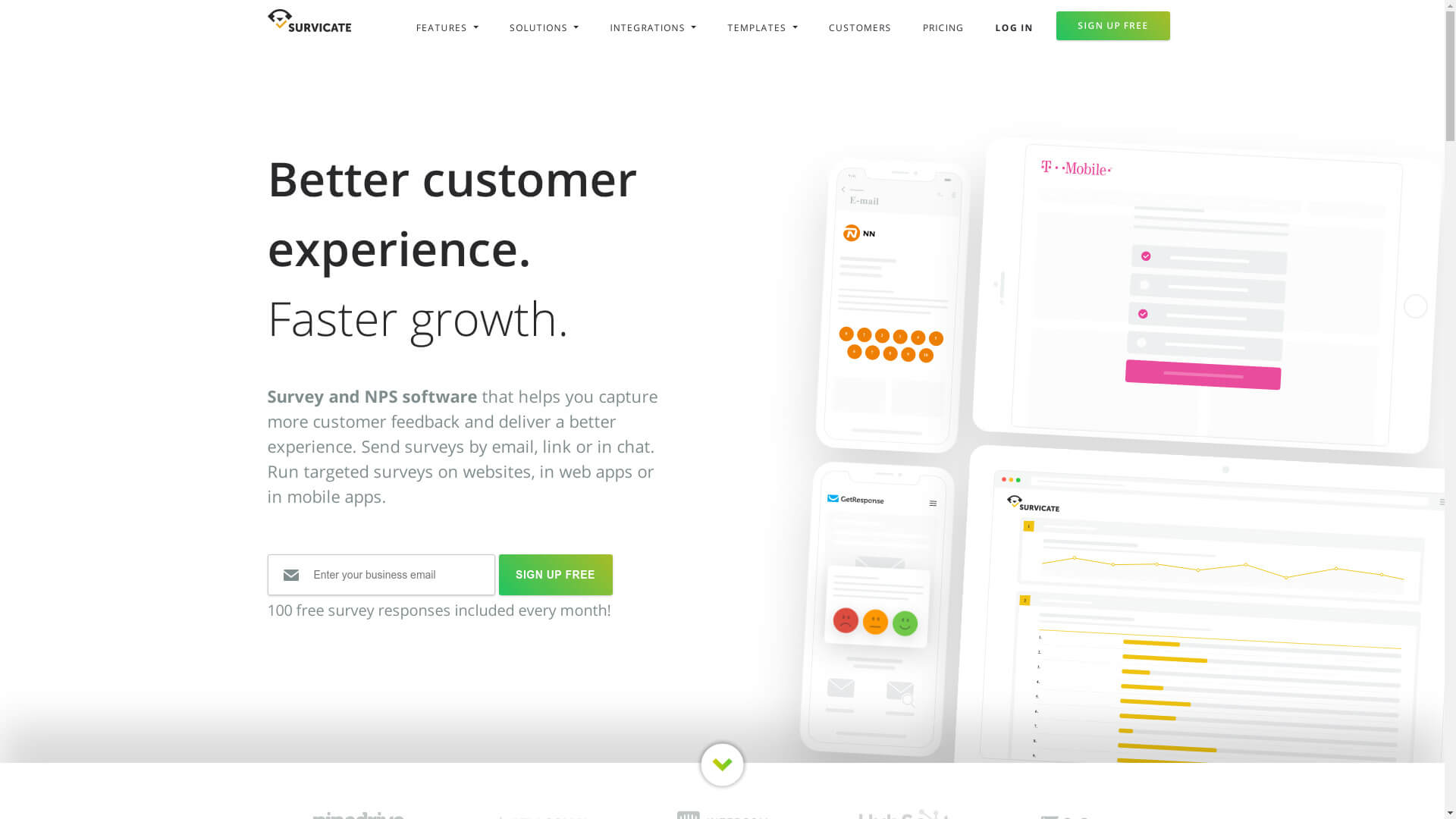 Since 2013, Survicate saw 30,815 users worldwide and gathered an average of 4,809,400 answers monthly. The key to this is its forever-free plan that gives you access to up to 50 responses. You can upgrade to 500 responses for $50 a month, 5,000 for $99, and 25,000 for $249.
Survicate's business clients include HP, PizzaHut, ZieglerCAT, and IcelandAir.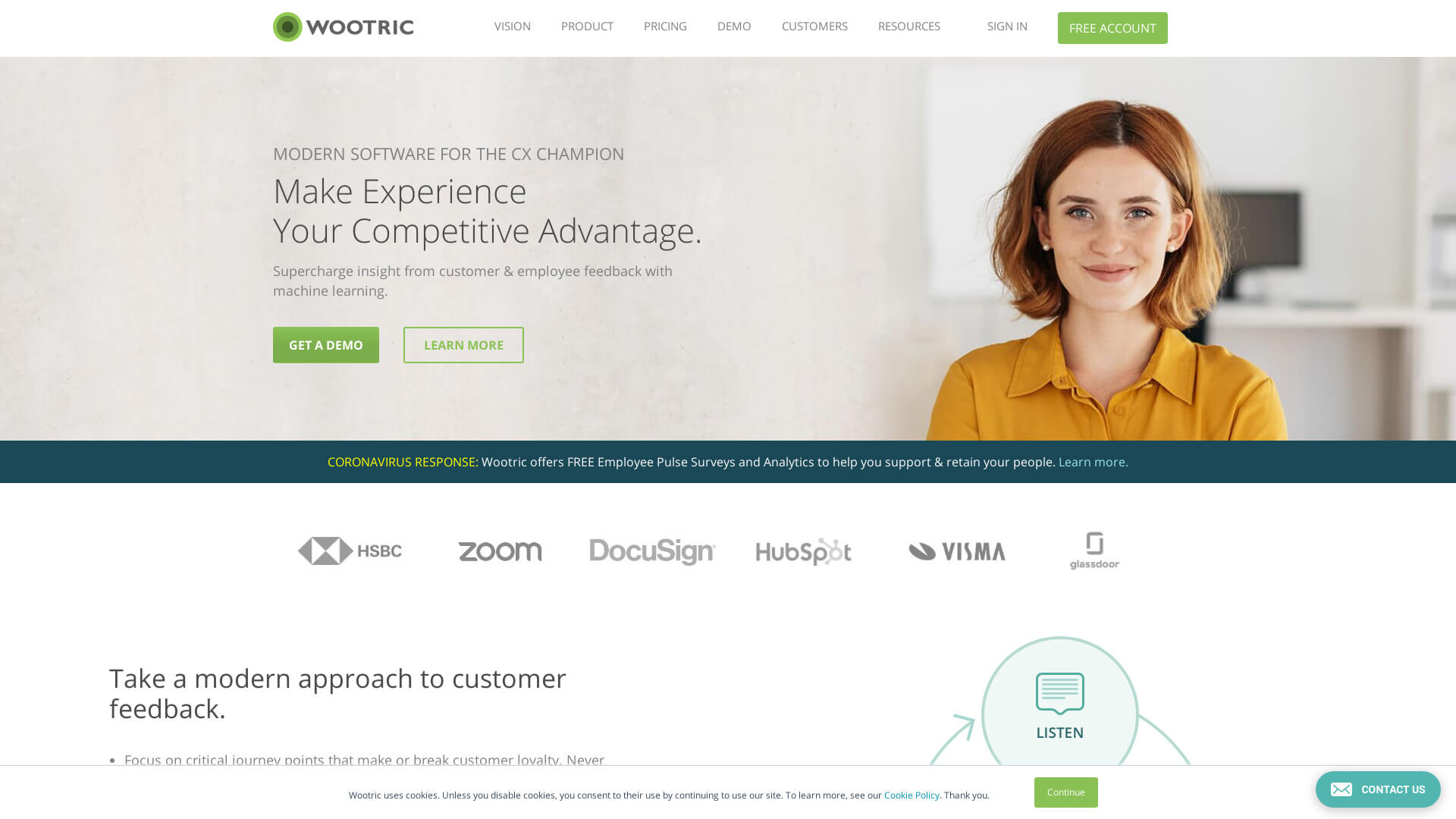 Companies in more than 75 countries are suing Wootric since its launch in 2013. For its plan starting at $89 a month, you can have access to surveys via Intercom, Zendesk, Freshdesk, and Mixpanel. This plan also has automated drive reviews and referrals based on customer profiles and timelines. It can export data and give unlimited responses from up to 10,000 customers. If this sounds like not enough for you, customized plans are available. You can design it based on your business needs.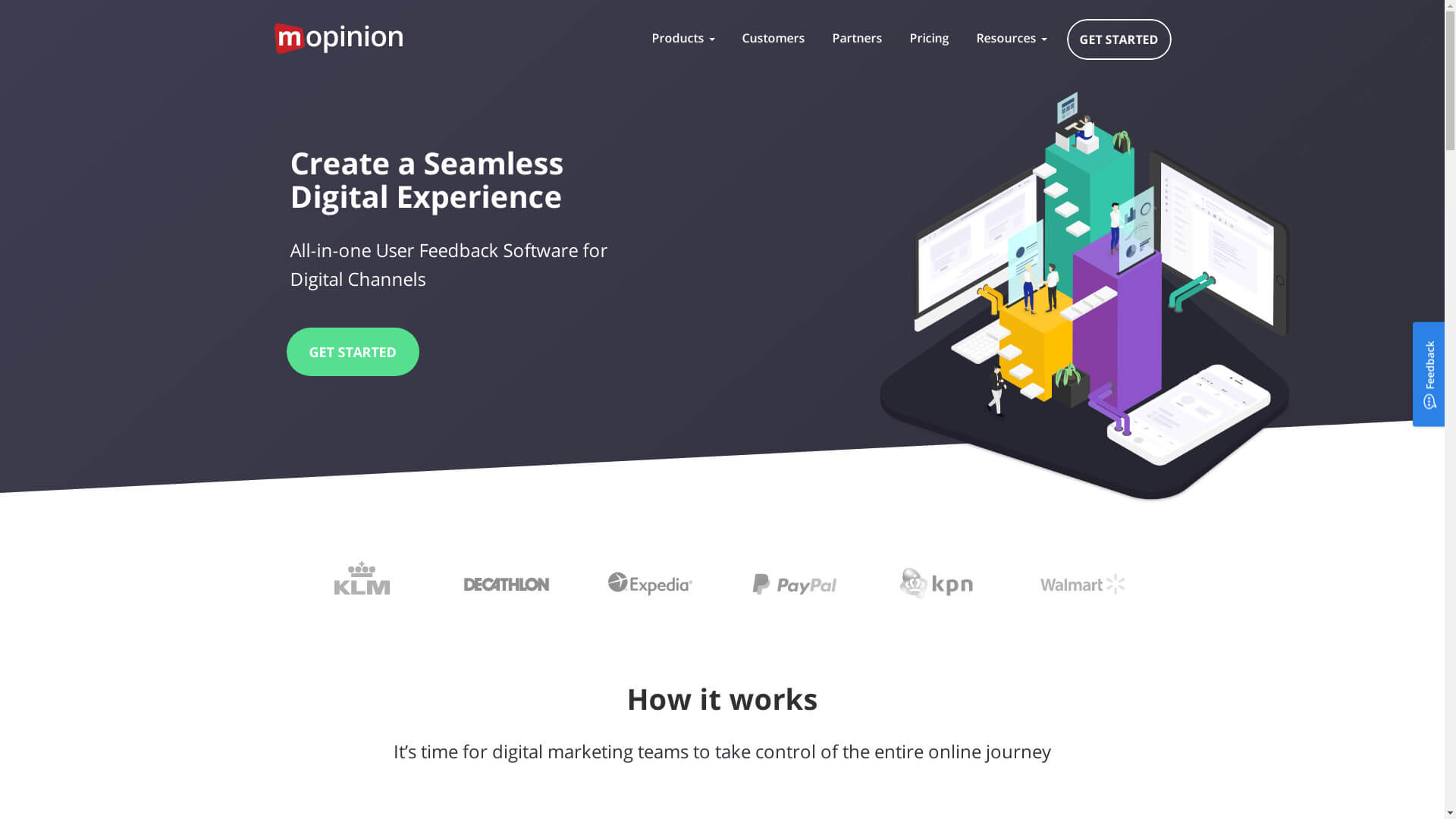 Mopinion has been powering digital teams since 2013. The company provides them with customer feedback and analysis solutions to arm them with customer insights and preferences
To date, Mopinion's list of clients includes Canon, Renault, Decathlon, Expedia, Volkswagen, Walmart, TopShop, Nielsen, Paypal, and many more.
The basic plan starts at $229 a month, followed by $579 a month. If you find these plans insufficient for your business, you can request a tailored plan.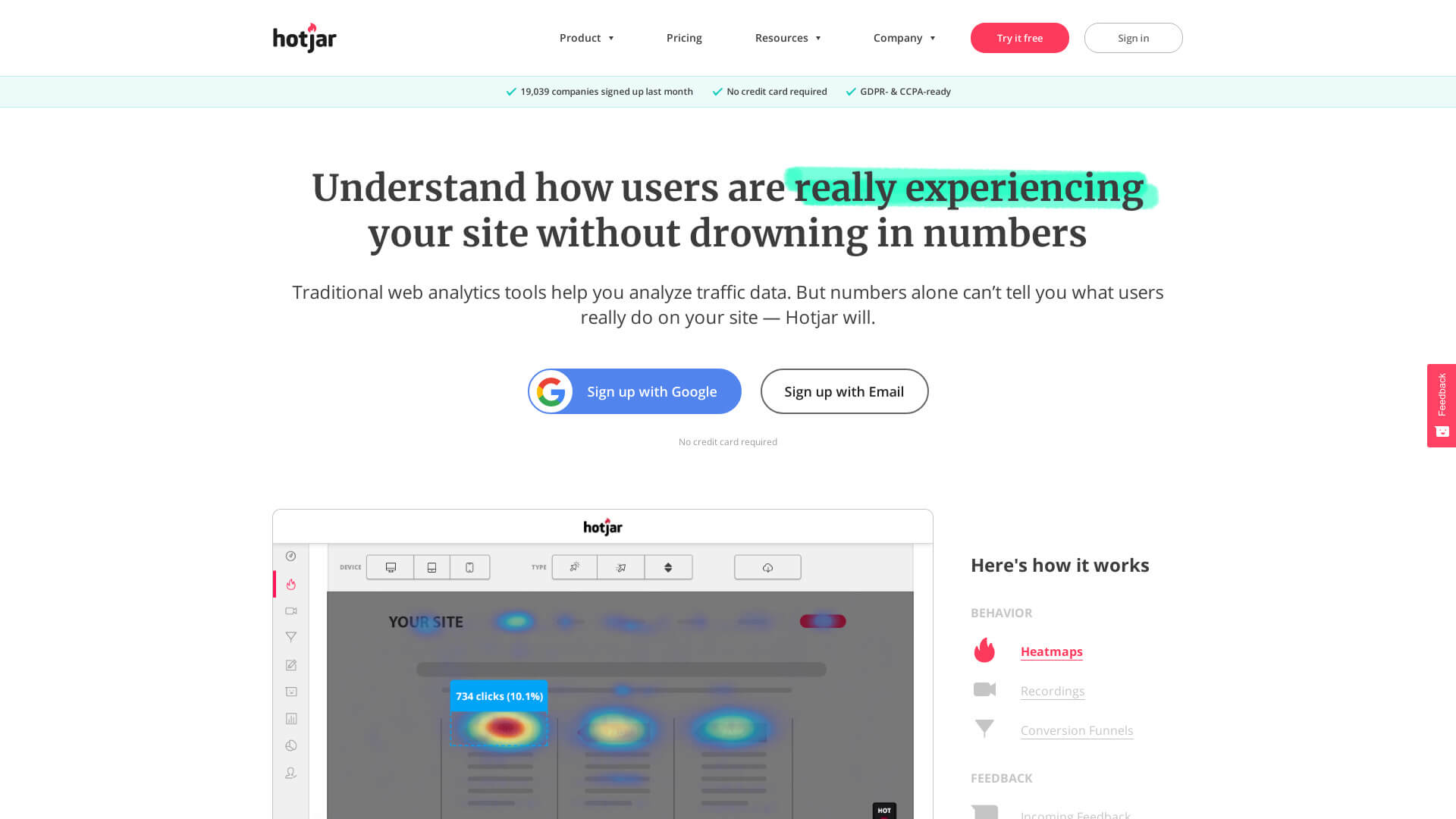 More than 550,000 websites are using Hotjar already. That is a significant amount of users, given that the company had only launched in 2014. It also has more than 4.5 million web visitors monthly. Plans start at $89 a month to as high as $989 a month. Flexible and customized programs are available for those aiming to build as much as 2 million page views per day.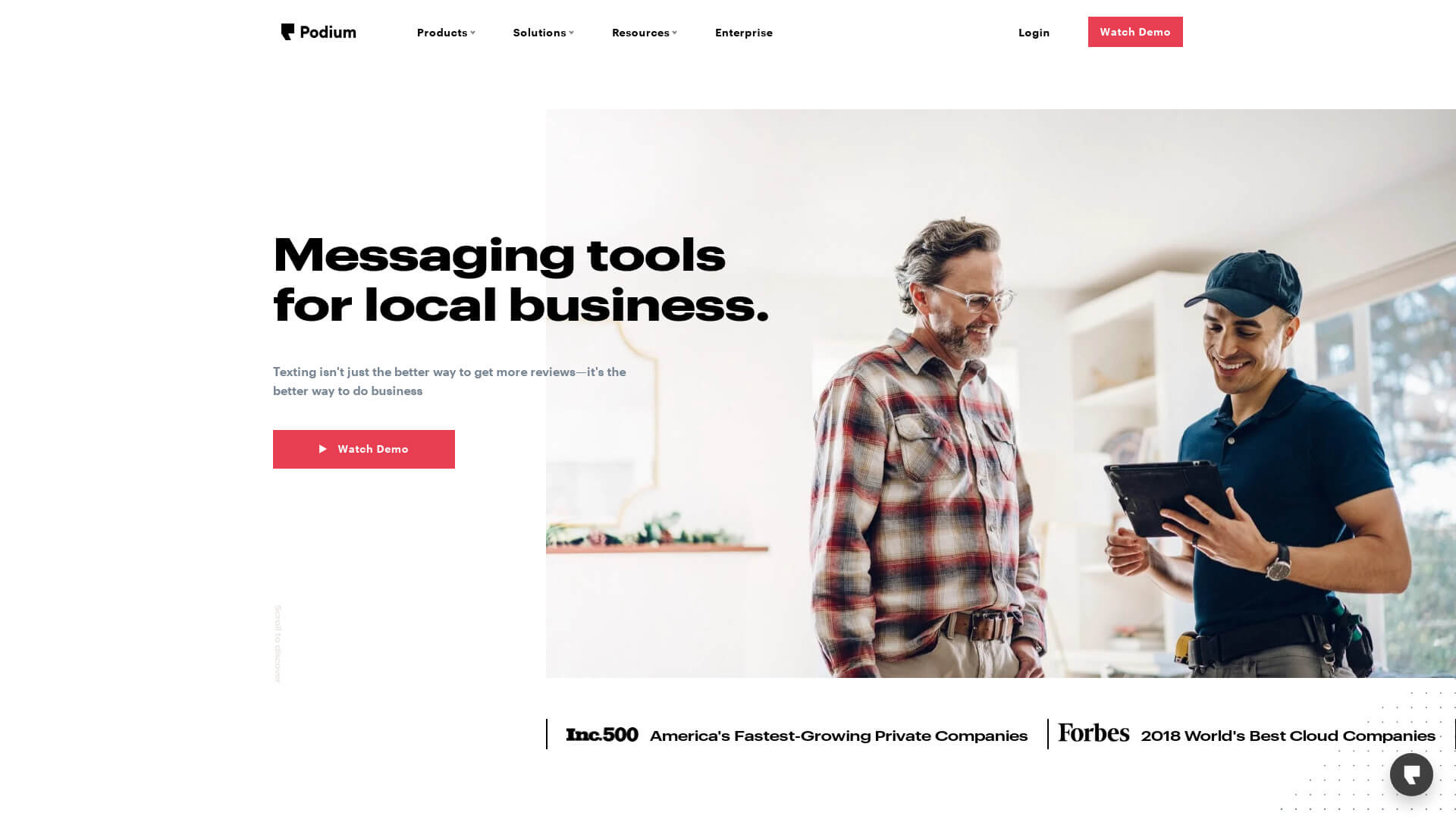 Founded in 2014, Podium has now worked with more than 40,000 businesses, processing more than 17 million customer interactions a month. Over a quarter of cell phone owners in the United States have reached out to market through Podium, which makes it easily among the fastest growing SAAS companies. In 2019, Podium was recognized as a Cool Vendor by Gartner, a global research and advisory firm.
Podium is enjoying more than 1 million monthly web visitors.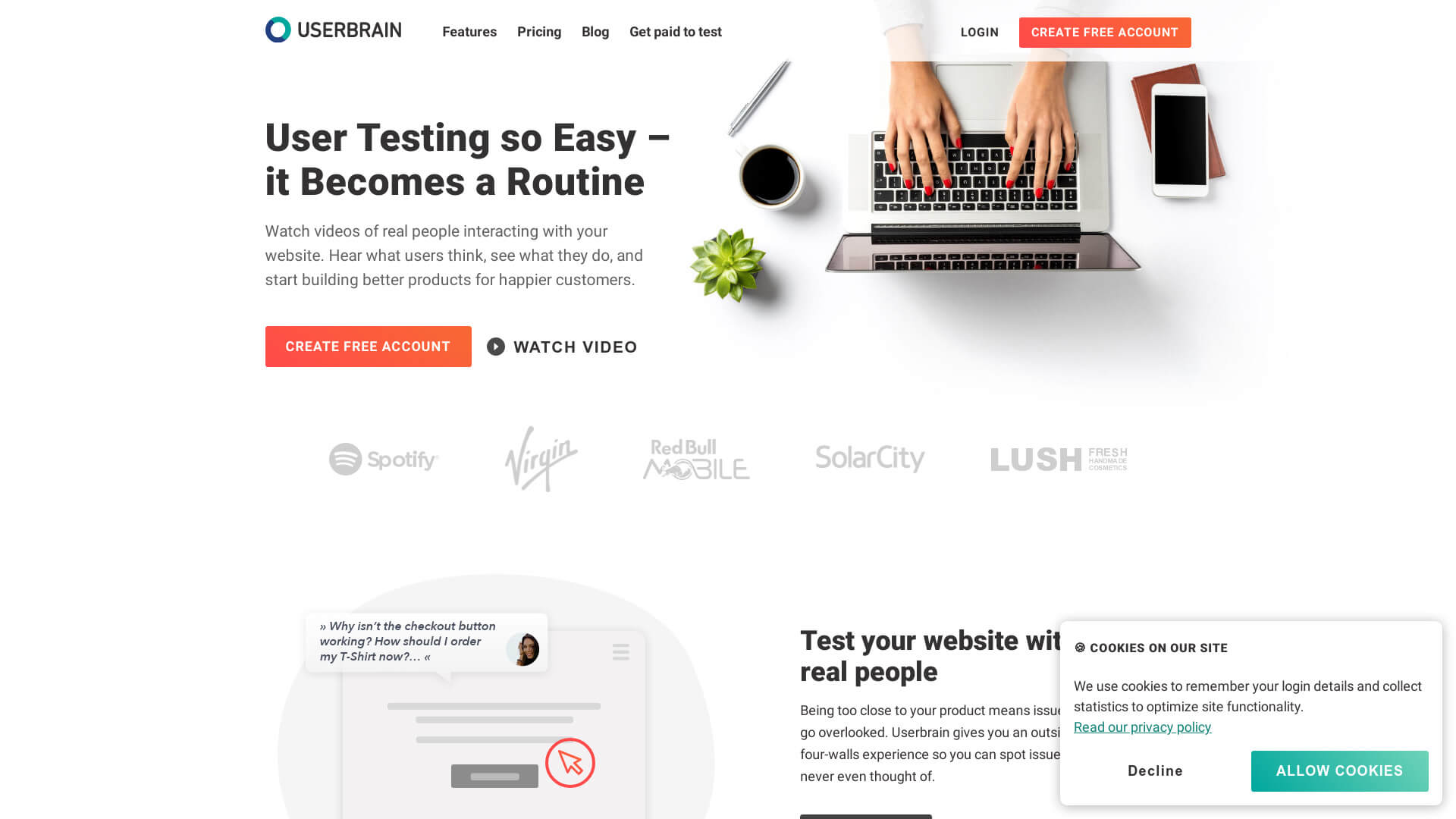 Userbrain is for companies that are still at the early stage of their site development. Through the platform, you can request people to try out your website using their devices. You will have a first-hand experience of how your existing and potential clients are experiencing your site.
For a plan that starts at $29 a month, you can have access to 5-15 minutes of testers' videos as they navigate your sites. You can see the pain points and areas of improvement. If you prefer to hear what they are thinking while using your website, you can request an audio commentary from testers.
Userbrain is unique in that it gives you insights into the natural environments of customers while they navigate through your sites. You can test even your competitor's websites.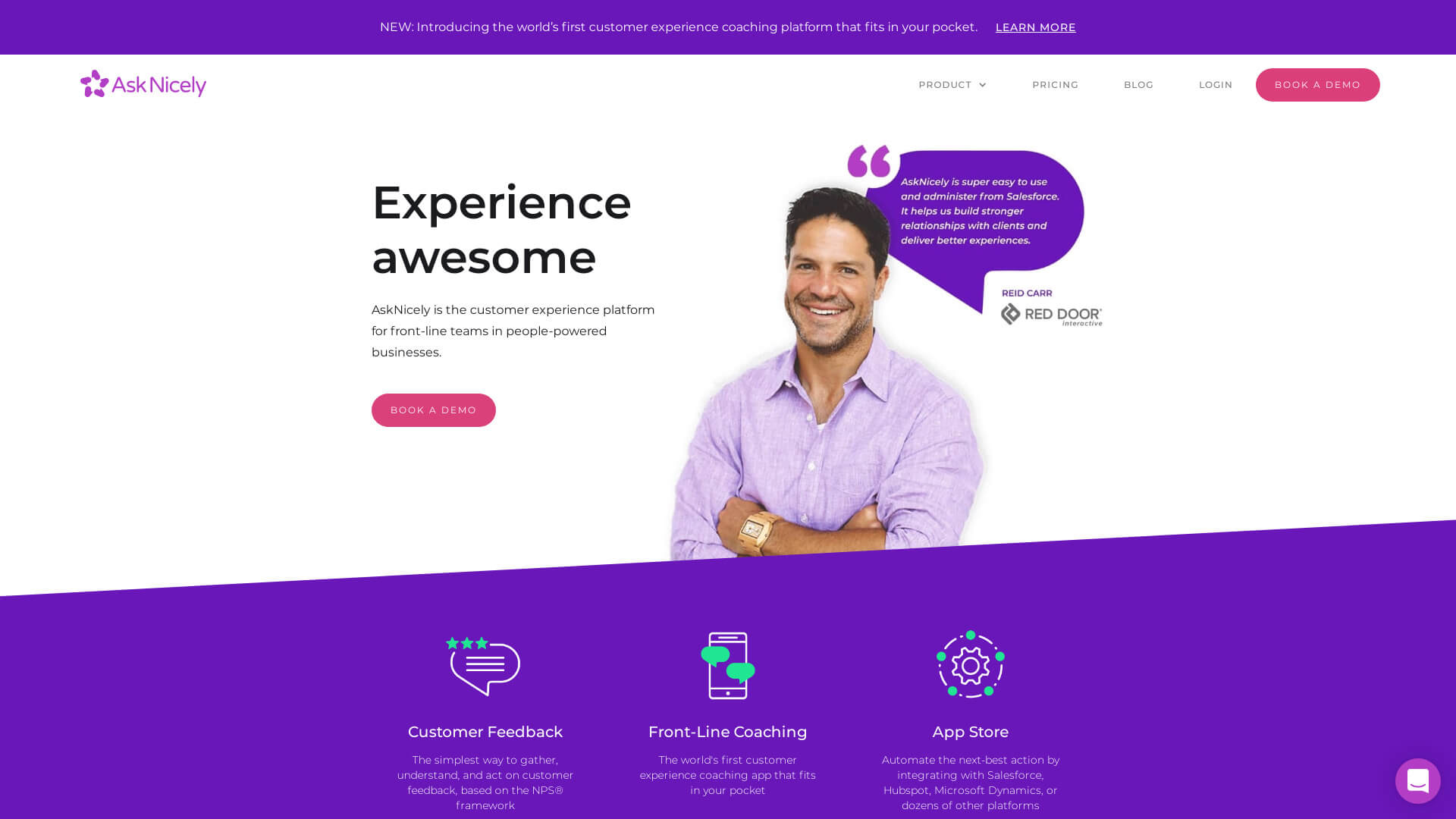 Founded in 2014, AskNicely impresses clients for its ease of use and straightforward navigation. The platform works by collecting feedback directly from customers right after they used the services. This allows staff to immediately address the concern, driving customer retention, revenue expansion, and referrals in the long run.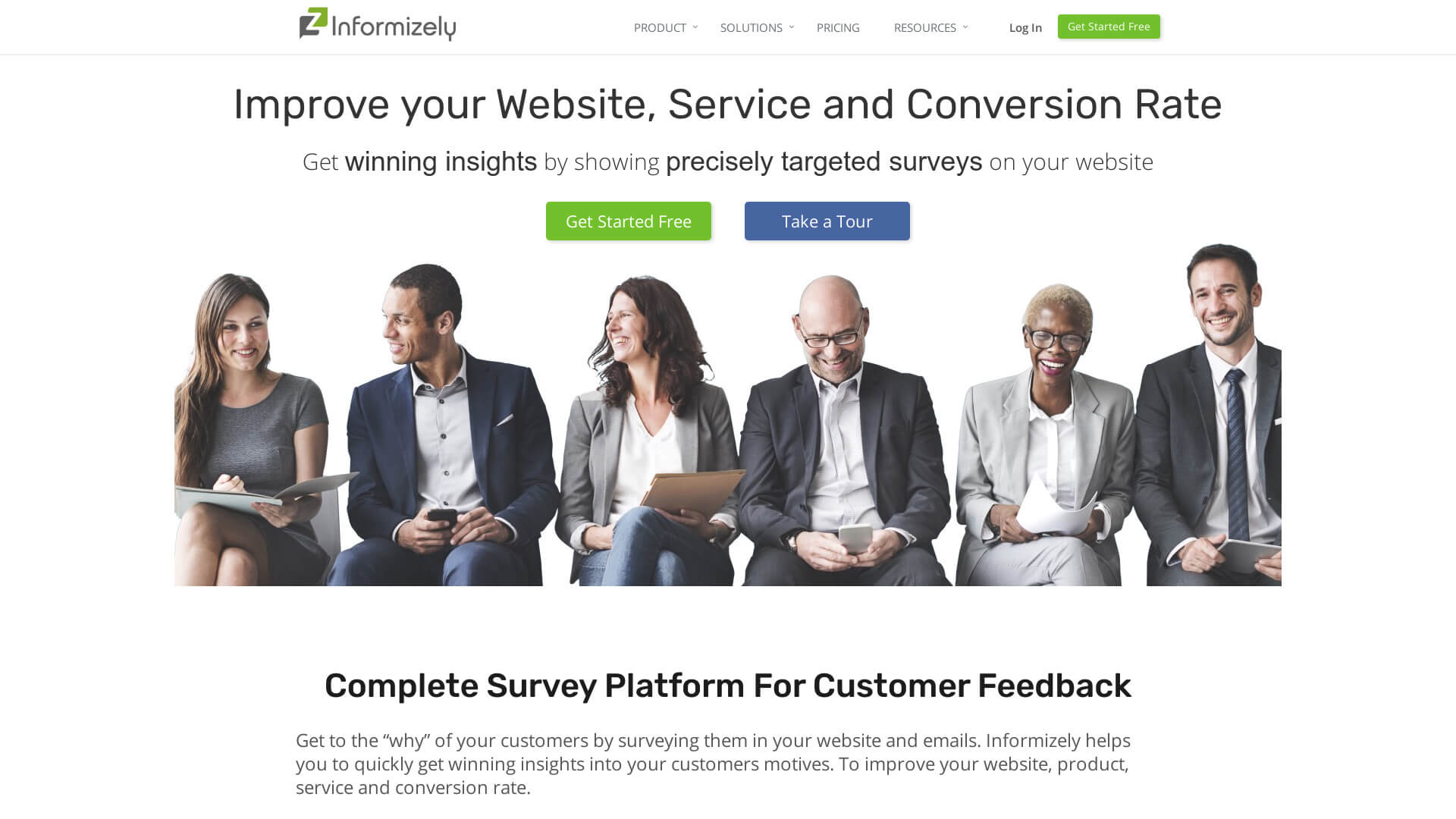 Microsoft, Pfizer, Allianz, Cisco, Britannica, and Bose are only among the big brands that are trusting Informizely for their customer feedback tools. For plans that start at $59 to $229 per month, Informizely gets to the why and how of your customers.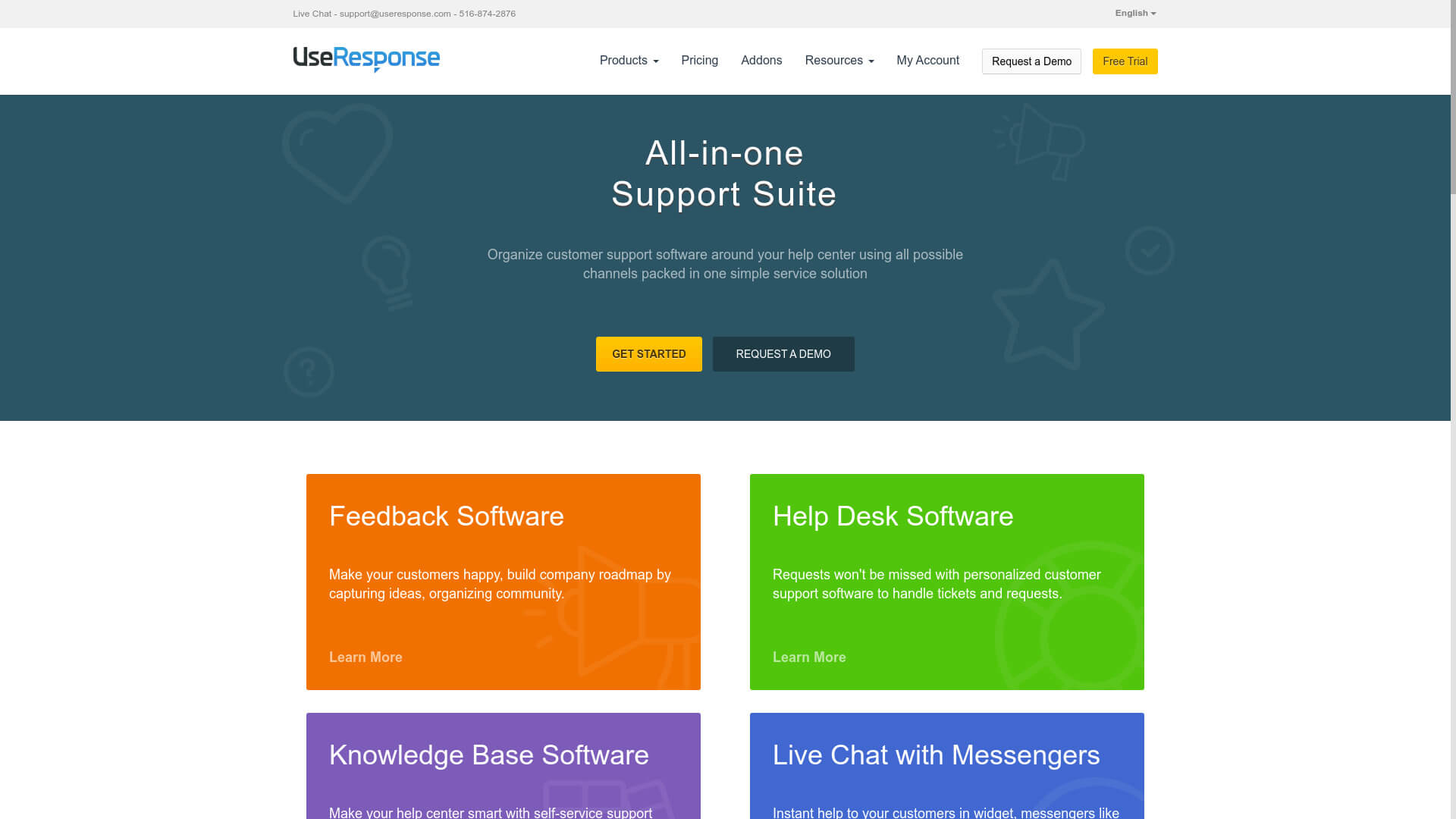 For a relatively young company, UseResponse has big names for clients. More than 1,000 organizations are using the platform, including Procter&Gamble, IBM, and Huawei.
UseResponse places all your customer support software in one place using all possible channels. Hence, you have a straightforward service solution. You can start with plans between $49 to $149 a month. Big companies are paying between $4800 to $7200 annually for a complete suite of tools.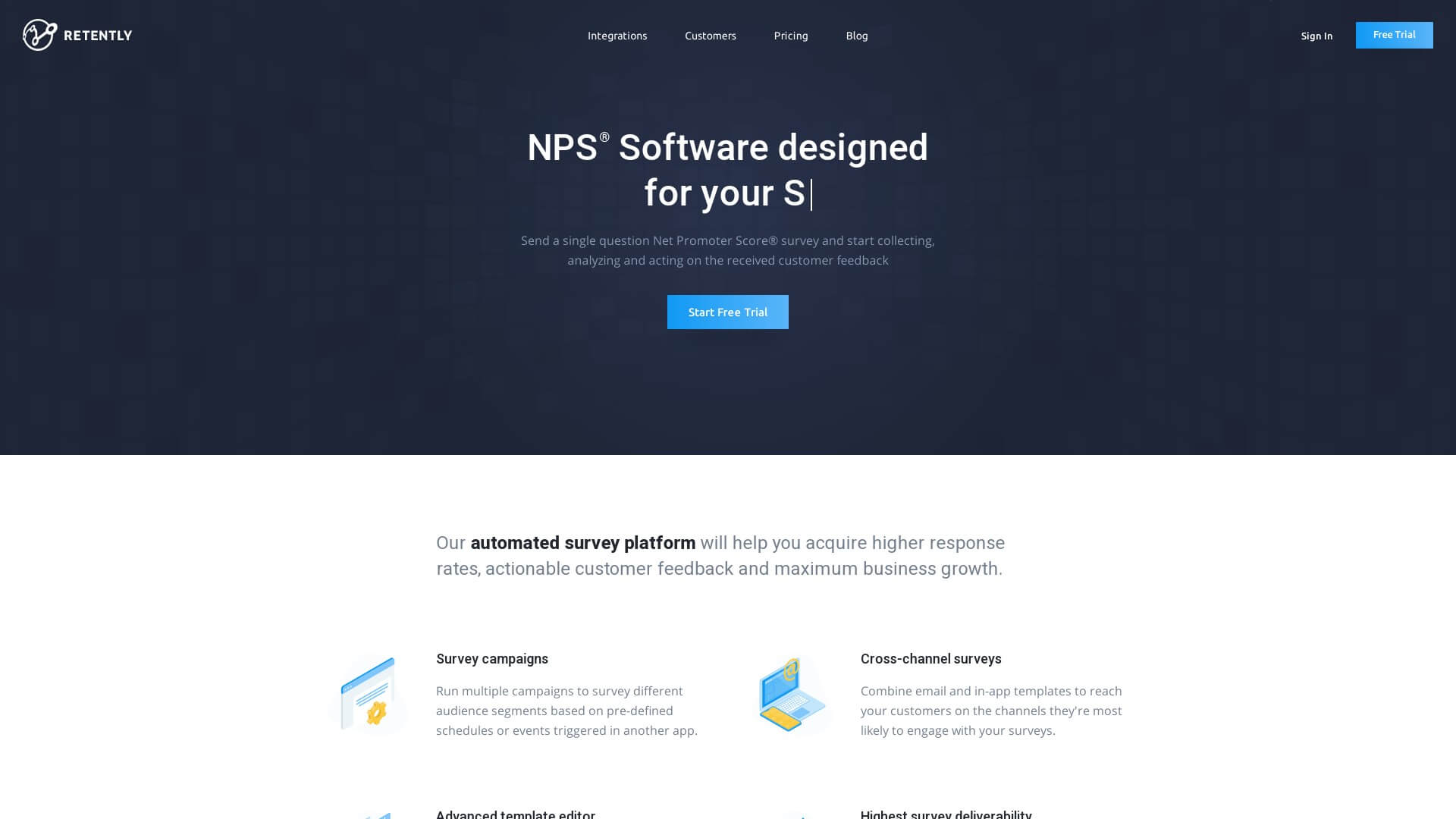 Retently was started in 2015 by entrepreneurs and experts from the fields of data science, customer access, and telecoms.
Retently defines itself as a Customer Experience Management Platform. Its services range from NPS, CSAT, CES, surveys, customer feedback, and reviews.
Plans start from $99 to $299 a month. If your business requires AI-powered sentiment and text analysis and B2B customer experience, send them a message, and they can tailor according to your needs.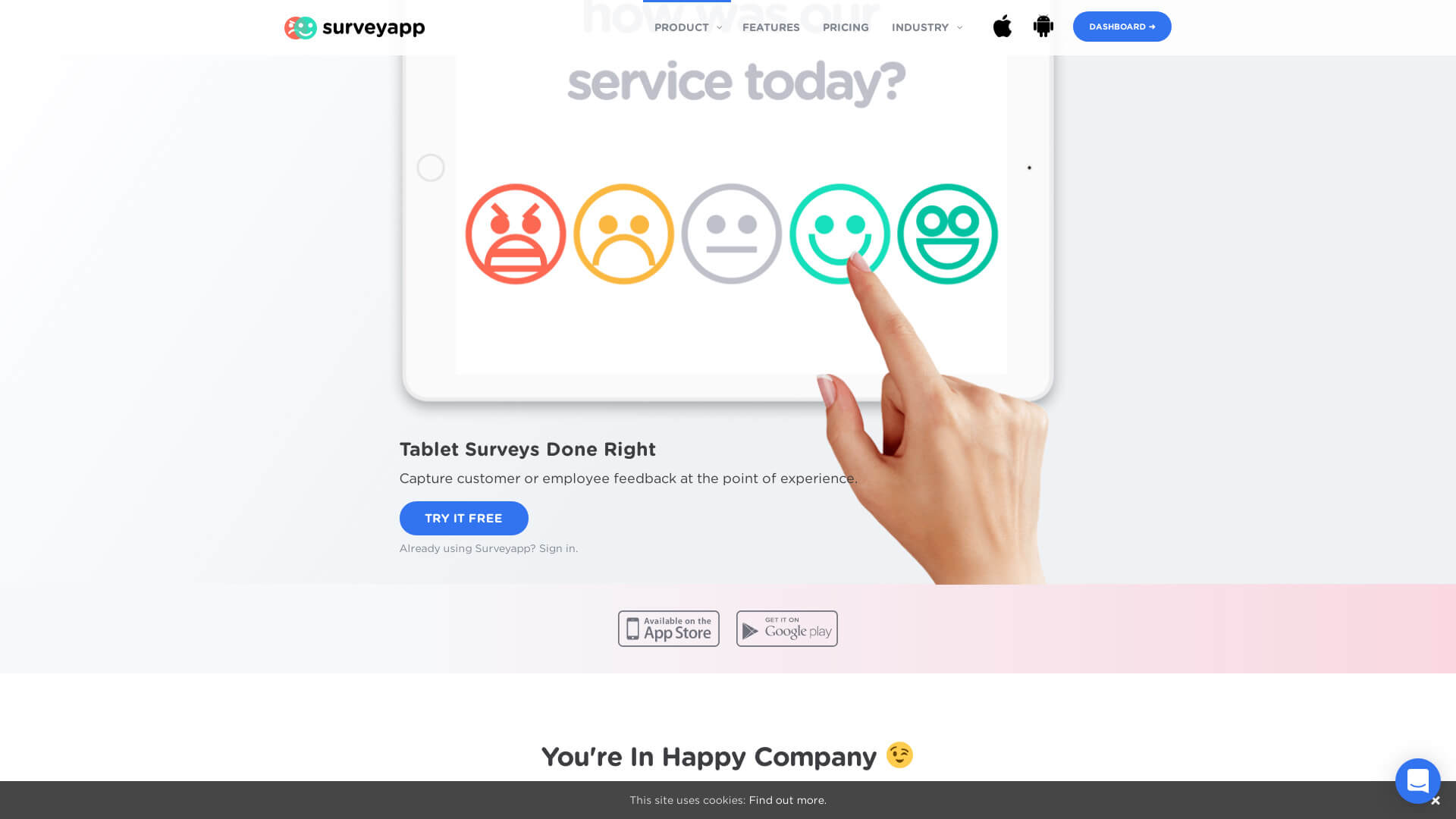 For pricing that starts from $7.99 a month to $31.99, SurveyApp is perhaps the most affordable customer feedback tool. It even works offline on tablets.
SurveyApp started in 2015, but it already has clients as big as the University of Cambridge, Swiss Re, ExxonMobil, Discovery, Continental, and Spotify for clients. It services companies in the travel and tourism industry, human resources, retail, and fast-food restaurants.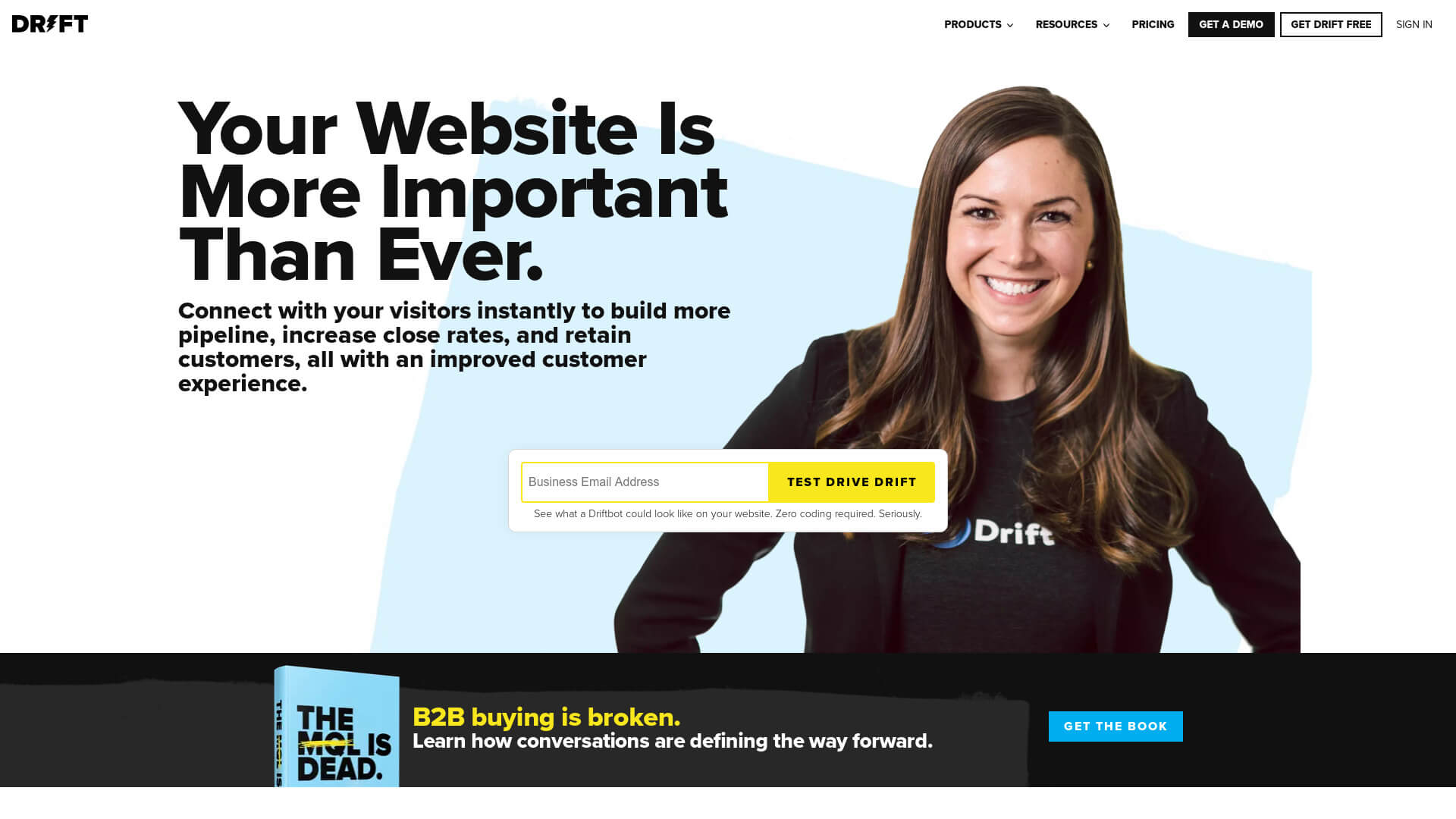 Since its inception in 2015, Drift can easily be the fastest-growing customer feedback tool provider. Its platform is now being used by more than 50,000 businesses, relying on its capability to create pipeline and drive revenue. Its basic plan starts free. You can move to $400 to $1,500 projects billed annually. If these plans do not satisfy your business needs, Drift can customize it for you.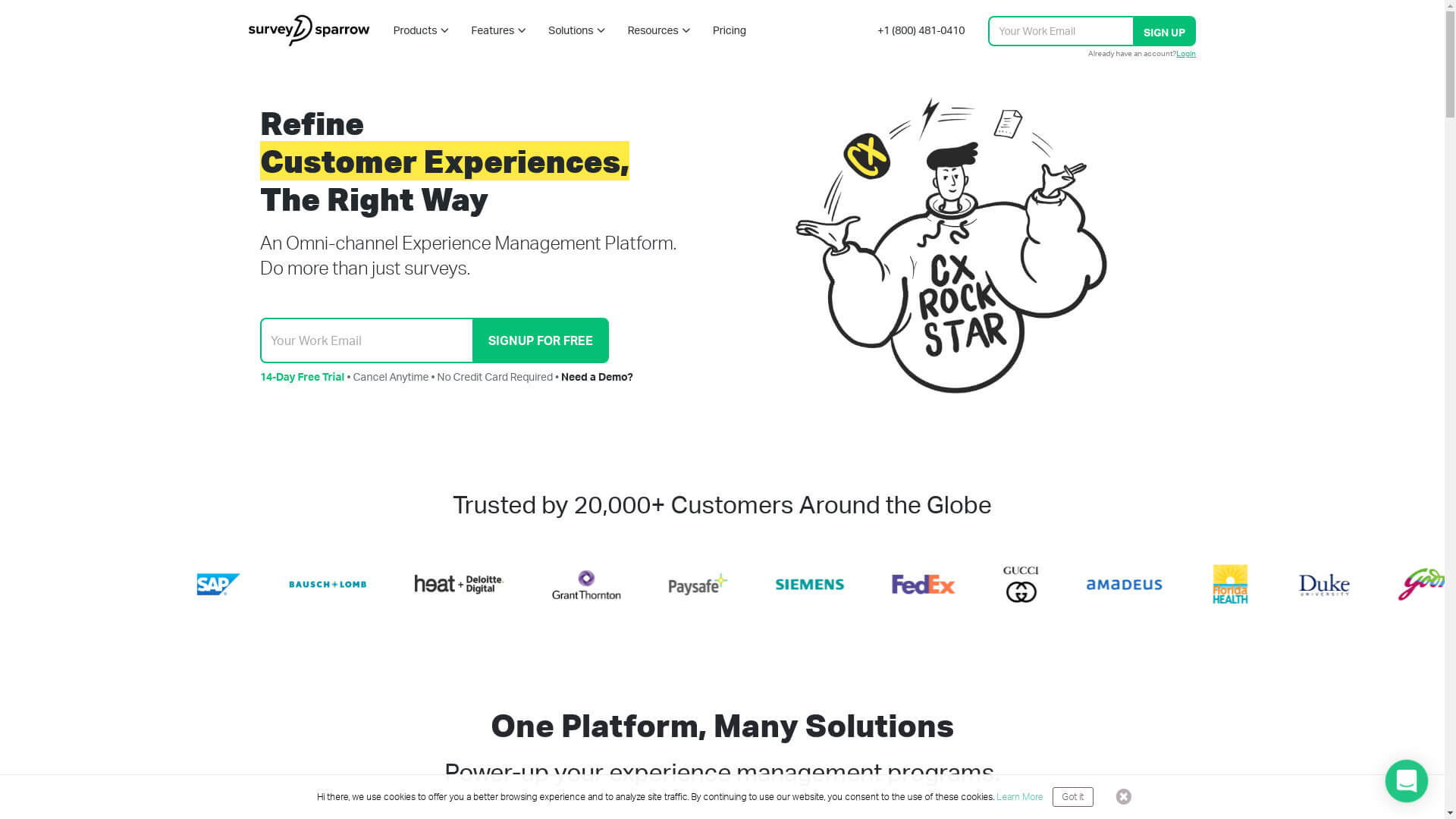 Founders Shibab Muhammed and Subin Sebastian created SurveySparrow in 2017 to make surveys better. In just three years, Survey Sparrow is now used by Gucci, Deloitte, Siemens, FedEx, and Grant Thornton among the more than 20,000 other customers worldwide.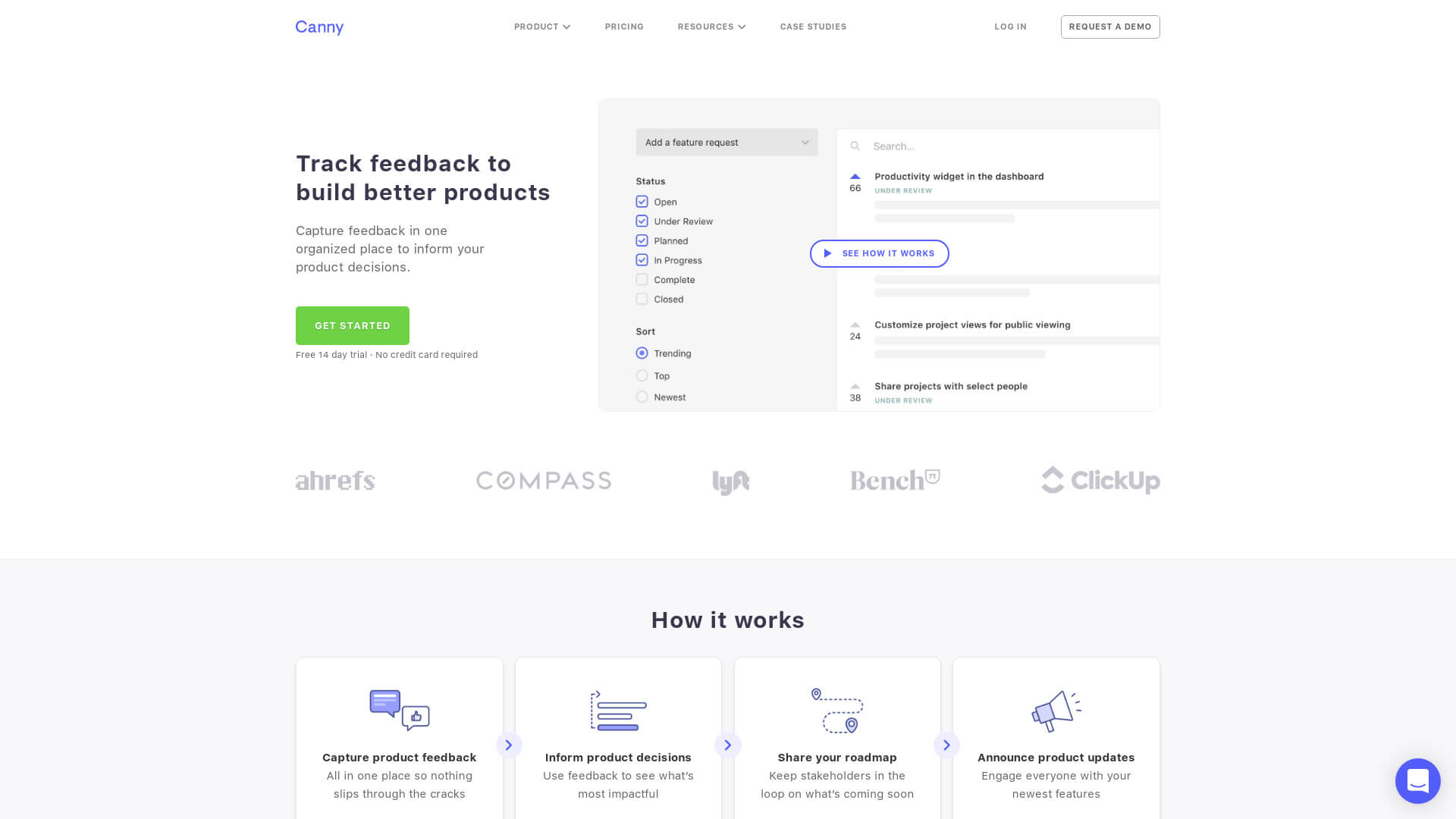 Two features caught my eye about Canny. Besides the standard features you find in other customer feedback management tools, Canny automatically links feedback to your existing user accounts. It filters feedback to user groups that you would like to prioritize. Plans range from $50 to $200 a month, or you can request a customized plan.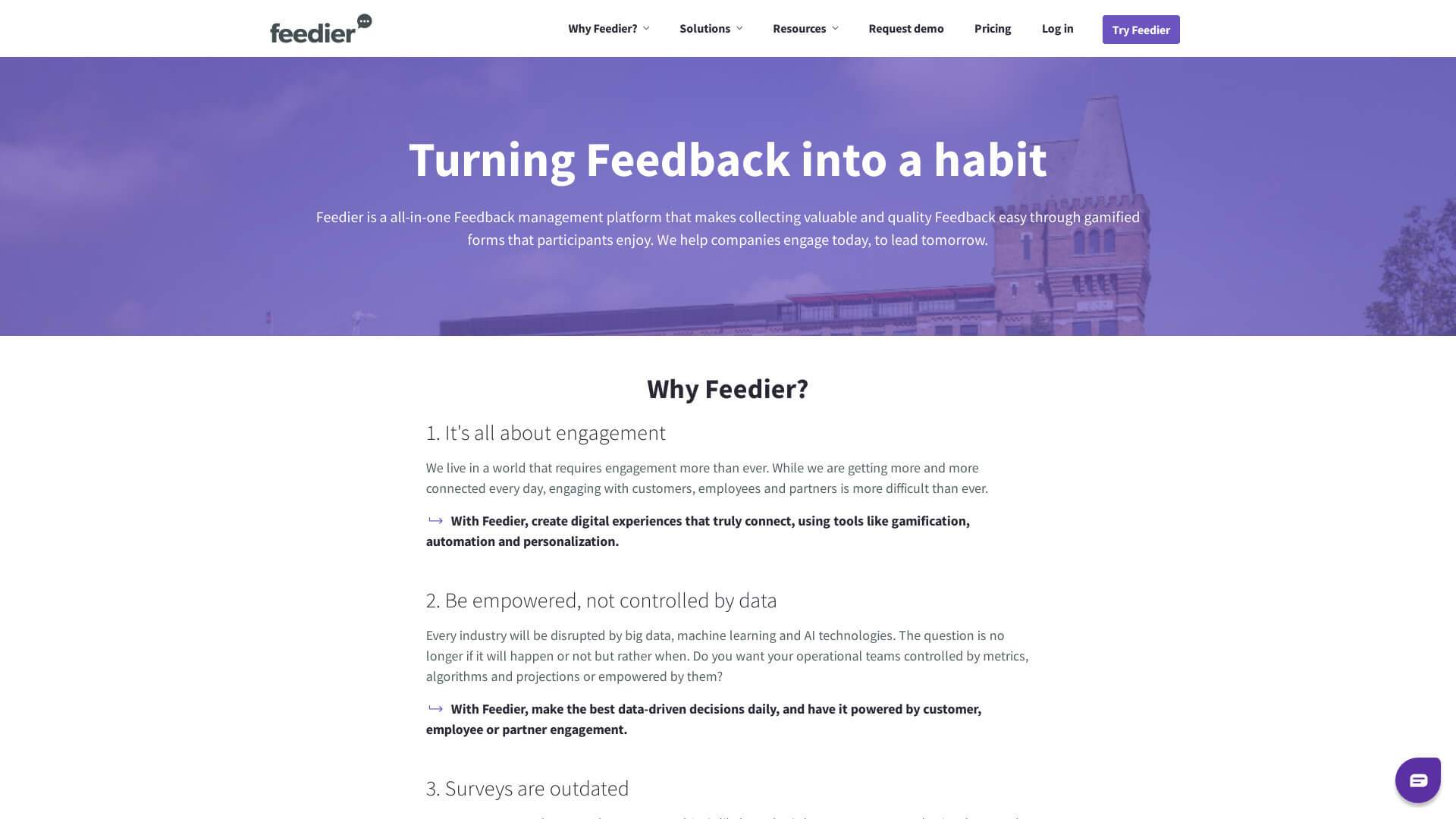 Feedier is the youngest company on this list. It only started in 2018, but it being new positions it as a disruptor when it comes to customer feedback tools. It no longer believes in surveys, saying the channel is boring since 1999.
Instead, Feedier deploys tools like gamification and automation. It designs interactive forms that are easy to share and deliver daily insights.
Feedier new ideas prove to be something to look forward to as it already gathered 1,400 clients in two years. Plans start free with options from $30 to $70 a month, moving forward.