Congratulations! Your marketing plan and budget are approved, and you're planning to grow your HubSpot site, it's time to hire a HubSpot developer, right?
It sounds straightforward enough, but hiring a HubSpot developer isn't as easy as hiring any developer with the most programming language skills mastered or having years of experience as a "web developer."
In this article, we'll cover:
The types of HubSpot developers you can hire
The skills they need to master
Why HubSpot certifications aren't enough
And a secret tip you'll love!
Ready? Let's get started!
The only three (3) types of HubSpot developers to hire
No matter how many nicknames or job titles the developers or agencies have for themselves, there are only three categories through which HubSpot developers are functioning the best:
In-house developers
Freelance developers
Agency
Choosing among these three is for you to decide. Nevertheless, I am here to help you decide on the objective as possible. After all, it's you who knows what's best for your organization.
In-house developer
As you may already know, in-house developers tend to be full-time developers working for one company only.
By hiring an in-house developer, you'll need to take care of everything starting from daily project management, salary, benefits, insurance, taxes, etc. If you have an excellent company foundation, getting an in-house developer may simplify your development process.
The one advantage is that he will always be there when you need them. It will be easy to plan for your projects anytime.
However, finding an experienced developer to hire full-time is no easy task, especially if you'll find HubSpot developers.
You can find new junior developers without any prior HubSpot experience. That won't be a problem if you have the time and resources to train a newbie. But, if your company's needs are complex, a newbie isn't someone you would want to chase after.
Freelancer certified developer
Hiring a freelancer works for any size of the business, no matter how small (solopreneur) or big corporate. The main benefit of freelancers is they're easier to find than in-house developers, and they tend to be more experienced as they tend to have more projects count from different clients.
If your company has strict data confidentiality, getting a freelance developer isn't ideal.
Besides, you may find a freelancer who best fits your requirements, but you have to wait until the time of his availability. Freelancers are one busy bunch.
Agency
Hiring an agency is the last option from the three HubSpot developer types. There are 4,440 HubSpot agencies on this planet, and I bet there is at least one in your city.
Hiring an agency will be the easiest as they come with a group of talents (not only developers) who can help achieve your goal.
But of course, it comes with a price.
The average HubSpot agency charges $100 per hour for long-term projects, and way a lot more ($300/hour is typical) for short-term projects.
If you're looking for just a one-time website relaunch or development from scratch, hiring a reputable agency may be the best option between the 3 types.
If you've chosen the option to hire an agency by now, then you can skip directly to the last chapter of this article, where we'll discuss a better choice than hiring an agency. I believe you'll love it :)
HubSpot developer vs.
"Normal" developer
Assuming hiring an agency isn't an option for you (perhaps due to budget constraints or only because it doesn't suit your projects), we shall continue to discuss the two options we narrowed down for you:
In-house vs. freelance HubSpot developers.
Before we continue further, we need to circle back to talk about what makes a HubSpot developer different from "normal" developers, and the reasons why you CAN'T hire any developer to work on your HubSpot site/projects.
HubSpot is more than a CMS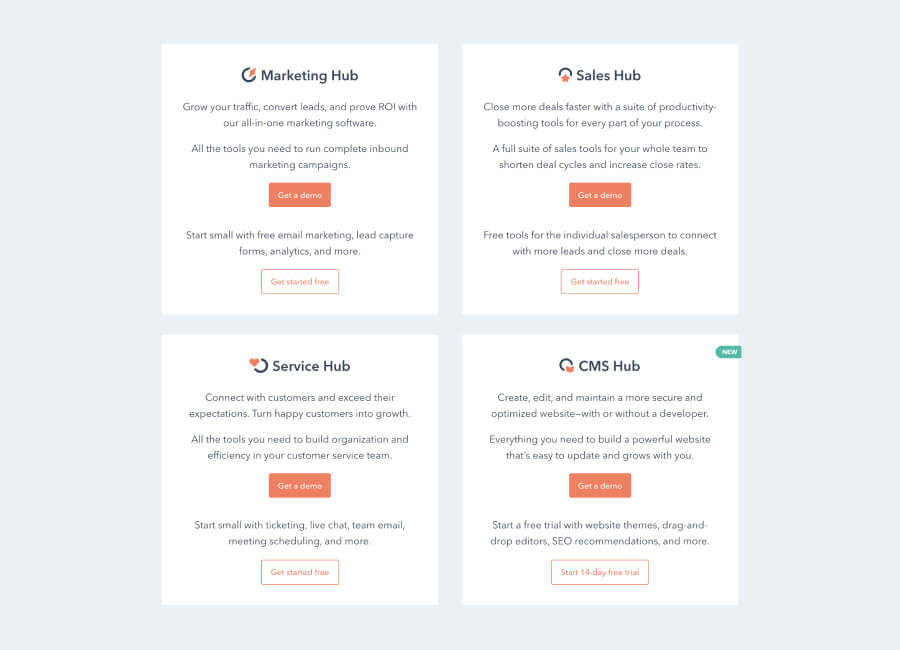 I believe you know that HubSpot is more than a CMS (Content Management System), HubSpot is a closed ecosystem that covers all parts of online marketing (or inbound marketing).
Employing a developer without prior experience or knowledge in HubSpot will be a massive waste of time and money.
Imagine hiring an iPhone specialist technician to fix your broken Android phone.
Can they fix it? Maybe... but they'll require a lot of time to research, learn how Android phones work, how the system works, and finally troubleshoot the problem.
It takes time! And in business, we all know that time equals money.
Proper coding skills are essential!
HubSpot development requires coding skills.
I know it may sound obvious, but let's take a step back and rethink the state of the development work nowadays.
If you've ever had a site built on WordPress using another developer or agency out there, how many do you think can code and build WordPress sites from scratch?
What I mean by "scratch" is build everything from the ground up. All the files, all the scripts, and stylesheets, all the plugins, basically everything on the site.
You may be thinking: all them, no?
There is no exact number, but not all of them!
Many of them use pre-built themes and plugins, and they simply build pages by using visual builders without touching a single line of code.
The worst of all, they'll add the title "experienced WordPress developer" into their CV for basically installing a pre-built theme and plugins.
What's the situation on HubSpot?
Templates and themes are available to speed up the process, but technical skills are still required. Before hiring anyone, please please and please make sure they have proper coding experience.
Unique programming language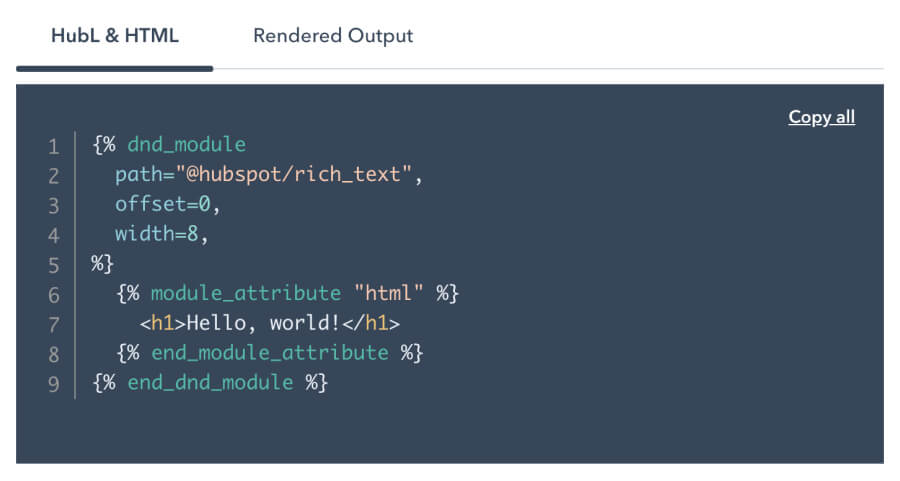 Third, HubSpot uses their own unique programming language called hubL that you won't find on any other CMS or apps.
Any programming language uses similar logic and flow, but learning hubL from scratch takes a lot of time!
Click here if you're interested to take a peek of the hubL programming language.
The Almighty HubSpot API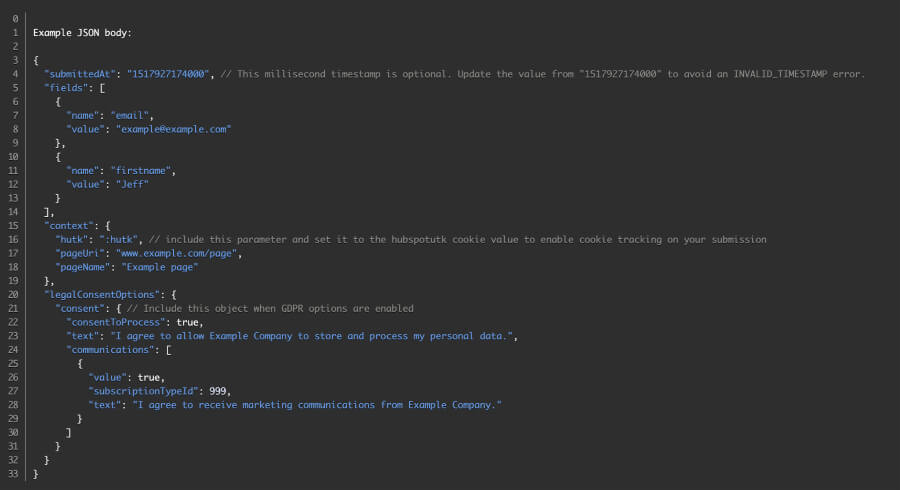 If we're asked to name one most potent feature that HubSpot has but not other CMS, the answer is probably their API.
Building a proper website on HubSpot is just a scratch on the surface; the real value is what works behind the scene.
Do you mean forms, workflows, CRM, etc.?
No, no, they are simply things that everyone can learn in days. I'm referring to building custom configurations and advanced marketing automation using HubSpot's API.
Imagine having the ability to connect HubSpot to any third-party apps you have. It can be your accounting software, your ads-management, or even custom applications. All is possible using HubSpot's powerful API that is included in all subscription tiers.
And guess what? It takes time to master their API too!
HubSpot certification isn't enough!

Hold on… if I hire a random developer and ask them to complete the HubSpot development certification, won't it be enough?
A newly certified developer may be enough if you're looking for a "normal" small HubSpot site that will eventually get relaunched in 2-3 years.
But if you're looking for a growing website on a strong foundation that can bring in leads via inbound marketing and help the whole company grow, then the answer is a big NO.
HubSpot developer certification only equips you with the basic idea of the platform, but it doesn't scratch the surface of best practices. Many HubSpot agencies don't even understand the best practices (no offense, but that's the truth); it will be even worse for non-experienced developers.
If you want success, the HubSpot developer you'll choose should know the nitty-gritty of the platform and enough development experience to justify their quality.
So… In-house or freelance?
By now, you should understand the two options best suited for you. To reiterate, hiring a developer without any prior experience with the platform is not an option you're willing to take.
We're back to the question, in-house or freelance?
To answer the question, first, you need to re-evaluate your needs, and I'll then be able to suggest the best option for you.
Re-evaluate your needs
1. Are you planning to just rebuild or build your site on HubSpot?
Get a freelance developer.
Hiring an in-house developer will be a waste of time and energy since rebuilding projects takes typically three months. To some extent, rebuilding a site could take up years if the expected output is considered.
For one, your content may take four to six months to make the rounds on search engines. If this timeline is okay with you, then hiring a freelance developer on a per-project basis is the way to go.
2. Are you planning to continuously grow your website?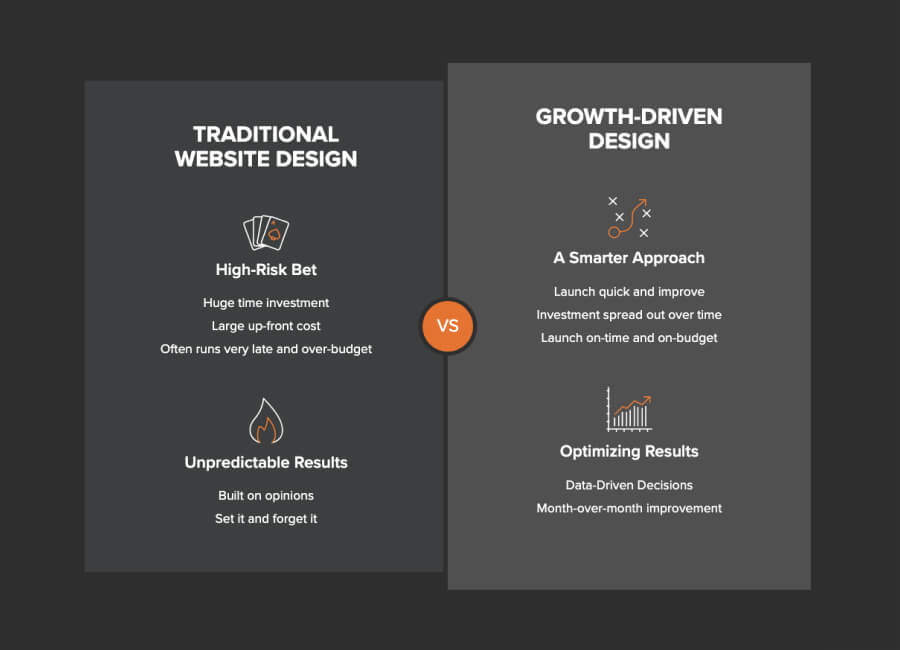 A strategy has recently become popular within the web development industry, the Growth-Driven Design, or GDD.
GDD is when you use metrics and audience analysis to rebuild your website. Your choice of what to put on your website is not based merely on aesthetics. Instead, it is based on actionable insights and efficient methodology. If this is something you're hoping for, then jump into the next point.
GDD requires expertise in the field. As one puts it, it's like "sprinting" into the whole web development. The entire strategy may only take one week to three months tops.
Prioritize in-house developers with enough HubSpot experience and technical needs (of course, a freelance developer remains an option.)
If you wish to have a hands-off experience, we recommend hiring a reputable agency to prepare the strategy, execute, and track them.
One more thing…
The 4th Type of HubSpot Developer!
Wait… Aren't there only 3 types of HubSpot developers?
Yes and no :)
The fourth type of developer we'll talk about is a mix between all 3 types:
in-house, freelance, and agency.
Imagine having a team of developers that work as a "development extension" within your company that can assist you in growing your company and website for years to come. Still, you don't need to waste your time in providing benefits, taxes, etc.
Doesn't it sound too good to be true?
It's definitely not too good to be true, because we have built such a system to offer!
Introducing HubScout.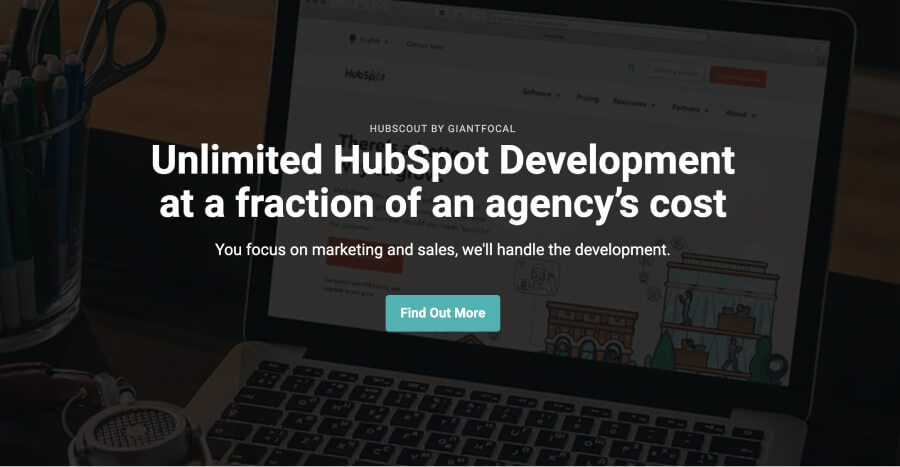 An unlimited HubSpot development service that works as an in-house development team of your company.
Unlimited?
Yes! The process works exactly the same as how you assign tasks to your in-house developer.
For a flat fee, you get our professional HubSpot developers with experience developing over 300 websites on HubSpot and serving over 6,000 HubSpot customers.
Let's recap:
Unlimited projects (2 parallel tasks at a time)
Flat fee per month
Done and carefully reviewed by professional HubSpot developers
No time wasters such as benefits, taxes, etc.
Just 3 months-commitment to start
It's a better alternative than hiring in-house developers, freelance developers, or even agencies from any angle you see it from.